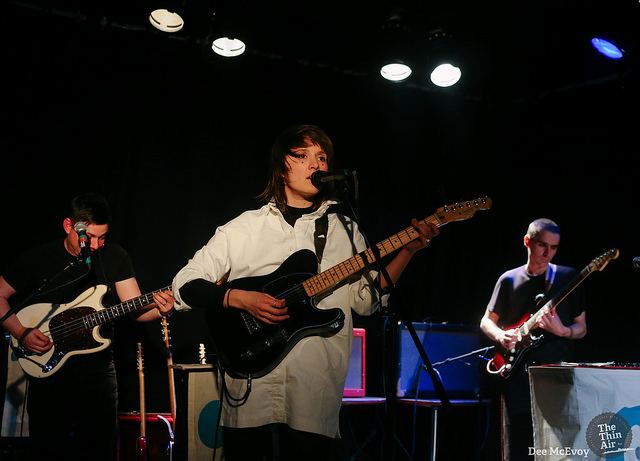 Four albums in, Cate Le Bon is making her long overdue Belfast headlining debut with the rest of her band, having previously only been here for a solo set supporting Manic Street Preachers a few years ago. Her guest appearances on the works of fellow Welsh artists the Manics and Neon Neon have brought extra attention her way, but her solo career has been on a gradual rise on its own terms, and with this year's impressive Crab Day making waves, it's as good a time as any to make up for that absence.
Le Bon's music has undergone something of a gradual transformation over the years, from folkier beginnings, via a more experimental collaboration with White Fence/ex-Fall member Tim Presley last year under the name Drinks, leading to a more off-kilter sound on Crab Day, from the Devo-esque rhythms of 'Wonderful' (an early highlight tonight) to seemingly absurdist lyrics like "Love is not love/It's a coat hanger" sung in her heavily accented voice. Her band are tight-knit, providing multi-part harmonies and swapping instruments now and then, leading to one playing bass drum and bass guitar simultaneously on 'I Was Born on the Wrong Day', while the interplay between the wiry post-punk guitars on tracks like 'No God' brings the likes of Television or a more polished version of The Raincoats to mind. The room feels pretty much full by the time her set has begun, following on from her bassist's opening solo set as Sweet Baboo – a decent set full of self deprecating humour, though the too loud backing track and lack of live musicians take away from it somewhat – and she receives an enthusiastic response, the Black Box once again proving that it tends to attract the politest audiences in Belfast when Le Bon's "Thanks for being here" is met with someone's reply of "Thank you for coming!"
First two albums Me Oh My and Cyrk are fully ignored tonight, the set leaning heavily on Crab Day plus a few of highlights from 2013's Mug Museum, from which the brilliant 'Are You With Me Now?' is greeted with the biggest cheer of the night. While there's plenty of good material on those first two albums that are worth an outing, admittedly the last two have seen her come into her own, so the set sees her play to her strengths.
The main set ends on a high with Crab Day closer 'What's Not Mine', its extended outro seeing Le Bon's improvised guitar noodling stretch on while half the band leaves the stage, leaving her accompanied only by piano until it eventually runs its course. It's a fine ending, but there's still time for an encore, a thrilling cover of Richard Hell's 'Time' that suits her voice perfectly while the guitars reach their noisiest. At roughly hour long it's perhaps a slightly short set for someone four albums deep, but there's little other fault to be found than that. A fine first visit proper, here's hoping it's not the last. Cathal McBride