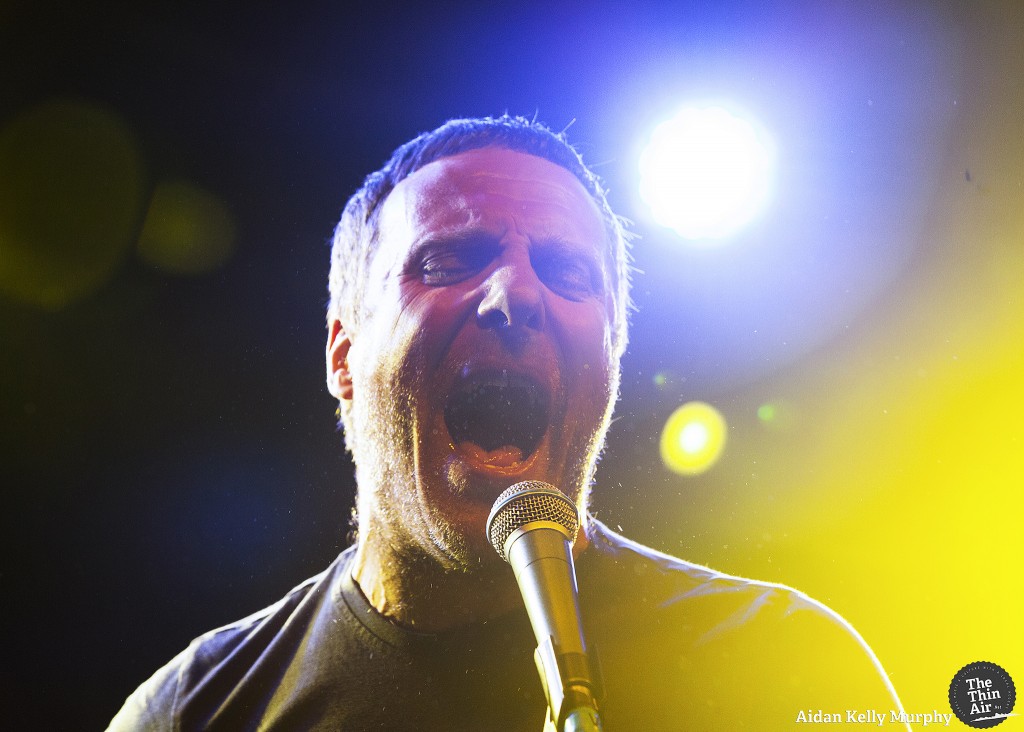 In the latest installment of Irish Tour, Jonny Currie and photographers Dee McEvoy and Aidan Kelly Murphy capture the return of Sleaford Mods to Dublin and Belfast.
Mandela Hall, Belfast
Photos by Dee McEvoy
Behold, hear the voice of one calling: prepare ye the way of the Mods. The prophecy of Divide and Brexit has been fulfilled. The importance of securing entry to key markets clogs up our newsfeeds. Meanwhile two blokes called Jason and Andrew have signed a record deal with Rough Trade this year that should project their hard-worn, under-heard music to the wider audience it deserves, without compromise.
Sleaford Mods were recently proclaimed by Iggy Pop as "Undoubtedly, absolutely, definitely the world's greatest rock & roll band." Verily I say unto you, tonight is another opportunity for any Belfast doubters to taste and see that the Sleaford Mods are indeed good.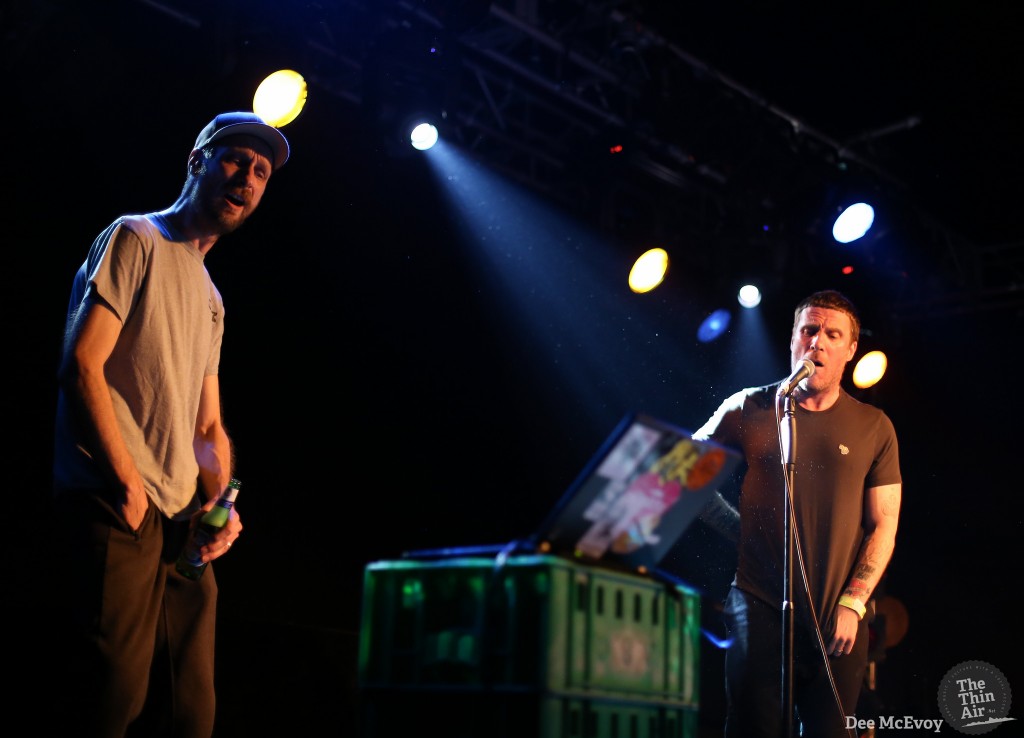 The band has moved up from the Black Box of 2015's show to the even bigger black box of the Mandela Hall tonight. The stage set-up remains the same: two milk crates and a microphone (and a laptop). There is the addition of new material tonight, with songs from their first Rough Trade EP T.C.R. being showcased. Andrew Fearn's minimal musical template remains unchanged but the new tracks contain a bit of extra studio sheen.
The Mandela Hall can be an unforgiving venue for bands moving up through the gears of a set due to its size and often transient, chatty crowds but the Mods attract enough of a cult following that the audience are captured from the first song. Jason Williamson prowls the stage with an array of moves and shapes that range from the end of the pier to the Rolling Stones, via a trip to the zoo. He spits lyrics with the venom of a pre-Country Life Johnny Rotten and (at times) the robotic intensity of an angry dalek with a social conscience.
Ever contemptuous of hipster taste-makers, ("if you like music that much, fucking listen to it.") the actual political elite ("Boris on a bike, quick, knock the cunt over) and fully aware that "the ark carries the rich," Williamson's words are more than just cheap shots at easy targets. New track 'I Can Tell' gives a voice to the state citizen-turned-customer with so little left to lose that they can only hope "everything gets pulled apart and pushed.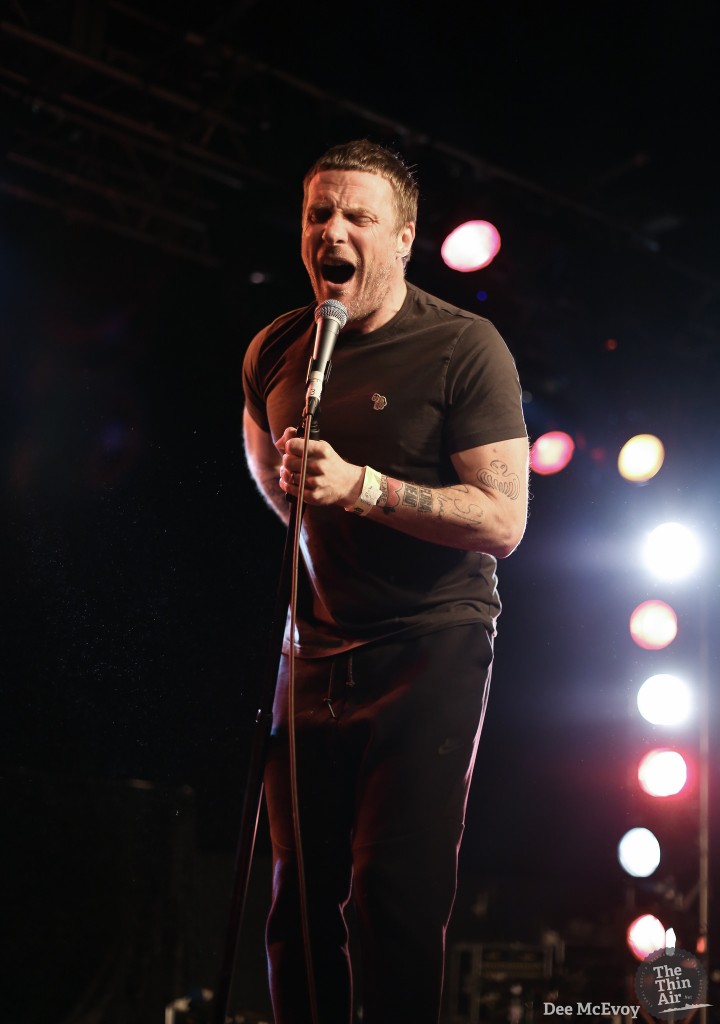 gets pulled apart and bust gets pulled apart." In 2016 there's probably no sharper lyrical advocate for the lives of those who "squirm in bank transfers," forced to move in ways they didn't invent.
Another new song laments that "we're going down like BHS, while the able-bodied vultures monitor and pick at us." with a particularly British sadness. This sort of critical self-reflection is ignored and undocumented by our swashbuckling, brexiteering tabloid culture at a time when it seems needed more than ever.
The combination of 'Jobseeker,' 'Tied up in Nottz' and 'Tweet Tweet Tweet' makes for a crowd-pleasing encore. Incendiary as these three and other older songs still are in terms of content and delivery tonight, they feel like real-life snapshots in time that Sleaford Mods are keen to acknowledge and move on from. This is a group with too much still to say.  Jonny Currie
Vicar Street, Dublin
Photos by Aidan Kelly Murphy