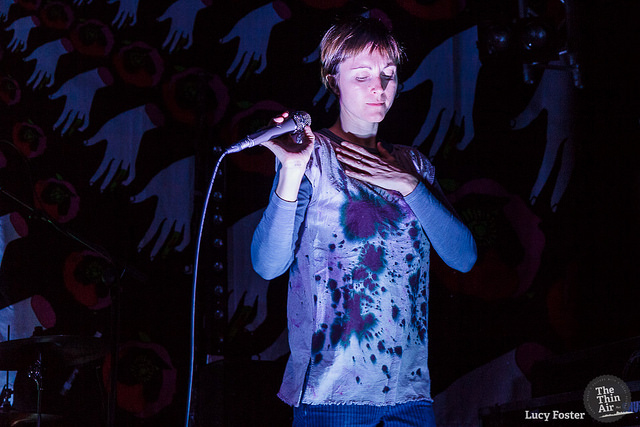 It's a much different atmosphere that greets Poliça as they take the stage at the Button Factory tonight. For one thing, this venue is considerably roomier than Whelan's, the location of their last visit in March 2013. For another, they managed to avoid being messed up by the ferry journey. Battling nausea and general shakiness, they made the best of an unwanted situation. Tonight, however, they come out fighting.
The band – Channy Leaneagh on vocals, Chris Bierden on bass & dual drummers Ben Ivascu and Drew Christopherson – are a force to be reckoned with on stage, and the increased expectations created by their muscular third album United Crushers have only made them more eager to impress in a live setting. Tearing straight into 'Berlin', Leaneagh is a sight to behold from the off, making the stage her own as her powerful vocals vie for the audience's attention, though they have stiff competition from Ivascu and Christopherson's rhythmic attack, not to mention the kaleidoscopic, album-art-referencing stage backdrop.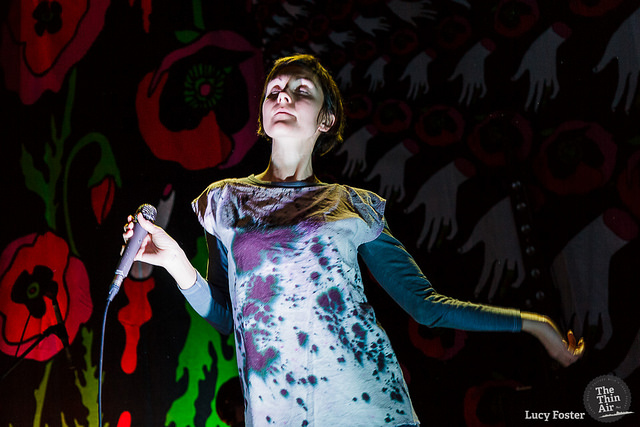 The run of new songs that opens the show are greeted with polite applause from the assemblage, but many are waiting for something familiar to hook them, and it arrives six songs in with Shulamith opener 'Chain My Name', which is met with immediate recognition and concludes with an impressive portion of the audience on side, won over by the band's impressive chemistry and knack for writing leftfield pop gems. The emotionally fraught narratives of 'Dark Star' and 'Lay Your Cards Out' follow in quick succession, before an apparent United Crushers offcut 'Agree' (currently of no fixed abode) acts as a segue into more upbeat territory.
Leaneagh isn't one for stage banter, preferring to express herself through her music, treating a number of older songs – 'Spilling Lines', 'Smug' and the extraordinarily powerful 'Amongster' chief among them – as if they're set closers in their own right. Bierden, meanwhile, seems a little aloof at the start of the night, but as the show develops, he becomes as engaged as his bandmates, supporting Leaneagh on vocals here and there, his bass contributions powerful enough to do justice to POLIÇA's love of the low-end.
With no sign of the likes of 'Tiff' or 'Wandering Star' (surprising omissions, certainly, but this isn't the sort of band to lean on older material to please crowds), the show is brought to a close with a brace of songs from their most recent album, with 'Kind' and United Crushers's electrifying closer 'Lose You' neatly bringing the night to a close, with no encore forthcoming – not that there needs to be. The band are barely on stage 80 minutes, tearing through an 18-song set before departing to a much more enthusiastic reception than anyone could have foreseen at the start of the night, with expectations not merely met, but appropriately crushed. Don't make us wait another 3-and-a-half years for your next Dublin show, OK? Gareth O'Malley
Photos by Lucy Foster