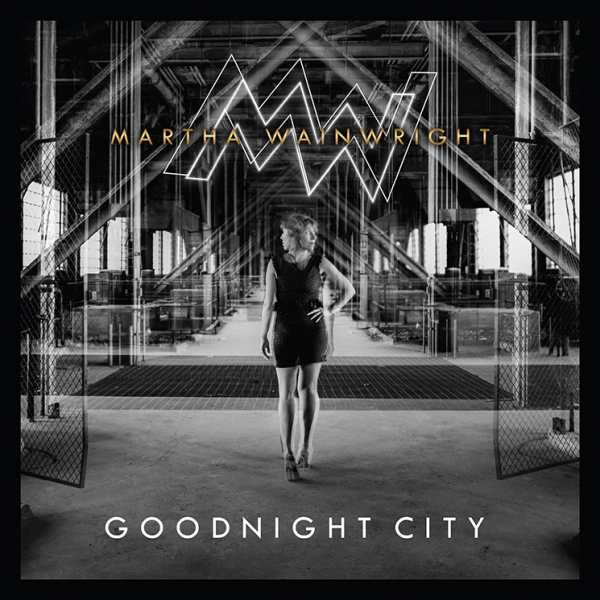 At the core of Martha Wainwright's identity there exists a conflict between the scabrous and nakedly honest confessional singer-songwriter and a mercurial musical translator, plucking various influences and sources and remolding them into something almost unrecognizable. The latter produces work like her soundtrack to the French Canadian TV series Trauma or the collection of lullabies she produced with her sister. The former is responsible for tracks like the furiously candid "Bloody Motherfucking Asshole". With Goodnight City, Wainwright tries to walk hand in hand with these two, distinct, personas, rotating the spotlight between them and showcasing the breadth and scope of her songwriting. While this melodious sojourn does lead to the creation of some truly beautiful pieces, it is also jarring and schizophrenic, making for an inconsistent, yet intermittently excellent, album.
Proceedings commence exactly as they should with the emotionally frank one-two punch of  'Around the Bend' and 'Franci'. The first of two, which vocally occupies the same space as lounge singer covering Kate Bush's 'Wuthering Heights', is this anxious ditty that leads the album's charge with an unnervingly honest discussion of drug addiction, life on the road and escaping your demons. It's a song that grabs your ears and commands your undivided attention, a baton which 'Franci' takes effortless. The softer of the pair, the piece is this bittersweet one-sided conversation between a parent and a child that touches on the etymology of the child's name and the baggage that comes with being a sibling over this charming country backing track. The duo represents some of the album's best efforts and does a fantastic job at ushering the listener into the overall mood of the album: a measured optimism with creeping twinges of anguish hovering around the edge of the frame.
After the inductions, Martha allows herself to cut loose and lets her experimental quicksilver tendencies take the reigns. There are smatterings of a variety of different styles including electropop with cold 'Look Into My Eyes', folk music as on "Before The Children Came Along" or down and dirty full-tilt rocker that is 'So Down'. These erratic stylistic manoeuvres do highlight how powerful and stirring a presence, the singer songstress can be, but they also cause an irreparable unevenness to afflict the album. It's hard to grab any kind of musical foothold when the ground keeps shifting wildly, but it's harder still when the floor isn't secure. There are some wonderful cuts here, but there are those that feel less like they were uncomfortable, bubbling beasts desperately vying release but rather exercises in showing off as though she is yelling at the audience "Look I can be Kate Bush, Patti Smith, Emmylou Harris, David Johansen and Ellie Goulding. Give me a starting point and I'll show you how good I am".
One thing Goodnight City proves is that Wainwright can be every one of those figures and so much more, but at a price. This bombastic demonstration of her skills and prowess forces Wainwright to lose her grip on the blisteringly frank aspects of herself and leaves technical proficiency in its place: a spellbinding but soulless cover version of herself. Will Murphy