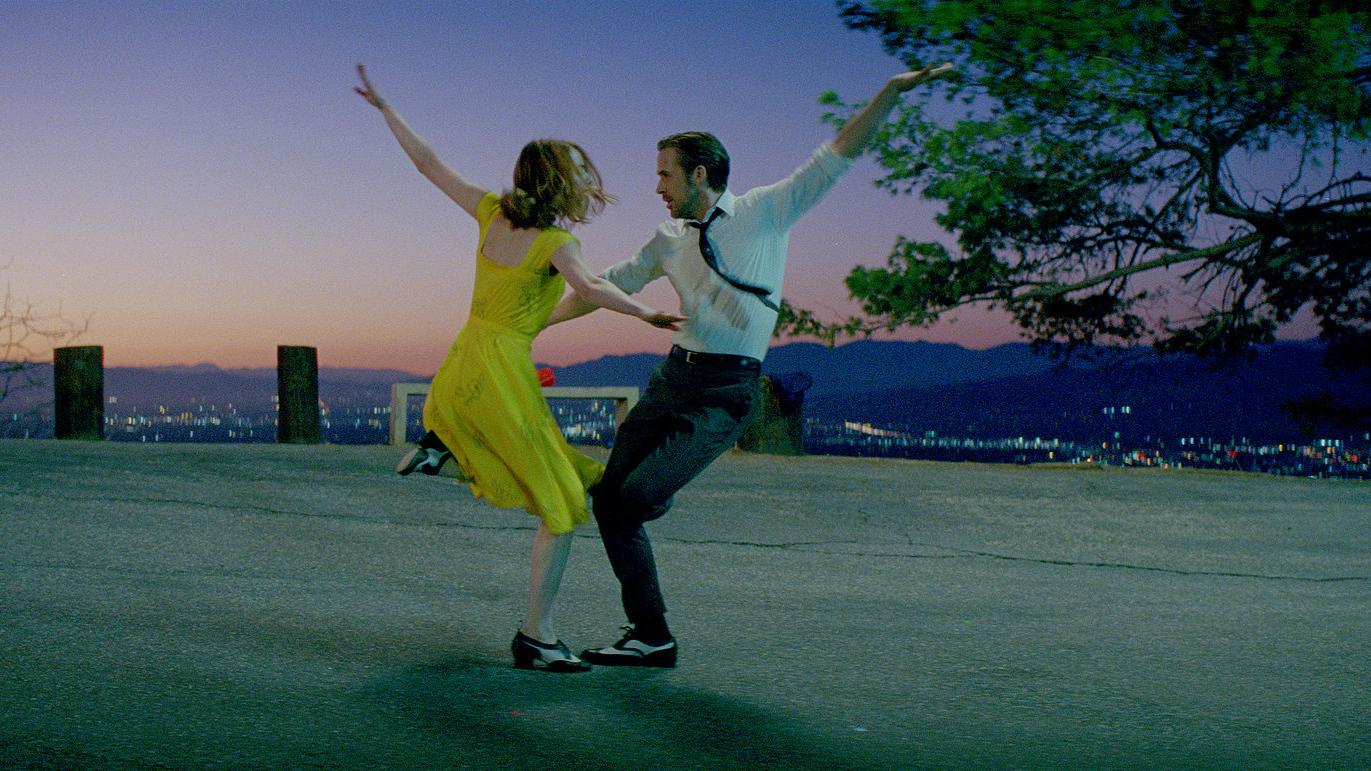 After assaulting our senses with 2014's furiously frenetic Whiplash, Damien Chazelle sets his sights on our hearts in his new film, the romantic musical, La La Land. It seems the young director's ambitions know no bounds as he transports audiences back to the era of Gene Kelly, Fred Astaire and Ginger Rogers in this throwback to Hollywood's golden age.
Ryan Gosling and Emma Stone star as Sebastian, a talented, but temperamental pianist who dreams of owning his own jazz club, and Mia, an aspiring actress stuck on the never-ending audition carousel in LA. When this pair of down at heel dreamers meet, they have to find a way of balancing a blossoming romance with their fragile, ever-distant aspirations.
La La Land begins with a flourish of vibrant, exquisitely coloured and choreographed musical numbers that will leave audiences picking their jaws off the floor. In fact, the film begins in such mesmerising fashion that the spectacle threatens to overpower the story: Gosling and Stone are having none of it, however. The two leads' winning cynicism grounds the film, while their spiky chemistry and effervescent passion helps it take flight.
Just as Whiplash's style tangibly represented the physicality and dynamism of drumming, La La Land embraces the theatricality of the musical to draw the audience into a magical, expressionistic world. Chazelle brings wonderful touches to his film, such as the fading down of lights and the spotlighting of his two stars alone in the darkness at key moments. Almost a character in its own right, the camera glides through scenes in creative long takes, bounding balletically from realism to romance in a sudden rush of movement that is exhilarating. On a technical level, the film is astounding.
Unlike some musicals, however, La La Land isn't just an awesome spectacle, it also has real emotional scope. Chazelle has managed to imbue his film with a pathos largely absent from even the greatest of Hollywood's musicals that gives La La Land a real emotional punch, and to which the film owes a significant debt to Jacques Demy's equally haunting and beautiful 1964 musical, The Umbrellas of Cherbourg. The film shines particularly in melancholic, reflective moments, reinforced by perfectly judged colour palettes and locations, and by Michael Hurwitz's music, which gives the story a profoundly heartfelt resonance. The soundtrack pangs along with your heart in a mixture of up tempo and intimate numbers that encapsulate Sebastian and Mia's relationship perfectly. The film even cleverly weaves the music into its narrative at times, realistically illustrating how a piece of music can come to symbolise a person, a relationship and even a moment in people's lives.
For all the romantic sentiment, La La Land never descends into schmaltz, partly due to a smart script that knows when to inject a bit of comedy. The film enjoyably makes fun of both its leads, with Mia attending a series of increasingly preposterous auditions and serious musician Sebastian reduced to paying the bills as a jumpsuit-wearing keytar player. There are even a few of the delightful jazz anecdotes that punctuated Whiplash thrown in.
Although not quite on the incredible scale of the musicals of Hollywood's golden era, in La La Land Chazelle has crafted a film that matches the romanticism and creativity of films like Singin' in the Rain and An American in Paris and is a fitting homage to their legacy. There are some knowing nods to the genre's lineage, but perhaps most impressive is La La Land's lights out go home sequence with which the film not only fulfils one final genre staple, but also secures its status as a timeless classic alongside the masterpieces it is following. It's simply the perfect Technicolor antidote to the January blues. Richard Davis