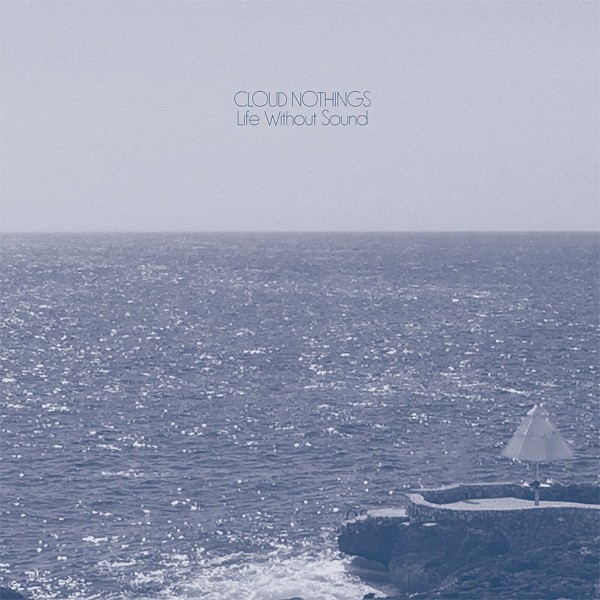 Cloud Nothings make their return this year with their fifth album, Life Without Sound. Dylan Baldi's bedroom recording project has evolved over the years, from the lo-fi stylings of the self- titled debut, to the classic indie rock of Attack On Memory and then into the throat-shredding intensity of 2014's Here And Nowhere Else. The latter was undoubtedly the highlight of their career so far, mixing great songwriting with forceful production and furious performances from Baldi and his band.
So, to 2017 and Life Without Sound. On first listen the album is underwhelming when compared to previous efforts. Baldi has softened his approach, resorting to singing cleanly for most of the album rather than howling the words as on their previous album. The guitars are cleaner too, the drums less frenetic and it feels like the songs have less hooks than those from Attack On Memory and Here And Nowhere Else. A disappointment essentially.
After giving this album some time and multiple listens however it becomes safe to say that those first impressions were, thankfully, incorrect. Some of the choruses and even spare lines from verses have been stuck in my head. The songcraft is still there, most prominently on the run of songs from 'Enter Entirely' through lead single 'Modern Act' to 'Sight Unseen'. These are songs that lodge in your brain and stay there. The chorus of 'Enter Entirely' is an gem, with its descending lines punctuated by a gleeful bent note on the guitar. These are some of the best hooks the band has ever produced.
That's not to say that the aggression present on previous albums is lacking. 'Darkened Rings' might be the slightest song on here but it does help to jolt the album to life a few tracks in. Much more successful are 'Strange Year' and the album's closer 'Realize My Fate', two songs that wrench the album towards a conclusion. 'Strange Year' benefits from the inclusion of some piano arpeggios on the outro, lending colour to a bleak song. 'Realize My Fate' builds and builds, with steady drumming pushing the song along until it erupts and Baldi tears his voice apart repeating the mantra "I find it hard to realize my fate" before the song collapses in on itself and fades out.
In some ways, it feels like Cloud Nothings separated the two elements that made Here And Nowhere Else so successful, namely their songwriting skills and the aggression. Both are on display on this album but on very different songs. What must be noted is the sequencing of the album, which maintains a steady build from the piano intro of 'Up To The Surface' to the chaotic outro of 'Realize My Fate'. This is a collection of songs that deserves to be listened to as an album due to the nigh-on perfect pacing of the tracklisting.
Overall, this is a strong album from Cloud Nothings, almost living up to previous efforts and well able to stand on its own as a very solid body of work. Life Without Sound is a collection that gets better with every listen and is more rewarding every time. An early contender for indie rock record of the year. Darren Keane