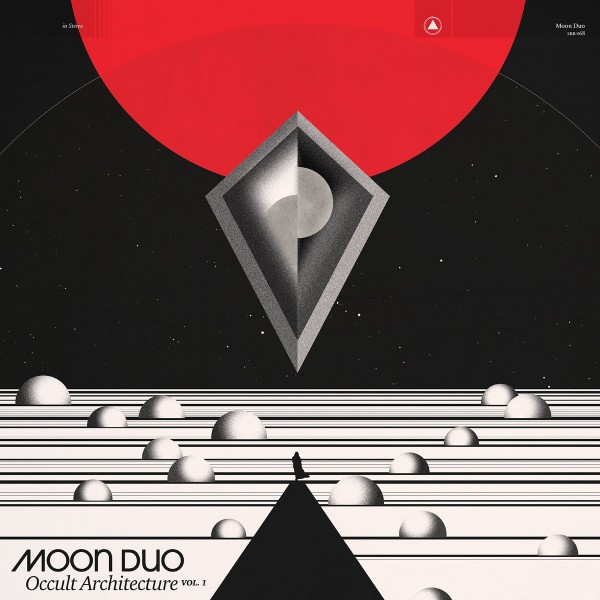 Sometimes a side project starts to outgrow its parent band. Such appears to have happened recently with Portland's Moon Duo, formed by Wooden Shjips' vocalist/guitarist Ripley Johnson with his partner Sanea Yamada, with the latter band's lack of activity since 2013's Back to Land allowing Moon Duo's more recent releases to fill the gap. Despite plenty of similarities in sound, swapping the Shjips' looser psych for an increasingly mechanical krautrock sound has seen them gradually become the more essential of the two, and fourth album Occult Architecture, Vol. 1 has done nothing but cement that.
Part one of a "two part psychedelic journey from darkness to light", inspired by the transition from winter into spring while recording in the Pacific Northwest, the "lighter" second half will follow later this year, but releasing the records separately cleverly allows them to be fully appreciated on their own terms (and in the appropriate seasons) rather than falling foul of the usual overstretched double-album criticisms. Which is lucky, as taken on its own, Vol. 1 is the most focused the pair have ever been, distilling their essence to a concise and consistent seven track run – although the relentless repetition still sees the record reach a slightly longer run time than previous LPs, even if it doesn't necessarily feel that way.
Despite the ambitious concept, Vol. 1 isn't a huge departure from 2015's similarly excellent Shadow of the Sun, suggesting they've already been residing in the darkness for some time. But it does see them further refine their sound to great effect. The addition of live drummer John Jeffrey on recent releases to augment the core duo in place of their old drum machine (on most tracks, at least) has helped to beef up their sound considerably, although somehow enables them to sound even more mechanical than before, thanks to his tight motorik style.
The whole record emits a huge sound, anchored on the gigantic fuzz guitar that seems to flow out of the speakers and wrap itself around you, along with Yamada's flashes of strobe-like synth and the pair's subdued vocals, all hypnotising you into submission with trance- inducing repetition.
The titular occult dominates the lyrics, with track titles like 'Will of the Devil' and 'Cult of Moloch', but despite the self described darkness, the album contains some of their poppiest moments to date. Opener 'The Death Set' boasts an infectious vocal melody to reel you in, while recent single 'Creepin'' is an immediately fun standout, its widescreen stereoscopic chorus sounding perfectly at home as a staple on BBC 6 Music lately. Elsewhere though, the two-note riff of 'Cult of Moloch', underpinned by hammering percussion – and topped off with typical bursts of Johnson's frantic, Neu!-esque guitar noodling – is relentless.
With their spacey mix of psych and krautrock, along with heavy touches of Suicide and Spacemen 3, there's a enticing paradox to Moon Duo's music, similar to an effect that writer Simon Reynolds describes in his book Retromania – a sort of retro vision of the future, one that's perfectly captured by the album artwork's echoes of the futurist art of the space-race era. It's a sound they've always possessed but here reaches its zenith, the pair focusing on their greatest strengths to produce what's so far a career highlight.
A few of the brighter, less fuzzed out tracks on the band's earlier records might hint at what to expect from that lighter second helping of Occult Architecture, but it will have its work cut out in matching up to the gauntlet thrown down by Vol. 1. Moon Duo are clearly a band who thrive in the darkness. Cathal McBride