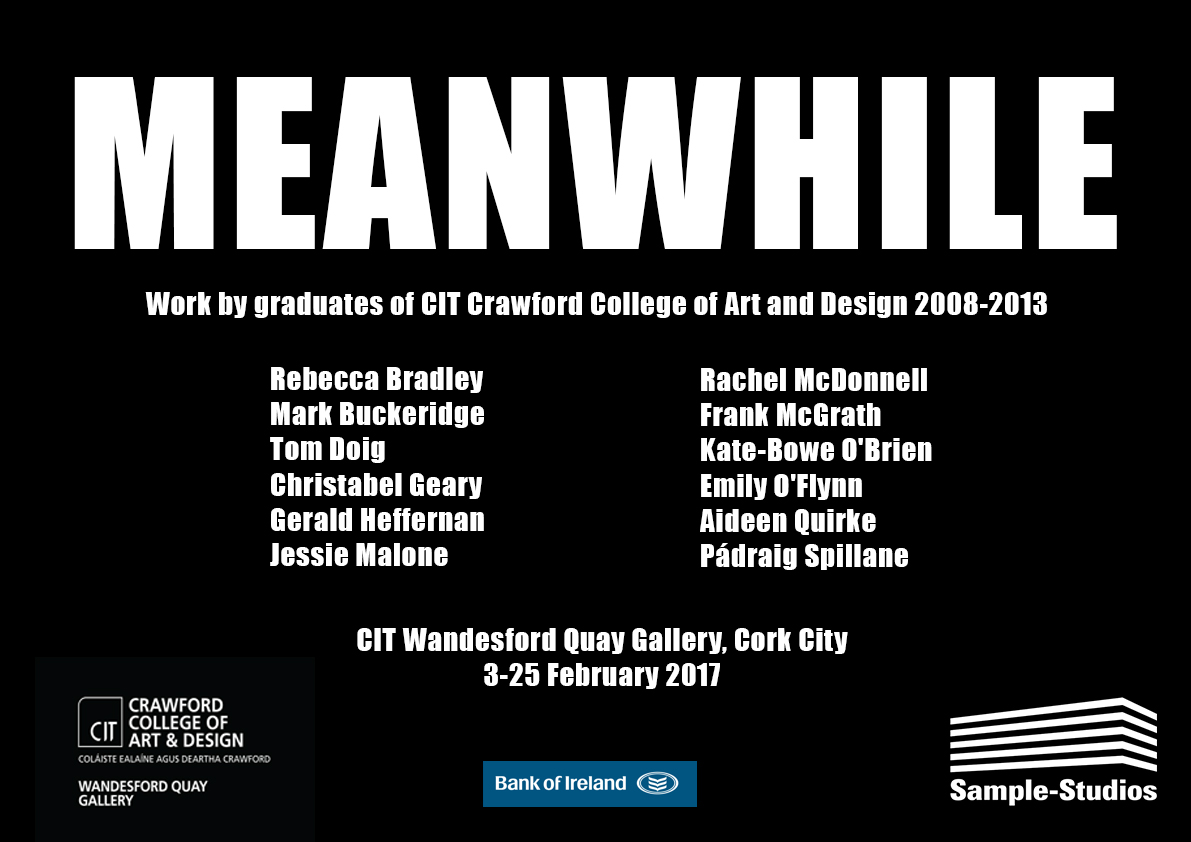 What: Meanwhile
Where: CIT Wandesford Quay
When: February 3rd – February 25th
Words: Judt Fisher
"This exhibition is a celebration,"  said Catherine Fehily, head of CIT Crawford College of Art and Design as she opened the new show Meanwhile in the Wandesford Quay Gallery.  "These artists have succeeded in combining creative thought with critical intelligence, resilience and tenacity resulting in D.I.Y-led productivity and action, and we are proud."
Meanwhile is curated by Aideen Quirke and shows work from artists who graduated from  Crawford College of Art and Design between 2008-2013. These artists through their work, the organisations they have founded and events they have organised have helped change the face of Cork and further afield. As well as this they have shown a determination to continue with their artistic practice despite the economic pressures of the recession.
There is a diverse range of mediums on show including film, painting, photography, collage, sculpture and live performances.  Mark Buckeridge showcased his quirky, off-beat style with a rendition of one of his compositions from All Choir – a new singing group formed in Belfast in May 2016 who use the commonality of music as a starting point for discussions, social gatherings and occasional live performances.  Emily O'Flynn's piece also includes a live element with a performer dressed in a black body stocking emerging from a wall-draped flag depicting falling boulders slowly prowling through the gallery, searching for a safe place to rest.
Other highlights include Christabel Geary's interesting use of industrial materials which she deconstructs and reassembles in order to question functionality and meaning.  In Resting, rolled up pieces of synthetic leather are juxtaposed with larger pieces in vivid, ultra-saturated colours.  "For me they are body-like," she explained.  "They have a presence."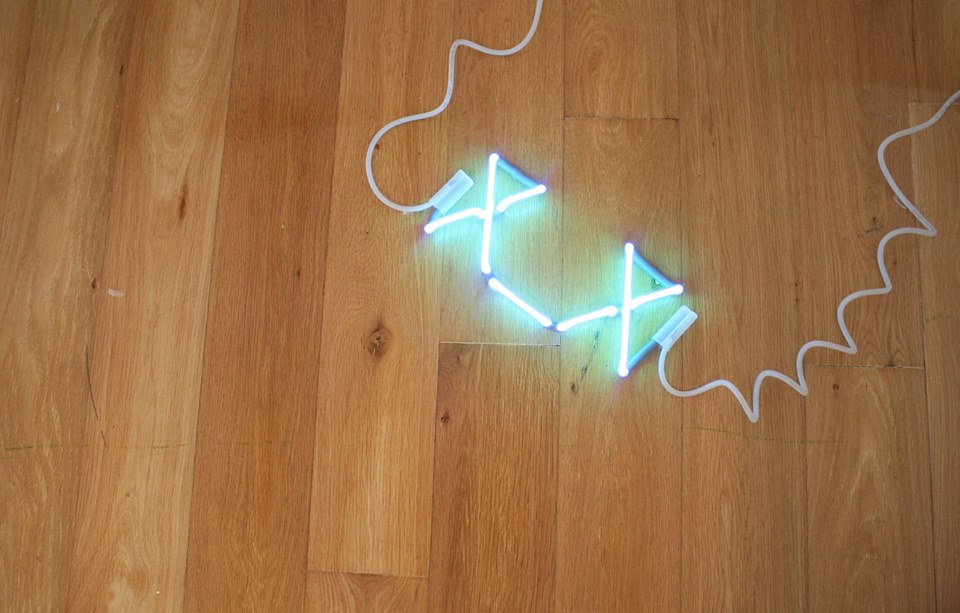 X_X – Emily O' Flynn
Jessie Malone combines painstaking precision with a sense of humour in her hand printed lino cut prints.  In Houseshare, two turtles share a shell, while Narlek is a fantastical creature drawn from the artist's vivid imagination.  Her work explores a narrative of the unknown through personal experiences and her own inner world.
Rebecca Bradley integrates paintings with large scale installation work and utilises found objects scavenged from defunct sites.  In The Secret Life of Detritus, discarded materials that have been salvaged from the studios of the artists who were forced to vacate from the old Sample Studios on Sullivan's Quay have been given a new lease of life. Objects including bathroom tiles, carpet, wire mesh and copper and plastic sheeting have been arranged on the floor while a roll of carpet is left leaning casually against the wall.  Her work is a way of recording a history of events, but far from being a depressing representation of decline it is imbued with a sense of excitement for the possibility of change and the expectation of what may lie around the next corner.
All of the exhibition's artists share certain commonalities.  The majority of them were members of the now dissolved Sample Studios, and all of them have either been members of or involved in artist-led spaces within Ireland.  Some of them have held or curated exhibitions or instigated takeovers of disused buildings for creative use, while others have taken their practise further afield but have continued to contribute to artistic initiatives within Ireland.  Far from being cowed by the crash of 2008 and the resulting cuts in funding and support for the arts, these artists have continued to produce work and display a resilience that should, indeed, be celebrated.
Meanwhile in the Wandesford Quay Gallery runs until 25th of February, with more information here.
Running in conjunction with the exhibition are a series of talks and demonstrations by the artists including: collage techniques with Tom Doig, discussions about surviving as an artist post-college, and information about both artist collectives and artist-led initiatives in Ireland.