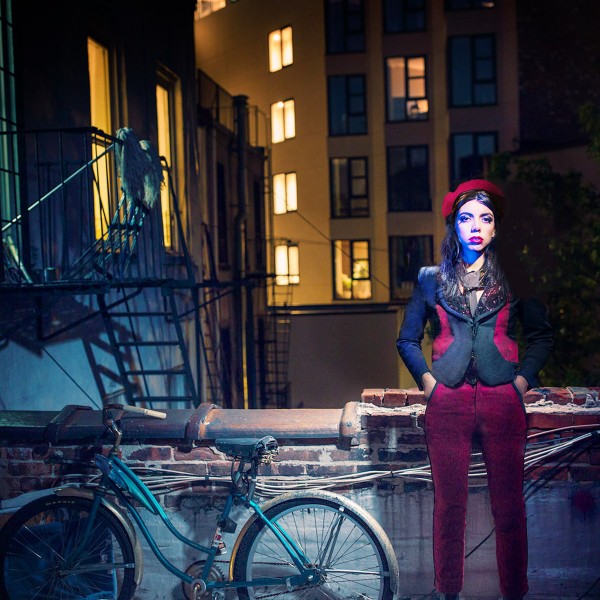 On paper, what about a blues folk concept album dealing with a young Puerto Rican's perspective of her city and homogenisation of her culture should work? On genre level, it's far too grand an idea. This almost operatic scope isn't suited to the gritty sensibilities of folk or blues music. Their key hitters are typically the minor, metaphorical pieces which possess a great deal of power and heft, but which diluted at scale. Even on the thematic level, it shouldn't work. The loss of and longing for some kind "home" is well-trodden ground, but the metropolitan Hispanic immigrant version doesn't really fit the mould. The world wasn't clamouring for a rootsy, millennial Nuyorican reinterpretation of The Lamb Lies Down On Broadway. From a distance, it appears to be an absolute trainwreck. The kind of misjudged, uber-ambitious trite that Van de Graaff Generator would have thrown out for being too self-indulgent. Yet, the closer you get, the more you realise how wrong that initial reading was. The Navigator, the latest LP from Hurray For The Riff Raff, just works. It works really well. Improbably so. It has no reason to be this powerful or this intriguing. Yet as you move deeper into the radical stylistic shifts and emotional central narrative, it's hard not have your socks blown into the stratosphere.  
What first leaps out from the record is the pertinence of its theme. This deals with the end of the world in its current form. It explores this via a few key ideas which it revisits time and time again. The sense of abandonment and betrayal felt by large swathes of the population ('Rican Beach'). The loss of ethnic identity and purpose in contemporary society ('Hungry Ghost', 'Life To Save').  How the cities which used to house us have become almost dystopian for the majority of us ('Living In The City'). While it is pretty redundant to say it, we do live in an uncertain time. Our realpolitik neoliberal policies have left us without any sense of ideology or goals. The economic prosperity of globalisation has dried up like the Dust Bowl. Politically, the most powerful man in the world is a tiny-handed despot. While global leaders are veering alarming close to outright fascism.  Working class communities have been relocated and dismantled to make way for a more middle-class clientele. We're aimlessly wandering in the wreckage of decades of unchecked excess. The Navigator may focus solely on the American experience, its story belongs to the everywhere. Be it London, Cape Town or Paris, there's a universality to it. It captures our shared ennui and manifests it into something so tangible and tragic.
What gives Hurray such an insightful view is lead vocalist and songwriter Alynda Segarra. As the daughter of Rudy Giuliani's deputy mayor, Segarra witnessed first hand the revitalisation of New York in the 1990s.  As well as the subsequent gentrification and whitewashing that followed. Rejecting this life, she traveled around the nation like some Woody Guthrie troubadour. Seeing first hand the same thing over and over again. San Fran, Portland, Boston all broken up, sanitised and sold to the highest bidder. Even the city she now calls home, New Orleans, is facing an identical problem as a consequence of Katrina. She has tapped into this shared anxiety and created something so beautifully devastating.
Yet, this isn't a woe-is-me, nihilistic journey into the abyss. Even in the face of overwhelming despair, her bleeding heart beats on. No one will be left behind by her or the titular persona she adopts. The Navigator is a kind superheroine, come up from the streets, to help us save ourselves, not through violence or aggression but through reconnection to our history and humanity. We mustn't lose sight on the struggles and challenges our forebears' suffered ('Fourteen Floors'). We must reject complacency and our defeatist acceptance that this is how thing work ('Settle'). We must remember that the past and present as what drives the future ('La Pa'lante'). This tonal shift in the record's second half is a masterstroke. Without a hint of saccharine or naivety, it concludes the story triumphantly with pride and power. It does this while also saving itself from relegation to the bitter and futile ghetto where it's characters dwell.
Another great strength of the album is the way in which it interweaves its theme and music. A good concept record needs have a strong thesis and stronger music to back it up. This is something which this delivers in spades. Over its 40 minute runtime, it touches on chain gang acapella, gospel, alternative rock, folk, bluegrass and bomba with grace and elegance. The influences are weaved together into a rich tapestry. One that not only works in isolation but also reflects the cultures that it desperately wants to save. Take the lead single 'Rican Beach' and its use of Latin rhythms with post-punk bass and guitar noodling. It melds all these disparate elements into a vital backbone for the story of Puerto Rican immigrants being ousted from the south Bronx. They infuse the track with a twitchy uncertainty. One that eventually gives way to the confidence and immovable spirit of these people:
"I'll keep fighting till the end/I'll keep fighting till the end"
But the real masterpiece here is 'La Pa'lante'. This is the epic, showstopper that the album spends 40 minutes building to. It's a grandiose voyage through the main musical and lyrics themes we've experienced. It begins as a piano ballad about trying to find and retain purpose in life. As further doubt creeps in, it effortlessly slides into a staccato discomfort.  As things seem at their bleakest, we hear the voice of a preacher reminding us to never lose the handle on our past, that while the back can be broken the spirit remains. This broadcast gives way to the to the emotionally charged crescendo. Drawing on the ghost of Emmet Till, Puerto Rican history and all those who were lost in the shuffle, it has one simple message: go forth. You are free from the chains and you can carry on. The whole track is a masterful achievement.
The Navigator is a great LP. A bona fide slice of genius with heart, soul and unquenchable thirst for survival. It's the record that PJ Harvey tried to make with The Hope Six Demolition Project. This is a personal tale, with an earnest and relevant message, delivered in a striking multilingual, multiethnic voice. It is the kind of record that we should all be losing our collective shit over. So do so now.