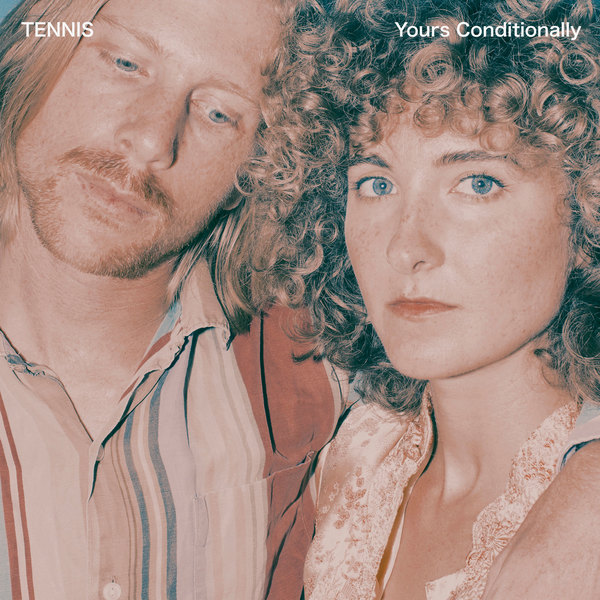 Making sweet sweet music with your significant other can go one of two ways. The chemistry you have as a couple (good or fractious – Rumours, anyone?) can translate effortlessly when improvising with lyrics and arrangements, eventually expanding into solid soundscapes. It's akin to building a life or home together, it is a gradual journey that unfurls to represent the couple. On the contrary, a musical duo brought together in matrimony can spawn songs that are, at times, uncomfortable to listen to, presenting a sort of audio PDA. Tennis often waver between these scenarios. In the past they have written some incredibly catchy pop songs with mass appeal. Now, it feels as though they have become so comfortable in their creative process that they are perhaps stuck in a rut and Yours Conditionally is their 'seven year itch' moment.
Yours Conditionally is the fourth album by Tennis, the musical guise of married couple Alaina Moore and Patrick Reilly. If you aren't familiar with their music just imagine a placid view of the sea during the summer. It's light, airy, upbeat and thrives on an idealistic and romantic views of various dynamics. Summer only lasts for three months of the year, it is limited with a definite end in sight as is the breadth in Tennis' music and lyrical content.
Listening to Tennis for the first time is an exciting revelation. Moore's vocals are soft, delivered with clarity and easily to sing along to, it is the quintessential tone to accompany the nonchalant tempo comprised of guitar, keyboard and drum arrangements that they regurgitate. Generally, their singles are uncomplicated and extremely accessible. If you are coming to Yours Conditionally as a long time fan then you may feel jaded by the majority of the songs throughout. 'In The Morning I'll Be Better', 'My Emotions Are Blinding', and 'Baby Don't Believe' (amongst others) offer little insight into the duo trying to experiment with their arrangements. The songs sound so familiar that, at times, you lose track of the album. It disrupts the flow of the music not in a way that the chronology is compromised by jarring end-start compatibility, but because it is easy to become disinterested. The melodies blend into one incoherent piece of poorly produced pangs about being a woman ("ladies just need your love / Don't you know we are all caught up in it"), being in a relationship ("I really love you / I really need you"), or trapped in a feeling.
The lyrics throughout are another infuriating aspects of Yours Conditionally. They depict the inner workings of a dependent woman's mind. Lines like "I feel your burning look / Oh My God it feels so good", are, as mentioned earlier, an example of uncomfortable PDA. Of course there are some notable moments of quality here. 'Matrimony' and 'Island Music', stand out for the slower, moodier tempos which are much needed to break up the sameness of the album. In the case of 'Island Music', the closer gives sincerity and emotion to the music.
After seven years writing and composing music, the most frustrating thing about Tennis from a fan's perspective is the lack of evident maturing or experimentation with the direction they take their songs. Ironically, Tennis' Young & Old record from 2012 opens with a song entitled, 'It All Feels The Same', five years later, not much has progressed. Zara Hedderman