Film / Theatre Reviews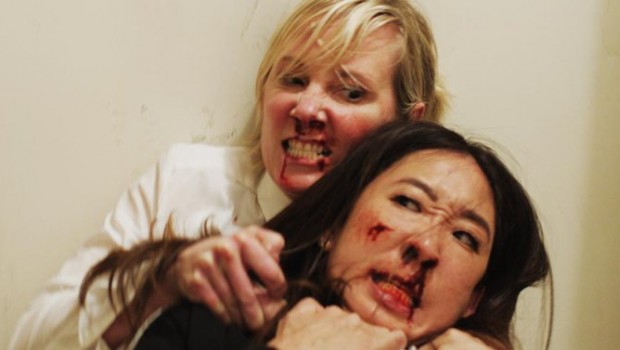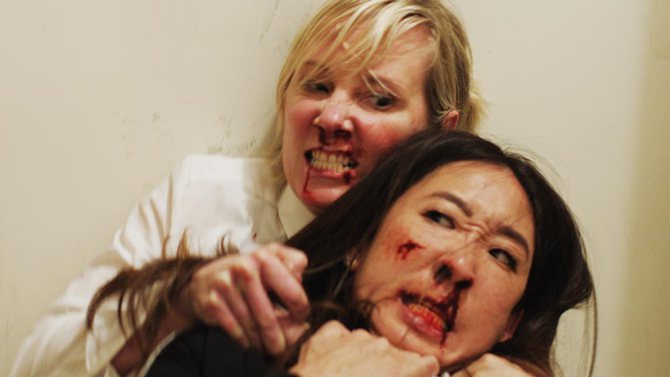 Published on April 11th, 2017 | by Conor Smyth
0
BFF17: Catfight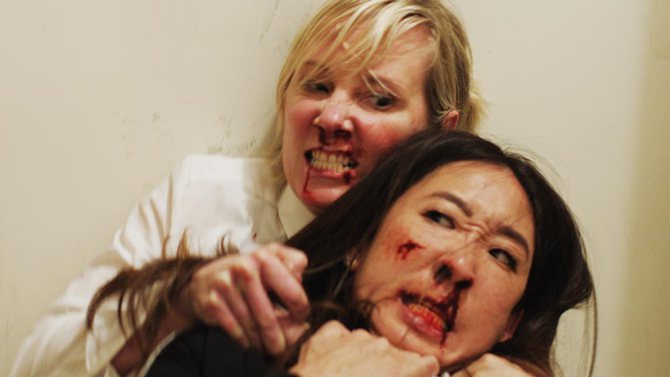 Rage, maternal loss and the sting of humiliation are accelerants in the bloodstream in Catfight, Onur Tukel's face-thumping black comedy and satire on the unreality of violence.
The match is lit when estranged college chums Veronica (Grey's Anatomy's Sandra Oh) and Ashley (Anne Heche) bump into eachother at a fancy Manhattan party for the first time in years. In this alternate America (very near future?), the country is eyeing up another war in the Middle East, and Veronica and her husband, who runs a debris clean-up company, are in for a big payday if they land a juicy Pentagon contact. Veronica's not a horrible person, just cossetted and oblivious, to the state of her marriage and the bloody origins of her comfortable lifestyle; a bit too booze-happy, self-centred and snobbish. Ashley, an unsuccessful Angry Artist who makes harsh paintings about The Patriarchy, is reluctantly tending bar at the event, and their meet-brute is a juicy piece of snappy condescension ("Are you still doing the art thing?"). Boiled-over tensions are worked out in a stairway brawl between the two and a battered Veronica falls into a coma, waking two years later to a major slice of karmic retribution, one of a series of punishments dished out by Tukel's unforgiving hand.
The war, now in full swing, has taken the lives of her son and husband, and hospital bills have left her broke. In the passing time, the conflict has given Ashley newfound respectability and financial fortune. With the death toll rising and the draft snatching up young people across the country, her dark, vulgar art has become fashionable amongst the liberal intelligentsia, putting her on the cover of indie magazines. Both women, the film sets out in plain, not unsubtle terms, have been inoculated from the pain of violence while profiting off it, relating to it only in the abstract.
And both are unpleasant people in their own way, even the underdog progressive to whom our sympathies initially bend: Ashley is a real bitch at times, humiliating her meek assistant, who spends the day drawing cute bunny cartoons. Ashley and her girlfriend (Alicia Silverstone) are now expecting a child, their baby shower providing great little scene of social-justice snobbery, in which Silverstone smiles daggers and shuts down ethically tainted gifts. When Veronica shows up at Ashley's gallery, her grief providing a foil to Ashley's airless waffling on thematics, a second fistfight ensues, and this time it's Ashley's turn to wake up from a coma two years later, in the same hospital, to the same troubles.
The symmetry to the reversals of fortune feels didactic to an unimaginative degree, and ditto the satire: there's a hacky parody of late-night comedy monologues, mixing war jokes and a human fart machine. When the two women go at eachother, it's fairly brutal but also silly in a slapstick way (one of the scraps plays out to upbeat circus music). In keeping with the moral emphasis on consequences, the fights themselves aren't actually that interesting in choreography. It's the fallout that really hurts, and gives the leads something real to work off, both Veronica and Ashley forced to wolf down on humble pie, as the blows just keep on coming. Conor Smyth
Catfight does not currently have a UK release date.
Summary: Dir: Onur Tukel, 96 min, certificate 15