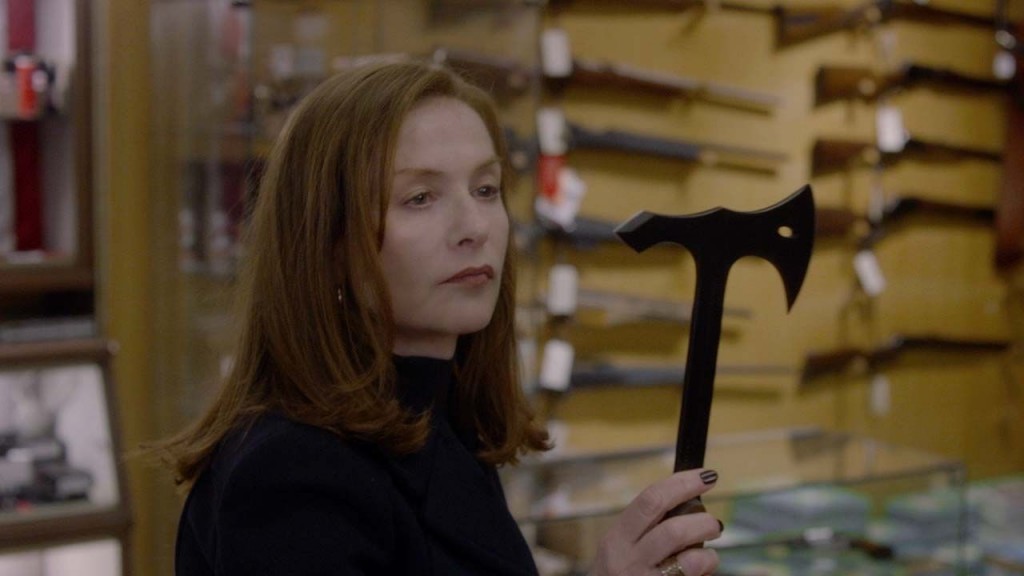 It's not very often that a film has me strangely anticipating which social taboo is going to be launched out of the window with amazing indifference next. Yet Elle manages to achieve this with an astoundingly entertaining edge that verges on the absurd when it's not shocking you with its core theme of sexual assault. But all of this is unsurprising when you know that Elle is made by notorious Dutch director Paul Verhoeven (Robocop), who is at his controversial and stylistically provocative best, and stars the great Isabelle Huppert, a fearless, steely and ridiculously talented actress at the top of her game.
The story centres on Michèle (Huppert), a fiery, independent, middle-aged woman with a controversial past, who is director of a successful video game company in France. When she is attacked and sexually assaulted in her home, Michèle's life is upended, forcing her to double down on finding out who the assailant is. When she finally tracks him down, a sexually sinister game of cat and mouse starts between the two, leading their paths into high-risk territory that threatens to fly out of control at any moment.
Elle has Paul Verhoeven back to his best with this complex, sexually charged drama/thriller that can only be described as utterly ruthless in the themes explored and his representation of Huppert's character. Verhoeven is quoted as saying that no one in Hollywood could have played this role and he is absolutely right. Huppert plays the morally ambiguous – to say the least – Michèle, with absolute conviction and authenticity but the emotional range that Huppert displays on a whim, makes for one of the finest performances that you'll see in recent times.
The multi-layered story delves into all aspects of her life, giving a deep insight into the character though never overwhelms you with too much information. The rapier wit that is laced throughout is of the blackest nature and usually, comes from Huppert's character as she cuts people down with her no-nonsense manner. This gives much needed comedic relief to the many unsettling scenes that will shock even the hardiest of viewers. The director solidifies this refreshingly risque performance by bringing together a fantastic cast that includes Laurent Lafitte (Tell No One) and Anne Consigny (36), complementing Huppert as we see her daily routine. But there is no doubt that this is her show, through and through.
Some may call Elle misogynistic, in some ways chauvinistic on the director's part and maybe even abhorrent in the absolute ruthlessness of how he depicts sexual assault and the female form. But in my eyes, this is an empowering film for females as Huppert's character has serious mettle and is represented with daring and audacious honesty. The undoubted intelligence that is clearly apparent in Elle means that it surpasses any of the silly tags like 'rape-revenge', making for an essential watch and one of the best of the year. But most of all, it is great to see Verhoeven back in the big leagues making classic films again! Kev Lovski