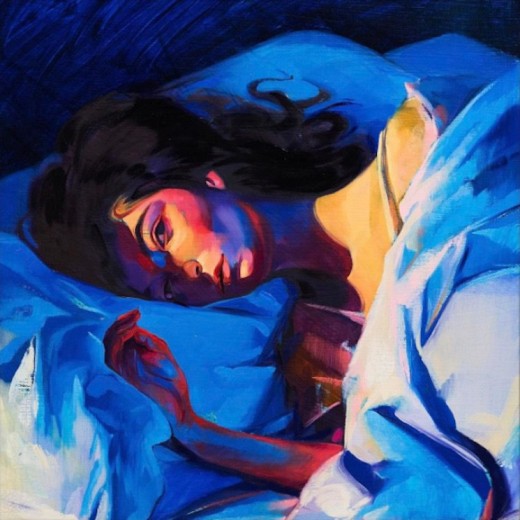 Success came to Lorde after her debut album Pure Heroine injected what every youthful spirit needed: A glorious, romanticised, cathartic portrayal of the mundane life that most face at a certain time in their life. At the age of 16 she sang about the superb bland details of life such as taking buses with "the knees pulled in" and "dreams of clean teeth" underneath a blanket of tender beats and adolescence; and from that moment the world was hooked.
Lorde makes her sophomore return with Melodrama, literally. The album comes as a thematically packed release, dealing with the ever-expanding house party, her first heartbreak, and perhaps most importantly, learning to live with oneself.
Limited before by the abandonment of materialism, and now faced with the expression of poignantly personal anecdotes, the sonics of Melodrama emigrate from Pure Heroine's subdued, negative-space pop beats and take refuge in an ever expanding library of instrumentation. The escalating swell of drums in 'Green Light', reverberating 80's guitar strums at the close of 'The Louvre' and enveloping tide of synth in 'Supercut' all contribute to Melodrama's pulse and help create a distinct time frame in Lorde's life. As such, this release is inherently more commercial than her debut, but don't for second believe that commercial viability was the end goal here. There are moments of acapella and ad-lib throughout that are certainly not 'radio friendly', but Lorde doesn't care. She isn't making albums to get added to Spotify playlists of 'Summer Jams', she's creating albums to tell stories, to create powerful and meaningful art, and she's succeeding. The inevitable blasting of 'Green Light' and 'Supercut' over mainstream radio stations for weeks to come is certainly good news, but we can't simplify these anthemic songs into just that.
Melodrama is a theatrical display of the antics of youth. On opener 'Green Light' we are plunged headfirst into the party, with Lorde tugging at our hands, grinning in the knowledge of what is to follow. 'Sober' begins to unravel the mindset of Lorde within her relationship. She is infatuated with her love, matter-of-factly singing "Ain't a pill that could touch our rush". However, she is aware that it may be due to the environment they are in; a party setting casts a certain warmth on everything. She questions "What will we do when we're sober?", will her love last till morning, or will it be discarded like the intoxicating "liquor-wet lime" she closes her teeth around.  On 'The Louvre',  Lorde's weekend infatuation manifests into a screaming daytime obsession. She details how she over thinks her loves punctuation use and ditches her friends to "sit in hell" with her love. She recognises the fault in her love however as she asks "Can you feel the violence?", which is echoed in her self memorialisation, almost foreboding what is to come. "They'll hang us in The Louvre/Down the back, but who cares, still The Louvre".
Things take a turn in piano ballad 'Liability' as the relationship disintegrates. Lorde croons about how she's a "forest fire", she is wild and eccentric when she is present, but due to her line of work becomes a tax on the people around her. She illustrates the importance of self-love here also, stating that once the relationship fell apart, she returns home and she "Slow dance[s] in the living room" with her inner self. The fallout of the relationship continues in 'Hard Feelings.Loveless' and 'Writer in the dark', both reflecting the melodramatic grieving that follows the failure of a first relationship. However, the tone changes in 'Supercut' to signify the beginning of acceptance. She reminisces on the relationship, thinking of past events and pleading "we were wild and fluorescent, come home to my heart, uh", screaming the end of her words to reflect her urge to return to those feelings of infatuation, but there's more to it than that. Lorde recognises that she is only remembering the good times, a 'Supercut' of their time together. She is aware of the failings of the relationship, and resists her own urges to try to return to it. Her personal growth shines in the two ending tracks 'Liability (Reprise)' and 'Perfect Places'. In the former she tells herself "You're not what you thought you were". She comes to terms that she is not perfect, but by no measure is a liability, as described in the original track.
'Perfect Places' re-introduces the party theme more clearly as it deals with the fact that they are truly "graceless" and no place is without it's flaws, even if drug induced. It grapples with the self-fear created by these constant escapes as she sings "I can't stand to be alone". We are constantly chasing a haven, a permanent escape from the harsh realities we face daily, but as Lorde puts it, there are none, and "what the fuck are perfect places anyway?".
With Melodrama, Lorde has solidified herself as a true pop icon. Despite now having only two albums under her belt, she has produced innovative, intelligent music that acts as the vernacular for her fantastically relatable anecdotes. She remains an avid, honest storyteller in a market flooded with pointlessly placed beats and lyrics specifically designed to shift records. This record serves as a diary of self discovery and revelations. It captures the intensity of a throbbing young heart, while admitting to the painful self-awareness found while staring at your own reflection in the bathroom mirror during a party. In what can only be described as a cathartic release of superfluous emotions,  Ella Yelich-O'Connor screams, laughs and weeps through eleven tracks of sincerity that document her last years as a teenager, her last years of Melodrama. Mitchell Goudie