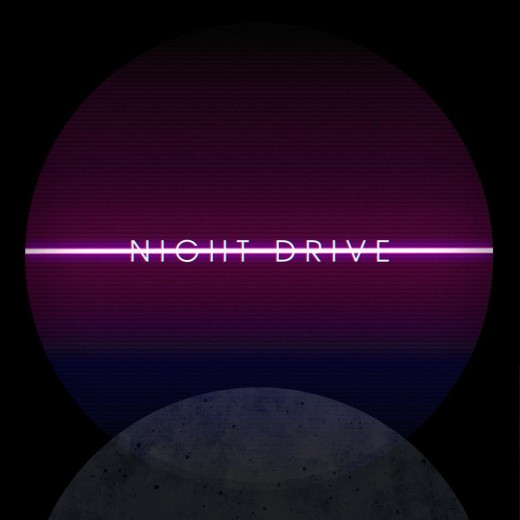 There's nothing quite like an album that manages to fuse the past with the present, and even the future for that matter. Rodney Connell and Brandon Duhon, the Texas-based, future-wave duo better known as Night Drive do just that with their new self-titled, debut album.
The pair first met when when the woman they were both dating died in a car crash. Neither knew the other before the accident, but from this inauspicious encounter stemmed something very powerful indeed. Their sound, a time machine of sorts, combines elements of 80s synth-pop with futuristically dynamic instrumentation, while brilliantly remaining both sleek and modern. It transports the listener to the realm of new-wave Brit-rock classics right through to vast, intergalactic soundscapes of the future, and there's never a boring second.
'Hyperion's rhythm runs over a vast soundscape, layered with dark ethereal synths. It sounds like a track that could have featured on an episode of Stranger Things. It's ominous but also exciting, drawing the listener in and serving as an ideal album opener. 'Trapeze Artist Regrets' then bursts open with a brilliantly strong rhythm and lots and lots of keyboards. The track's vocals and electro synth vibes strongly echo the likes of Duran Duran, to the point that you might even think that the legendary group were making a comeback. This same feeling  continues on into 'Easy To Lie' and 'Rise And Fall', two eclectic tracks loaded with pure emotion displayed with a tantalising abstraction.
'Arboria' has a darker appeal.  Its thumping bassline, pulsing beats and cinematic sci-fi soundscape opens the album up to another world for the listener to wallow in. It's a track that New Order would be proud of. 'Sky Machine' jumps back to the 80s in all it's energetic glory. Complete with a sleek and supple rhythm selection, pulse tempering beats and glossy vocals, it's an infectious Bowie-esque track that serves as one of the album's standouts.
'Strange Telepathy', 'Unsaid' and 'Futuristic Rival' bring things forward to a more futuristic mood. The beauty of their shadowy harmonies, together with their thoughtful lyrics are some of the album's most emotionally charged.'Outer Lines' opens again with a pulse-tempering backdrop that turns into an almost anthem-like cut with a strong, beefy bassline, more prominent beats and glossy, ethereal textures. It leads on to 'Ghost Craft', the delicate closing track, mixing an emotionally charged vocal melody with celestial sounds and a prominent bassline that explores darker emotional currents. 
Night Drive is truly a a scintillating record that would made for the ideal accompaniment for driving down the motorway in the dead of night, or for any other occasion really. Paula Murphy