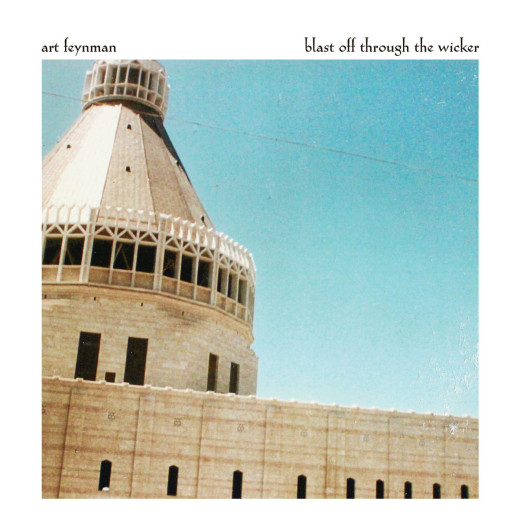 Carved into the very top of the Reviewer's Doctrine sits a Maxim: thou shalt never admit thou are not an expert. It's something we cite at our regular cult meetings which bring together critics of music, exhibitions and sandwiches alike. We like to think it's our only connection to internet trolls, although some critics will gladly try to prove otherwise. Consider yourself lucky then, that in this introduction not only will I be breaking our highest Maxim, but our second one too, and use the first person. For I. Was. Wrong. Hard to type, but for the most joyous of reasons as, contrary to first and second opinions, I can report that Art Feynman's debut album Blast Off Through The Wicker is as full of programs as BBC Three. There's not one program or drum machine loop in earshot, leaving you to double-take as you read, re-read and read the press release again, catching flies in your dropped jaw.
Whilst Art Feynman (solo project of Luke Temple) has frequently recorded using a 4-track recorder with Here We Go Magic, Blast Off is so incredibly astute that it's almost impossible to fathom how this can remain the case for his solo debut. Blast Off is a groundbreaking experiment in rhythm and texture. Krautrock, psychadelia and staccato rhythm have been kneaded together, seeped in desert spices and then baked dry in the California heat before being blitzed and reassembled in any way possible. Feynman chillingly toys with rhythm as a cat would do with its prey; gaily and rather sinisterly, but entirely calmly and with utmost discipline. You'd be forgiven for thinking that super-producer and friend of Here We Go Magic Nigel Godrich had stepped back up to the mixing desk, working his stuttering stop-start wizardry over tracks such as 'Can't Stand It' and 'I Rain You Thunder', but instead they are merely examples of Temple's exemplary musicianship, particularly in the bass department.
Although lead single 'Feeling Good About Feeling Good' is a seven and a half minute psychedelic kraut-funk fistfight, culminating in a balls-to-the-wall Goat-style solo, its release was more an exercise in misdirection and deception. Feynman's soft side is central to Blast Off, with penultimate track 'Party Line' providing the standout moment, weaving together fluttered synth chords and patchy bass into an off-kilter wonky ballad. 'Two Minor' details the breakdown of a personal relationship and is lyrically one of the low points, but elevated on an almost Caribbean chiptone backing that draws on a compelling and endearing range of musical influences.
Here We Go Magic have still yet to find their definitive sound. They've never fell short of hazy, bedroom psych-pop, but forayed too far into other fields such as noise, drone and electronica to really put them in one particular box. This isn't necessarily a bad thing; constant reinvention is what keeps music invigorating and exciting, but equally exposes artists to falling short of expectations and heavily fluctuating fanbases. If Blast Off Through The Wicker has any shortfalls (other than its absurd nonsensical title) it's that Feynman has packed this trait in his solo suitcase. Other than an ever-present underlying dry humour and lyrical theme of the beautiful everyday and the continuing quest to find life in the lifeless, Blast Off is ultimately a jumbled head-scratcher of 11 ingenious tracks. But my word is it fun. Wherever Feynman is blasting off to, get yourself a ticket. Dominic Edge