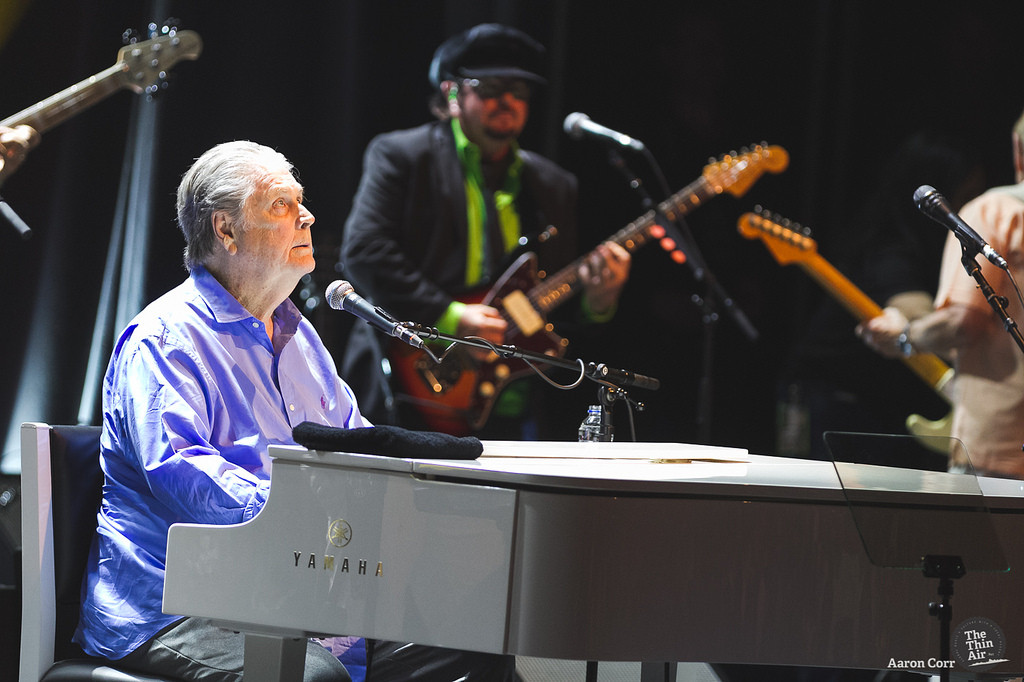 The downright legendary Brian Wilson and his band live in Galway and Dublin. Words by Steven Rainey and Aoife O'Donoghue, photos by Aaron Corr and Sean McCormack.
Festival Big Top, Galway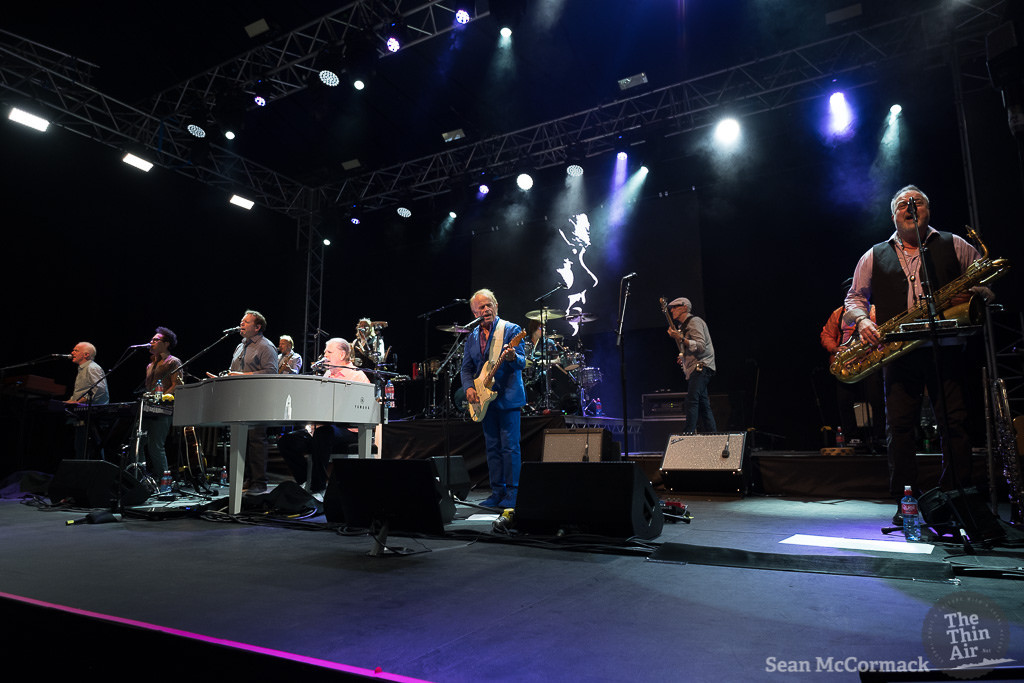 There's a moment in the 2014 Brian Wilson biopic Love & Mercy where Brian – played by the wonderful Paul Dano – starts playing 'God Only Knows' for the first time on the piano. It's probably one of my favourite scenes. It's a quiet and poignant moment of the film, and I remember getting chills, awestruck at how such a simple melody was having such a hold on me.
This same feeling came over me again on Sunday, standing in the Absolut Big Top in Galway, seeing the actual Brian Wilson, much older that than portrayed by Dano, sing that same song. It's as poignant and emotive as it was in the film, and despite me being a reviewer, there aren't words. How do you describe how magical it feels to hear this song that was so personal to Brian, that became so personal to me, and countless others? I can't help wonder what Brian thinks as he performs objectively one of the best songs written in the last century. I know what the audience feels, though: an emotional link that charges through the crowd, with this writer getting a little welled up seeing couples quietly holding onto each other. Then, of course, they immediately let go to dance to 'Help Me Rhonda', because if it's one thing this setlist offers, it's diversity in energy.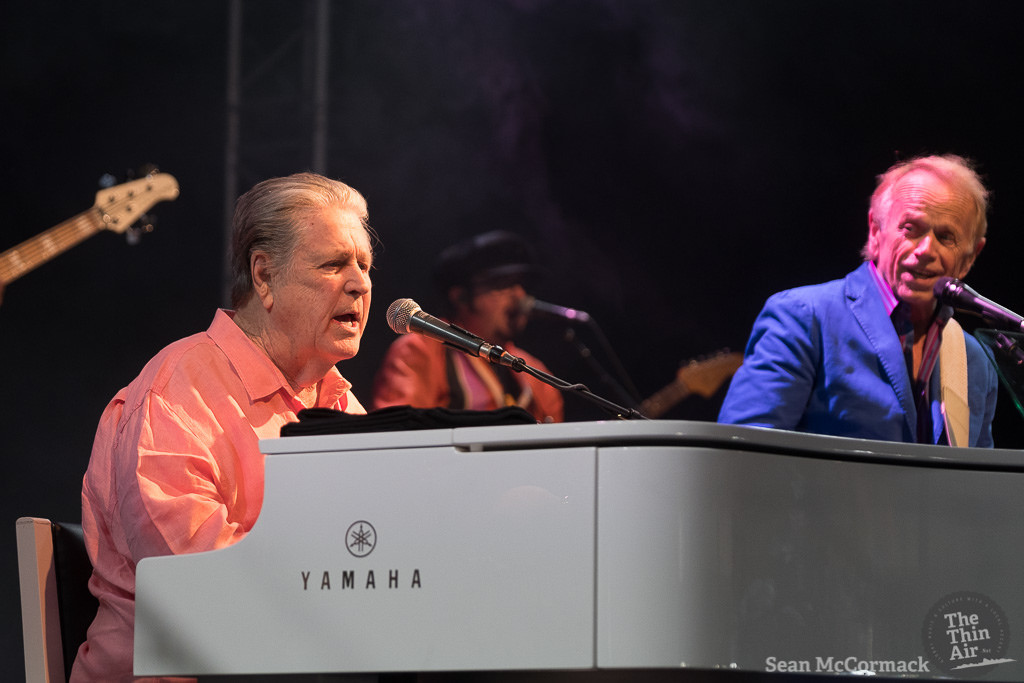 Seeing Brian Wilson feels, admittedly, a little weird. There's a moment of sadness seeing him be lead by the hand to his piano stool despite the cheers and applause from the crowd. This is, after all, the 50th anniversary tour of Pet Sounds and it's slightly strange to see him perform, being so much older, and not with the other Beach Boy brothers. It's kind of hard to tell if he's actually present with us, but he's certainly present within the music. It's also a little weird because the crowd is so eclectic. There's a small minority of die-hard fans, with one Scottish man talking about how he has tickets for the Glasgow show in two weeks time, and others in t-shirts from the 40th anniversary tour, another in a 2005 tour t-shirt. This being part of the Galway Arts Festival, there's also those locals who just wandered up to see the show and aren't that enthused. It leads to slightly-off crowd dynamic at least for the first hour. The first hour is comprised Beach Boys classics, like 'I Get Around', 'Little Deuce Coupe', and 'Don't Worry Baby', with some later tracks like 'Wild Honey' and 'California Saga'. These all fantastic songs, don't get me wrong – I loved hearing them – but there also songs that primarily showcase harmonies and I think this is where the show fell a little flat. The harmonies are great here, almost akin to the original Beach Boys mixes, but at some parts it does kind of feel like you're watching a cover band featuring Brian Wilson. During some less Brian/piano-heavy songs, he's even in shadow whilst other band members are lit up – it does feel just a bit odd.
This all picks up immediately when the second half of the show begins, after a 20 minute interval. This is the Pet Sounds segment of the show, and probably what most (including me) were expecting to primarily hear. The opening notes of 'Wouldn't It Be Nice' gets everyone who wandered outside the tent to come back in and you can feel the energy immediately start to pick up as people belt out the lyrics, and this being my first Brian Wilson/Beach Boys show, it does feel slightly surreal in an awesome way to hear a large crowded tent singing along to these classic songs that I grew up with. On one hand, to be dramatic, it makes me kind of sad I wasn't alive in the 1960s to hear these when they were freshly released, but it's also pretty amazing to still have the opportunity to do so fifty years later. Not many musicians can claim that legacy, and as the band plays through Pet Sounds it's easy to see how this legacy was maintained, hearing songs like 'Sloop John B', 'God Only Knows', and 'Here Today'. You see it in 'That's Not Me', as Brian is in the spotlight on stage as he sings, 'I'm a little bit scared cause I haven't been home in a long time, you needed my love and I know that I left at the wrong time'. You can hear the love and passionate that's never left his voice. Someone in the crowd near me murmurs how this is a wrong setting for him and while part of me is inclined to agree, the other part can't help but think that there's no wrong time to hear what is probably the greatest album ever made.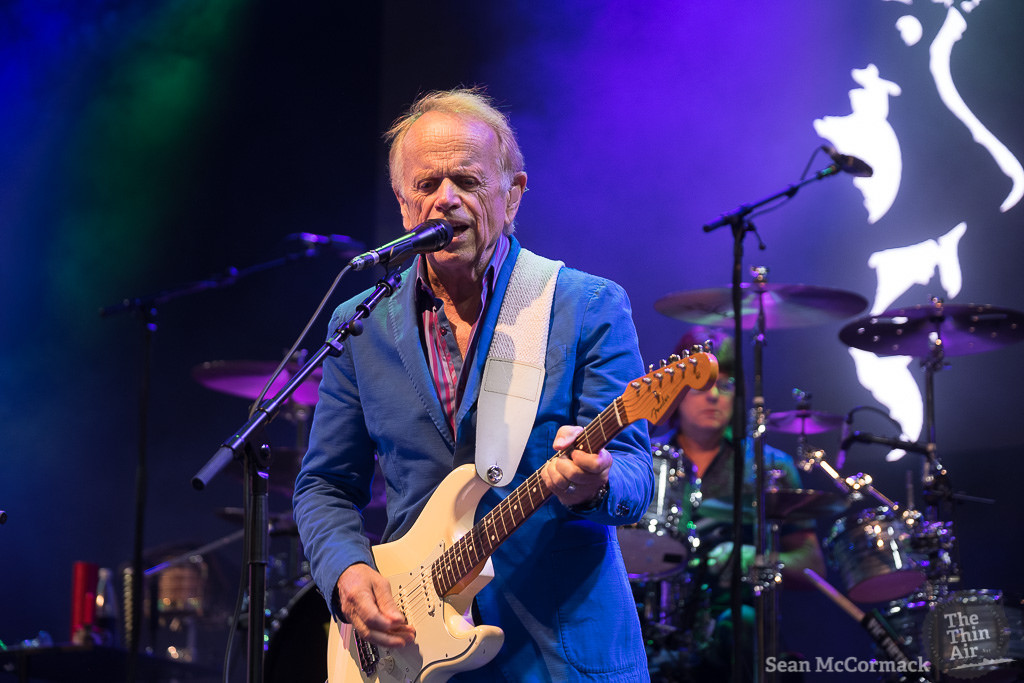 Throughout the show, there's one guy in a Hawaiian shirt (there are many men in Hawaiian shirts) giving it socks near me. He loves every song, and it's probably not his first show. It's hard to tell if he's just drunk or excited, or maybe both. During 'Surfin' USA' he makes eye contact with me while we're both singing along, and he comes over and puts a hand on my shoulder. "And you weren't even BORN yet", he says, incredulous. And he keeps repeating this. I'm left unsure as to whether he's amazed that I'm so young, or that he's not so young, or that this music has transcended generations. Nevertheless it's a weird little moment where I realise how much we should appreciate the man on stage in front of us, and his contributions to the musical world we live in, no matter how imperfect the gig may be. Aoife O'Donoghue
Photos by Sean McCormack
Bord Gais Theatre, Dublin
There's a moment during the song 'I Just Wasn't Made For These Times' when Al Jardine, founder member of the Beach Boys, sings the counterpoint vocal to Brian Wilson's lead part, altering the lyric to a knowing "HE Just Wasn't Made For These Times", gesturing towards the composer, who is sat behind a white piano, possibly unaware of the ad-lib which has just happened.
On one level, this is incredibly crass, inviting the audience to get 'in' on the performance, at the expense of someone who has clearly suffered extreme mental and psychological difficulties over his life, and is now wheeled out as part of a ghoulish freak show for our entertainment. But on the other level, it is the best thing Jardine could have done, justifying the whole spectacle, and reminding the audience – as if we need to be told – that what we're seeing is something Very Special Indeed.
It's impossible to separate the history from this performance, and it wouldn't be a stretch to say that every single member of the audience is aware of the story of Brian Wilson's tortured genius. This is billed as the 'farewell' tour for Pet Sounds, but it might well be the farewell to live performance from Wilson, who at 75, is one of rock and roll's great survivors. With the prospect of him hanging up his surfboard for good perpetually on the horizon, this audience in Dublin is primed for some magic to happen, whatever the consequences.
So, when The Brian Wilson band take the stage, there is robust applause, celebrating the ten musicians who have taken Wilson's 'Pocket Symphonies to God', and made them work for a live gig. But when Wilson himself appears, shuffling to his piano, led on the arm by a minder, the crowd erupt into ecstasy. It's a sight that is both tragic and marvelous at the same time. Here's the man who took on The Beatles and won, the guy who redefined what pop music can be, and who wrote the soundtrack for our lives, with words and music that continues to resonate to this very day. And as well as being a genius, he clearly has trouble walking unassisted, and looks more fragile than he ever has, sitting behind his piano, which he may or may not be playing.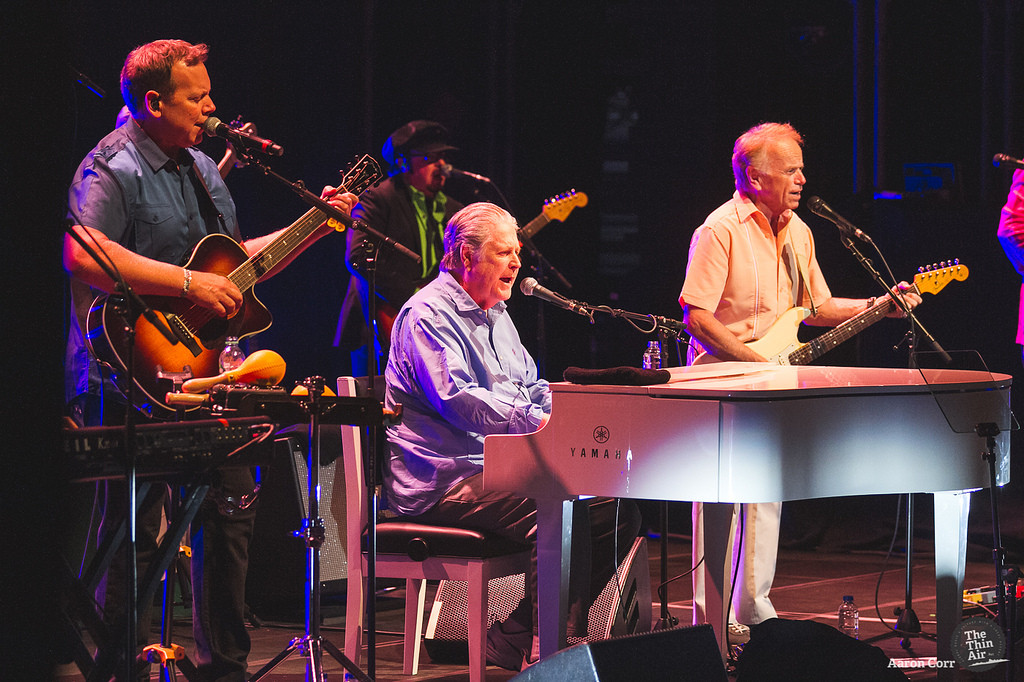 The band kick off a selection of Beach Boys classics, firing them out like a machine gun. Hit after hit after hit is executed with extreme efficiency, and you're left in no doubt that Wilson's band are the best in the business. While Wilson hammers his piano, and barks the words, the band swathe every note in a loving caress of sound and harmony, a comprehensive encapsulation of the noise the young Wilson heard in his head, all those years ago.
'California Girls', 'I get Around', and 'Little Deuce Coupe' all get an airing, rattled out with precision and speed, almost bewilderingly so. Everything is perfect, the harmonies are glistening, the guitars sound authentic, everyone's smiling, and there's Brian at the piano, doing his best to keep up. Indeed, the sound is so 'perfect' that at times it verges on oppressive, a towering stack of harmonies and good vibes that threaten to overwhelm you, almost fascistic in how determined they are to show that we're all having a good time.
But then Wilson performs 'In My Room', one of the earliest flowerings of what would become the sound of Pet Sounds, a beautiful and beguiling sadness. With his ragged voice, listless shape, and wide eyes, the song sounds even better than before, the years of smiles and tears and pain all writ large in the song and the life its composer has had since he first recorded it back in 1963. At this moment, the concert ceases to be a work of nostalgia, and becomes something real, something powerful. And without exaggerating things, when the Brian Wilson band hit the peaks, it's impossible to think of anyone doing anything better than this.
Contrast this with what Mike Love is up to these days. Wilson's former partner in crime is usually portrayed as the bad guy in the Beach Boys story, the square who stood in the way of Wilson's free-spirited creativity. Love leads his own version of the Beach Boys, an oldies act who play the hits, do little routines, and avoid the complicated stuff. For the most part, this is exactly what the Brian Wilson band do, but it becomes apparent that with this haunted and broken figure at the heart of things, they transcend nostalgia, and tap into something powerful.
Al Jardine's son, Matt, takes over on lead for 'Don't Worry Baby', Wilson's tragic tale of a boy, his girl, and a car race. While Wilson looks on, Matt Jardine's voice soars to the heavens as he gives a note perfect rendition of the song, pulling every last drop of emotion from the melody. It's a stunning performance, tugging at the heartstrings in a deep and profound way, with Wilson's blank look (he seems to do nothing during the performance) somehow giving the song even more meaning. Brian Wilson's best songs evoke the teenage experience in a fantastically evocative way, and even if the situations change, the emotions stay with you forever. And to watch this aged, haunted man, surrounded by the ghosts of his past, his triumphs paraded in front of him and his adoring public, but being unable to touch them, is incredibly moving.
More hits get torn through by the band, including a guest appearance by ex-Beach Boy Blondie Chaplin. He can't help showboating, and while the rest of the band focus on performing, rarely moving, he looks strangely out of place as he prowls around the stage, pulling guitar shapes. But in an oddly affecting way, Blondie Chaplin's tireless attempts to connect with the crowd act as a wonderful counterpoint to the museum-piece that's on stage. He might look naff, but at least he's trying.
The band (plus Chaplin) do a particularly powerful version of 'Sail On, Sailor', and towards the end, Wilson rises from the piano, and shuffles off the stage. The band bring the song to a conclusion, with Chaplin shredding his way through a spirited, but utterly unnecessary guitar solo, and we are informed that they're taking a little break, and will be back to do Pet Sounds shortly. There's an audible sigh of relief.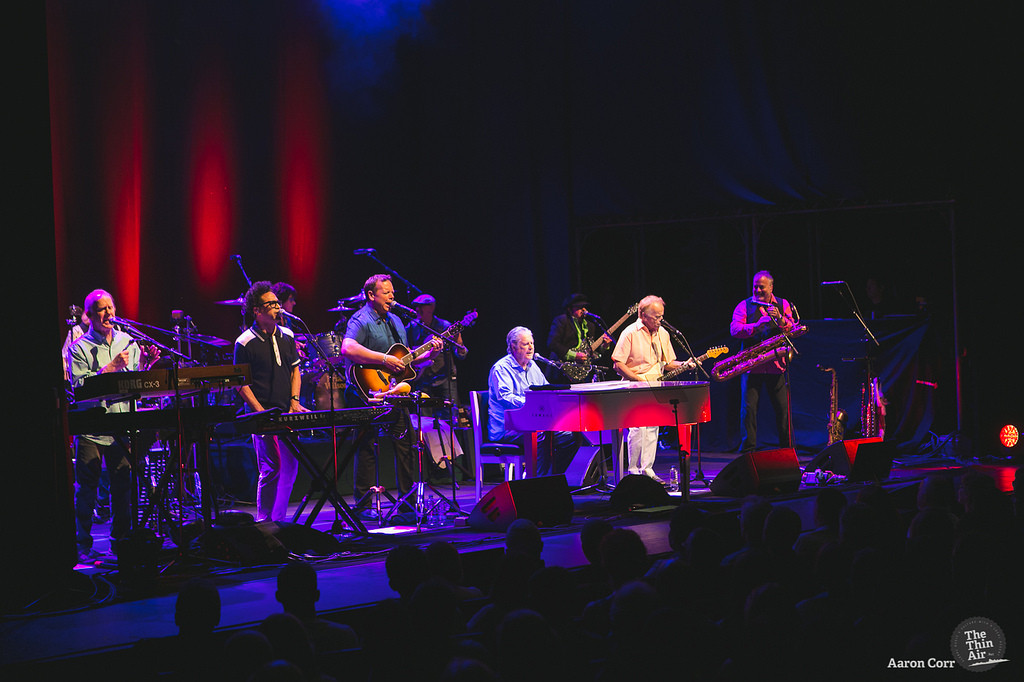 After what's come before, Pet Sounds is strangely anti-climactic. Of course, it's immaculate, perfect in its performance, and packed full of great moments, but it doesn't quite rise to the same power as some of the previous songs. Wilson takes lead for most of them, struggling with the tempo and the melody, but it would take a very churlish person to say it had any negative impact on the songs. The real problem is that the band seem to be holding back on these songs, and it's understandable why this would be the case. Pet Sounds may or may not be the best album ever recorded, but it's certainly one of the most important. This is the record where this gentle soul from California proved that the humble pop song could be art of the highest order. This is a record where the highs and lows of human emotion are explored in ways previously unimagined. And for the people on stage, it's a sacred text, not the kind of thing you can just rip into and put your own stamp on.
In a strange way, it's as if the Beach Boys' plethora of hits belong to everyone now, and as such, the band attack them with passion and excitement. But Pet Sounds was – and remains – a deeply personal statement from its creator. These songs are Brian's, and we're all a little scared to grip them too tightly. The two instrumental tracks on the record fare best, with the band stretching out a little, taking them to new heights. If they'd approached the rest of the songs in this fashion, re-interpreting them…just a little…it could have been heavenly. As it stands, it's merely fabulous.
There's the obligatory encore, a rousing song selection including 'Good Vibrations', everyone gets on their feet, and we rock and roll in exactly the way Mike Love wants us to at one of his gigs. Then, to close it all off, we're given a beautiful rendition of 'Love and Mercy', a track from his 1988 solo 'comeback'. The band are all smiles, pats on the back. They bow, and leave the stage.
At its best, this was as good as music gets. At other times, it was deeply sad, a man attending his own memorial tribute. Either way, few who were there will likely ever forget it. Steven Rainey
Photos by Aaron Corr