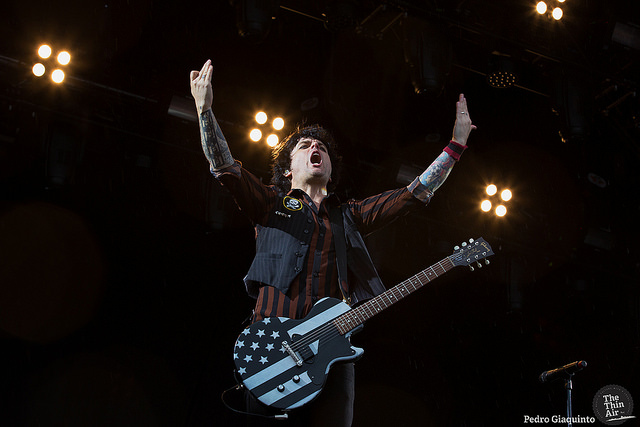 "Belfast you get it – not many people understand, but Belfast does."
To be very honest, it's very easy to be apprehensive about a Green Day gig in 2017. After the messy 2012 Uno… Dos… Tres! trilogy of albums, expectations weren't too high for their 12th studio album, Revolution Radio, released last October. But the album was a pleasant – though somewhat basic – effort from the iconic punk trio, revealing a sense of maturity, if not some dubious album artwork. It's easy to be apprehensive to see artists 'after' their moment in the sun (or the burning ball in the sky, as Billie Joe describes it when the clouds finally part over Ormeau Park) but Green Day managed to turn this cynical attitude around, bringing out a fun, surprising show.
Prior to Wednesday's show at Ormeau Park as part of the annual Belsonic festival, the band tweeted a poster from the first time they came in Belfast in 1991, playing to to about 100 people iatRichardson's as part of the Belfast Collective. This sort of nostalgia seems almost like a theme for the night – from the moment tonight's support in Rancid thank those who've been with them for the last 25 years, you can tell these are artists who have not abandoned their roots. And whilst Green Day's set list is heavy with songs from Revolution Road (this being the promo tour for the album) there are also some more classic tracks, such as 'Welcome to Paradise', 'When I Come Around' and  '2000 Light Years Away', which Billy Joe (who, at 45, still has that youthful energy) dedicates to all the "old bastards" in the crowd.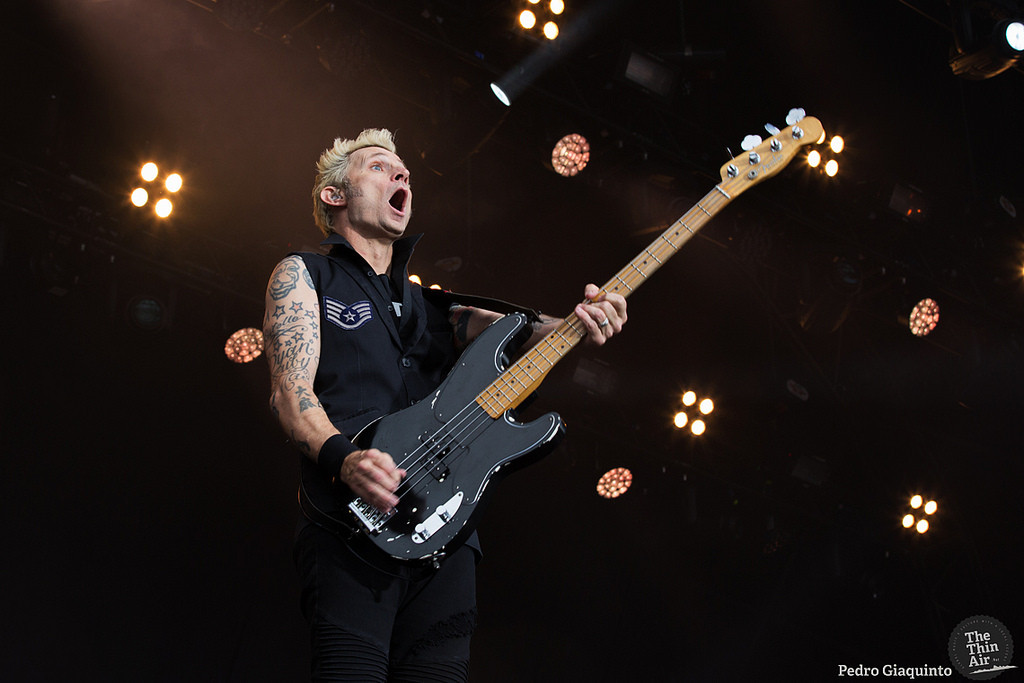 The setlist is actually pretty neatly divided between the new and old, which is notable when you see younger fans, in particular, screaming the lyrics to songs such as 'Forever Now' or 'Bang Bang'. But, of course, everyone collectively comes together despite age for the firm favourites like 'Basket Case', 'She' and 'American Idiot'. It's a very carefully curated setlist, full of crowd-pleasers and lots of Billie Joe-led crowd chants. Though they may be at heart the same messy punk boys they were 20 years ago, Green Day are now professional rock behemoths who know what they're doing, and can still maintain an air of freshness and fun despite how long they've been on the scene.
Crowd interaction is a big part of tonight's show, with Billie Joe picking out not one, but three young fans to come up on stage at separate points. One, who gets to play Armstrong's guitar, uses the opportunity to give a shout-out to his sister who he says is somewhere in the crowd. Billie Joe tells him not only is he going home with his sister, he's taking a brand new guitar with him. These kind of game-show theatricals are all a part of the show – at one point Billi Joe suddenly has a hose and starts spraying audience members from his catwalk, and then gets a t-shirt gun and starts firing at the crowd (one lands way outside the entrance of Ormeau, to everyone's disappointment except maybe a member of the PSNI guarding the park's entrance). Elsewhere, the band come back on for 'King For a Day' with Mike Dirnt in a mask and Billie Joe in some sort of captain's hat (this is the moment this small reviewer would have appreciated big screens on the side of the stage).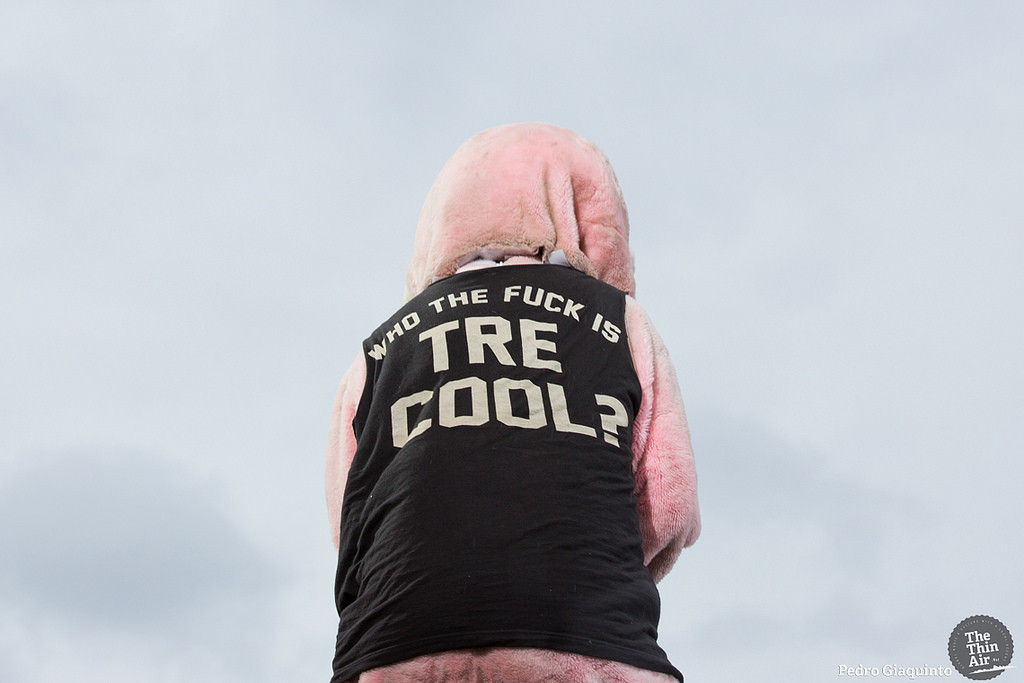 People may consider Green Day old hat now but there is still sort of a magic in seeing the kid in front of you hand his glasses to his friend so he can join a mosh circle for the first time. Green Day have reached that point in their career where they aim to inspire – sure, they probably always have, and have obviously been taking a turn for the political for the last few years of the career, but now they're conscientious of it – telling the crowd to reject hatred and division, and maintaining how rock and roll can still change the world. It's a powerful moment, after the saxophone dies away from 'King For a Day' and Billie Joe lies on stage and goes through a medley of iconic songs – from 'Always Looking On the Bright Side of Life' to the Beatles' 'Hey Jude'.  It feels spontaneous, but meticulous, and is a special moment to witness at dusk. Even if they were to perform this exact medley note for note at another show, they have a way of making it feel like it was just for you – which is the power of punk, Armstrong explains during the opening notes of Boulevard of Broken Dreams, to unite the freaks, and weirdos of the world, and that he manages to do. Aoife O'Donoghue
Photos in Dublin by Pedro Giaquinto