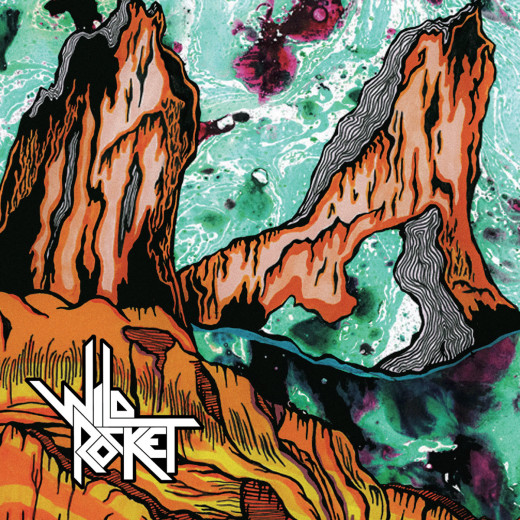 Wild Rocket have been ploughing their own particular psych rock furrow for the past few years, standing out in the Irish metal scene as one of the slower, sludgier bands around. Their first album, Geomagnetic Hallucinations, was an assured debut, while their second, Dissociation Mechanics, toys further with the form, extending track lengths and burrowing further into their krautrock-meets-metal idiom.
The album's lead track, 'Caught In Triangle Again', is one that's least representative of the whole album. It opens with a loping groove, guitars and bass doubling the riff, accented by synth and joined by vocals that come straight from the Hawkwind playbook, swathed in reverb and distortion. It could easily fit on Space Ritual, such is the attention given to rhythm and texture above all else. Irritatingly, the shift down to a slower section before going double-time is clunky, while the lyrics are oddly phrased and a bit of a misstep on an otherwise strong cut. "Caught in triangle Bermuda again" seems like a deliberately over-complicated way to phrase a sentence and, in fact, is. It is, however, only a very slight blot on that band's copybook as this part features some great drumming that pushes everything nicely forward before eventually falling back to its initial doom-laden groove. 
'Infinite Reconnaisance Imager' takes its template from the mid-section of the opener. It's a shorter affair, clocking in just under five minutes but it speeds along merrily. It's a track based on one idea, but it's a great idea. 'Into The Black Hole' is another shorter trip in the same vein, with its minor key riff plodding along and getting steadily heavier until the song bursts into life with the chorus. The repetition is trance-inducing and it sets the listener up well for the behemoth to come.
'The Future Echoes' is without a doubt the album's highlight. It is a monolith, massively slow and drawn out over its 15 minute run time. It picks up the pace after seven minutes and then ever-so-incrementally speeds up towards the conclusion. Synth lines decorate segments of the track but really it's all an exercise in jamming out the same idea forever and it just works so well. It doesn't flag over its length either, building and building until finally fading out in a whirl of synths after a quarter of an hour of pummelling music.
Closing track, 'The Edges Of Reality', does pale a bit in comparison to its immediate predecessor. It takes the album's template of pushing one riff to its extremes but the minimal lyrical approach hobbles the track somewhat. If it wasn't the album closer it might fare better but coming after 'The Future Echoes' it can't really compare.
This is an album that ranges from good to great and one that surprises with its range within such a well-defined genre. It takes simple riffs and brings them to their limits, continually making them heavier and more repetitive. The lyrics may be overly simplistic but with music such as this that's of limited importance. This is an album that creates a mood and sustains it over the course of a full record and is also one that should cement Wild Rocket's place as one of Ireland's heaviest and best bands. Darren Keane