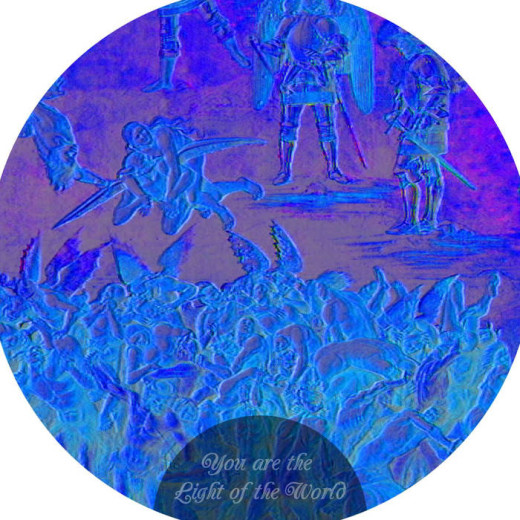 You Are The Light Of The World is the title of Body Of Work's new EP, a five track collection of improvisations from the Berlin based duo of UK and Ireland natives Tom Moore and darken malign. Released through the circle of dolphins collective, it's the first work from this newly formed duo and is complimented by being equal parts a visual and musical project.
It's an interesting work, with the primary tone of the EP being one of unease. Both members are non-binary femmes and ex-catholics, whose interests range from a fascination with "wasted youths festering in subcultures" to "liberating dancefloors from homogenous dudes and binary beats". Unsettling vocals, found sounds and clanking drums patterns are the palette with which the duo choose to work, with some impressive results. 'Holy Lathe' is a two part track, with its litany of images intoned over a fuzzed out backing track eventually spiralling out into delayed, roaring noises that sounds like a hot wind.
Better still is the title track, featuring a sample of a child's voice proclaiming "I have full faith in you that you are a world changer, that you are the light of the world, that you are loved", a statement that stems from Bible verse and evangelical teachings. The voice is pitched up and at times engulfed by screams and demonic roars, becoming a cacophony undercut by phased drones. It's a hypnotic listen, with the vocal sample becoming the rhythmic centre of the track and often the only stable element in a soundscape of whirling chaos.
There are some problems with the release though. At 25 minutes it feels slight and the ideas used on each track feel stretched out over the course of a whole EP. The intro and final tracks, 'Crowns And Evangelists' and 'Singing Through The Birds', share the same musical framework, lending a cyclical element to the EP but also highlighting a lack of material to fill it out. This might be down to the improvisational nature of the work. Recording music on one track and in one take is difficult and leaves little room to work with while editing, especially if overdubs are counted out of the creative process. Tracks have to be edited down and whole sections disregarded and that might account for the unfortunate brevity of the EP.
Then there is the visual component to the EP, with videos made for each track. The images chosen and the layering of these filtered images mirrors the density of the music. The video for 'You Are The Light Of The World' uses footage of Orange Order pipe bands filtered, solarised and distorted, matching the woozy tone of the music. The videos can be seen here and through the group's Bandcamp.
As an introduction to Body Of Work's aesthetic this EP is a success. The dense layers and harsh sounds form a cohesive whole and this release sets out their stall for future efforts. One would just hope for a longer effort from the duo next time around so that the thematic ideas can be explored further, with greater depth. Darren Keane