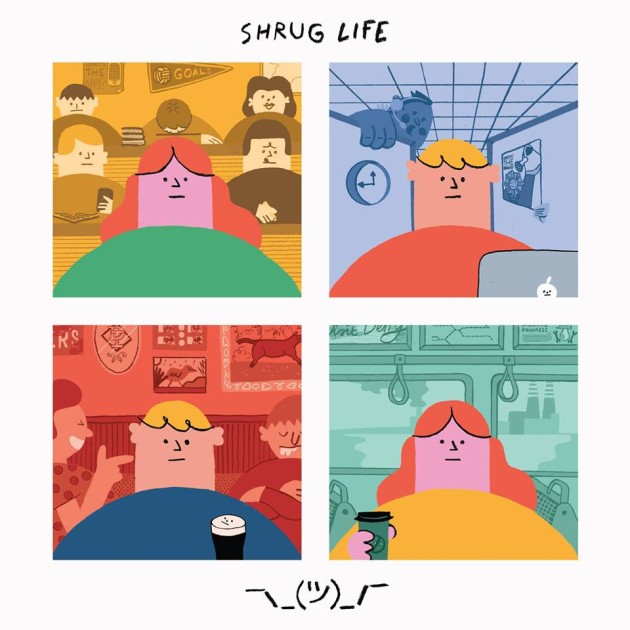 Dublin's foremost purveyors of wit-pop and satirists of modern day Ireland, Shrug Life, release their long-awaited album, titled ¯\_(ツ)_/¯ – fitting, really, given that bass player Keith Broni is the world's first emoji translator.
The jangle-pop trio are notable for having some of the most pointed lyrics on the island, courtesy of frontman Danny Carroll – who penned the album's most recent single, the Repeal-themed 'Your Body'. This is the band's first lengthy release since 2015 debut EP The Grand Stretch on Popical Island.
The album was produced by 'veteran wildcard' Fiachra McCarthy (also known for Dott, Squarehead & So Cow), with its artwork coming from the phenomenal Ruan van Vliet of Squarehead, Ginnels & Walpurgis Family. Tracks covering the range of drudgery faced by 'us millennials' include 'Skype Calls', 'Never Bored', 'Temp Job' and 'Japanese Bonus Track'.
¯\_(ツ)_/¯ is released internationally through the Seattle-based Jigsaw Records and in Ireland via indie imprint Little L Records, the album is released on September 29. The accompanying tour features the following dates:
September 29th – The Roisin Dubh, Galway w/ Dott & Half Forward Line
October 6th – McHugh's Basement, Belfast w/ Junk Drawer & more
October 20th – The Grand Social w/ Slow Riot & Handsome Eric
Stream 'Your Body' below: