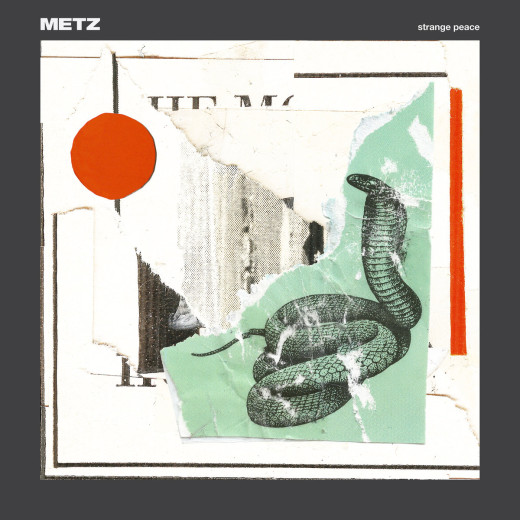 The first two albums by Canadian trio Metz were loud, bludgeoning noise-rock records very much in the spirit of the band's ear-splitting live shows. But as viscerally thrilling as both their self-titled debut and follow up II were, they weren't the sort of albums a band can make a career out of repeating ad naseum, and on the latter there was already a sense of déjà vu creeping in before the end of its half hour duration. Third album Strange Peace then, feels like something of a make-or-break moment for the band's continuing momentum. While a degree of progression might be suggested by their first use of a proper album title and a slightly expanded (if still pretty lean) 36 minute runtime, if this album failed to follow through it would threaten to see their formula begin to grow stale.
On the surface, Strange Peace is no great departure from the band's previous work, yet there's an immediate sense that they've discovered a greater sense of depth. They sound pummelling as always, but the band's real high points have always come when they combine their aggression with a strong sense of melody, and on Strange Peace they do this more consistently and successfully than ever before. The opening three track run from 'Mess of Wires' to 'Cellophane' rank among the band's very finest work, the latter track slowing down from their usual frantic pace with an almost poppy, harmony-infused chorus, while 'Drained Lake' is propelled along by some distinctly Joy Division-esque percussion and layers of noise over a cathartic riff.
Recording with the legendary Steve Albini proves to be a predictably perfect fit (while Holy Fuck's Graham Walsh is also on mixing duties as usual). Where the first two albums had a brash, in-your-face style that made for a punishing listen on headphones, Albini typically scales things back by just the right amount. He has obviously got quite a history of engineering classic noise-rock albums, including his own bands like Shellac among other obvious Metz influences, but as ever his skill is to create a sense of space without sacrificing the power of the live-in-studio performance. Strange Peace sounds like you're in the room with the band, but unlike previous albums it doesn't sound like you've been left to sit right next to the speakers.
Moreso than on previous work, the band also make an effort to inject some variation into Strange Peace. While nothing is too drastically different – you won't find any acoustic ballads here – the quieter, guitar-only 'Caterpillar' breaks up the noise while the trepidatious 'Sink' circles around some Mogwai-esque guitar harmonics and uneasy drums in a way that makes the album's title feel prescient. These hints of variation suggest a more earnest attempt to craft an album as an artistic whole rather than another set of songs to add to the live set. It fulfils a potential merely hinted at on their debut's 'Nausea' interlude but never previously followed through on – perhaps touring with the ever-inventive Girl Band has opened up their interest in exploring the dynamics of their music to a greater degree, but who knows?
What it all adds up to is the band's most complete and rewarding work to date. It's distinctly another ferocious Metz album, sure, but the band are operating on another level with more depth and more layers than ever before, subtly beginning to expand their horizons in a own way that should guarantee their longevity. Compared to the all-out-war of previous work, this strange peace turns out to be infinitely more satisfying. Cathal McBride