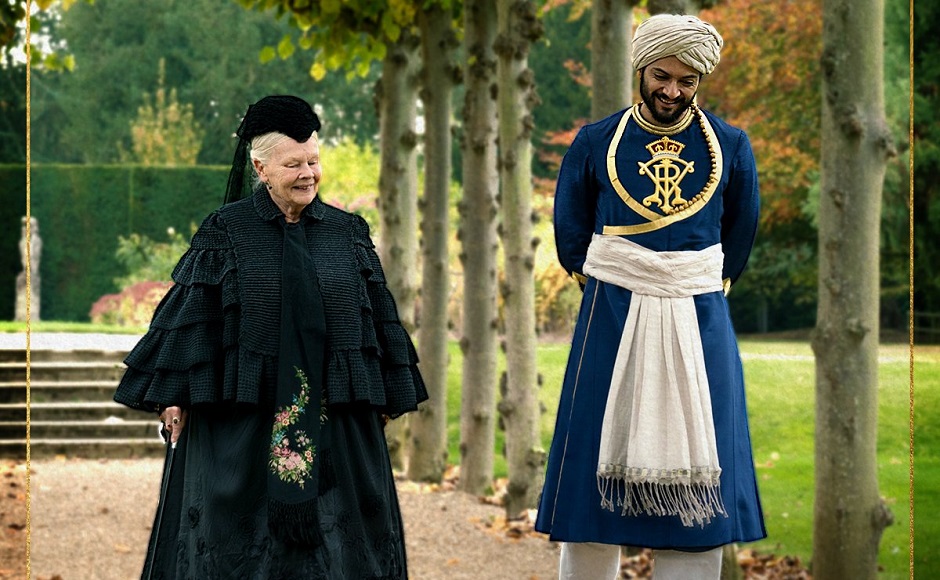 In this era of cinematic universes and franchises, it's easy to forget that British cinema has one of its own: the Royal family. The huge success globally of films like The Queen and The King's Speech means that the subject continues to be revisited even as support for the real British Royal family wanes. So, in 2010 when Shrabani Basu published a book revealing a hitherto unknown relationship between Queen Victoria and an Indian servant, Abdul Kareem, a film version was inevitable, and seven years later here we are.
Victoria & Abdul details the story of a young Indian man plucked from his home country to serve Queen Victoria in England. Instead of resenting this and the British in general, as his fellow servant Mohammed does, Abdul (Ali Fazal) embraces it and in particular the Queen. Victoria (Judi Dench), at this stage is in her twilight years and has become bored, by the ceremony and formality of being Queen, and lonely, having lost the two closest relationships of her life, in first her husband Prince Albert and then her confidante John Brown. Furthermore, she is surrounded by an inner circle who jealously guard their self-interest and isolate the Queen from genuine social contact, "We are all prisoners," Victoria quips to a surprised Abdul early on.
Abdul breaks through all this. By treating the Queen as a person, rather than a title, and by feeding her natural curiosity about India, Abdul nurtures a close bond with Queen Victoria, one that only grows stronger over time. She appoints him to be her 'munshi', a role that sees him advise her on all matters, much to the chagrin of the Royal household and Victoria's son and heir apparent, Prince Bertie (Eddie Izzard), in particular.
It's this open contempt for Abdul from the rest of Victoria's household and their desperate attempts to get rid of him that drives the plot of the film. Director Stephen Frears and screenwriter Lee Hall keep things relatively light, making a mockery of those who wish Abdul ill by presenting them as buffoons. In this respect the filmmakers are ably assisted by the casting of some skilled comic actors, including Tim Pigott-Smith, Olivia Williams and Paul Higgins, who is particularly enjoyable as the self-righteous, Edinburgh-educated Royal doctor. The light touch of humour throughout is one of Victoria & Abdul's greatest strengths, from Abdul and Mohammed's odd couple act to the delightful inappropriateness of Dench's Queen Victoria the jokes continually hit the mark.
The film also finds to time, however briefly, to touch upon the more serious themes of the story. The most obvious of these being racial, religious and cultural difference. While the friendship of Queen Victoria and Abdul promotes mutual respect and understanding- the Queen learns Urdu from Abdul and he teaches her about his country's history- the film aims to be more than a lesson from history. It's easy to dismiss the protesting cries of "But he's an Indian" and "But he's a Muslim" as the relics of an uneducated age, but one scene places Victoria & Abdul firmly in a contemporary context- the arrival of Abdul's wife in a burka. It's an image that is misunderstood and controversial in Western society today more than ever.
The theme that runs the deepest in the film, however, is mortality, thanks in chief to an equally powerful and vulnerable performance from Judi Dench. One scene in particular, when Victoria and Abdul are finally alone and she confesses the great burden of loneliness she feels as those closest to her pass away is truly moving. What Abdul does for her in this moment and in their relationship is reinvigorate her passion for life, which is perfectly captured in a tremendous 'I am' speech that writer Lee Hall gives Dench towards the end of the film.
There is a definite, curious chemistry between Fazal and Dench, portrayed, just as in the moment that precipitates their friendship, through their eyes. Frears invites the audience into this intimacy with a series of beautifully photographed close-ups of either actor's face throughout the film. Victoria & Abdul also boasts some incredible landscape photography courtesy of cinematographer Danny Cohen (The Danish Girl, Les Miserables), adding to his already impressive resume.
While there is much to commend Victoria & Abdul, the relationship between the Queen and Abdul is a little one-sided and the fact that Victoria is the only truly multi-dimensional character weakens its overall impact. It may not hit the heights of Stephen Frears and Judi Dench's last collaboration Philomena, but Victoria & Abdul is another very enjoyable outing for the two national treasures, and in Dench's bravura performance the film has the jewel in its crown. Richard Davis