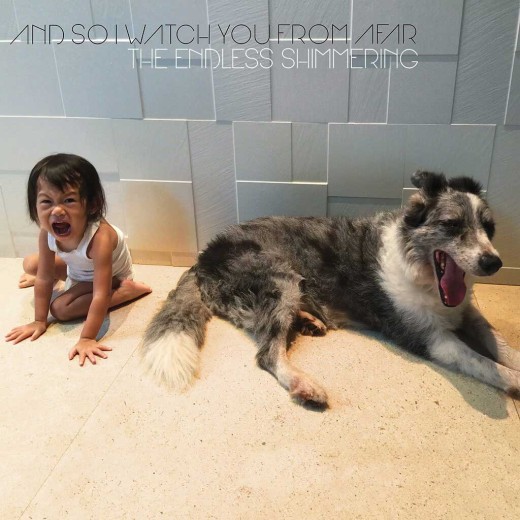 As they embark on a vast European tour in support of their fifth album, The Endless Shimmering, it is nice to make the note that it was as a result of a decade's worth of extensive, ubiquitous touring and ferocious dedication that North Coast instrumental behemoths And So I Watch You From Afar got to where they are now, holding a place as one the island's best and widely loved acts. It's something that saw them play over 300 shows between 2009 and early 2011, venturing on sprawling tours across continents and countries rarely travelled by independent and relatively niche acts – see the tour videos from Russia and China to get the idea.
It spoke to the fervour and drive that inspired the band from day one, having formed in 2006 from the ashes of numerous punk and hardcore bands in and around Belfast (shout out Zombie Safari Park). The ambition was captured in a now long retired tagline – "We are the bull, you are the China shop" – and in the title of their first EP, This Is Our Machine And Nothing Can Stop It. Not only that, but they wanted to bring us with them; consciously or otherwise inspiring shedloads and tentloads and small-pub-loads of kids from every corner of the country and further afield to feel that mighty thirst and to yell, jump and flail with them until it was quenched.
There was a punk's sense of rebellion, a fraternal love, and a unifying and ear-shattering noise in the self-titled debut and in its follow-up, Gangs; transmitted not just in the uninhibited dynamic peaks and troughs of the music but also in the way it was carried in titles from 'A Little Bit Of Solidarity Goes A Long Way' and 'Don't Waste Time Doing Things You Hate' to the arms-across-the-world tour stop odes, 'Homes – Ghost Parlor KA -6 to…' and 'Samara to Belfast'. Those albums and accompanying shows echoed in the chests of everyone they met and lingered long and loud.
It brought friends together over shared disbelief of what they were hearing. It made them start bands together. It made them get tattoos of the three triangles they scrawled on desks, and subsequently mitch off school to drink tins and jam along to 'If It Ain't Broke. . .' . Truly, there have been few greater joys in this writer's life than having Rory Friers, Tony Wright, Johnny Adger and Chris Wee wreak havoc on his 16 year-old ears in a cramped Academy 2 in 2009, or in a heaving Roisin Dubh to (w)ring out/in the new year of 2012 with shiny new guitarist Niall Kennedy, to name but two occasions.
All Hail Bright Futures and Heirs were good albums: Carefully constructed collections that saw the band utilising studio perks to craft a sound that was more polished and glittery, not to mention with a lot more vocals. But something about them felt stifled, more restrained and self-conscious. Like trying to keep dancing long after you've gotten tired, there were too many points that betrayed a band that were making the moves they felt were expected to make, rather than the ones that felt right. It was more or less convincing – certainly live – but it didn't seem all there. Perhaps it was the pressure to both win and maintain an even wider audience as momentum drove them ever forward. Perhaps it was the need to expand and develop on a technical level. While that was to be respected and admired, that initial spark of raw instinct and freedom was starting to feel diminished.
Anyway.
What a feeling to learn that, this time round, the skateboard loving, pedal lepping troupe were putting the focus solely back on impulse. In their announcement of The Endless Shimmering, ASIWYFA discussed the need for this album to feel organic and visceral, to be "decidedly alive and purely instinctual". The band worked and worked on 30 tracks in a live practice space until the nine that would make the record felt ready to be played live and then recorded, rather than surgically altering a "studio" album for an eventual live context. Recorded and mixed in the space of nine days in the Machines with Magnets studio in Pawtucket, Rhode Island, this album features the most instinctive, raw and honest music the band have released since 2011. Maybe to date.
The opening gambit of 'Three Triangles' and 'A Slow Unfolding of Wings' feels like an adrenaline shot to the entire body. The propulsive guitars, roaring bass and fierce drums course through the blood to make involuntary movement almost impossible to reign in. The riffs bash into one another with the same unbridled ferocity they have shown in a live setting since they started playing, only now it's erupting with reignited confidence.
'Terrors of Pleasure' and 'Mullally' (named after mighty journalist and friend of the band, one Una Mullally) show that a return to impulse does not mean a neglect of technicality. The guitar work here is some of the most intricate they've ever displayed. Some of the effect laden sections on these cuts feel like nods to the sorely missed and manic stylings of Lar Kaye on Adebisi Shank albums. The mid-section of 'Mullally' features the closest thing to "shredding" any ASIWYFA track has ever done, and it's a suit it wears very well.
'Dying Giants' and 'All I Need Is Space' make for a double-barrelled centrepiece and are possibly two of most determined, triumphant tracks in their catalogue. The former, the album's heftiest, is a cathartic explosion that will lead to many an out of body experience in a live setting while the latter is a melodic, emotionally driven gallop that concludes with the sense of elation that this band has always executed so well.
The descending motif that first appears as a string section at the end of 'Dying Giants' and recurs again in 'Mullally' and in the clamorous final track 'Chrysalism' brings cohesion to the album's second half. The sprawling 'I'll Share A Life' and the chiming title track rest comfortably as the least immediate, but nonetheless resonant moments on an album that reveals itself more and more with each listen, even without a single appearance of vocals.
Johnny Adger said that they wanted this album to be able to soundtrack whatever its listeners needed in life at this moment. With the energy, heart and honesty that bursts from The Endless Shimmering's every corner, it's hard not to want to take him up on that offer.
Life is unpredictable (duh). Out of nowhere, life will throw shit at you to weigh you down and drag you to where the wind and rain may beat you senseless (double duh). Sometimes the only response is to act on instinct and run into the storm, to lunge for something brighter. Sometimes a body of work awakens something in you to make that instinct feel like hope. Eoin Murray