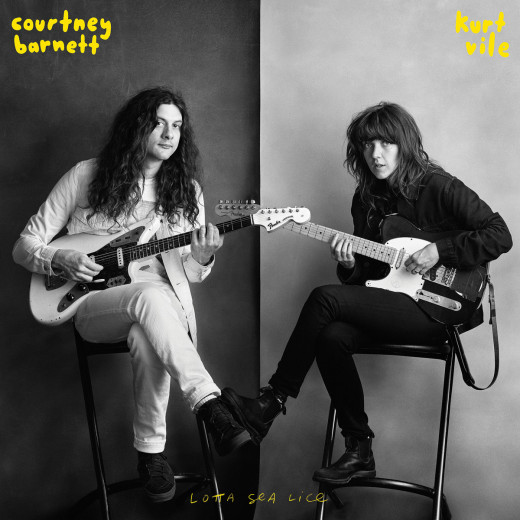 It's a laid-back love-in and we're all invited – we always knew these two kids would get it together. The Melbourne-Pennsylvanian alliance of Courtney Barnett and Kurt Vile sprang organically from the grooves of Vile's Smoke Ring For My Halo, an album with deep personal resonance for Barnett. Her then band, CB4, ended up supporting Vile's own Violators a couple of years later as his Wakin on a Pretty Daze record was taking hold in people's consciousness, and the two became gradual friends over the ensuing years' international festival circuit. Ideas were bounced, files were shared, and eventually Lotta Sea Lice was delivered with all the haste we might expect from two musicians who are synonymous with the 'slacker rock' tag in a lot of folks' minds.
Of the nine tracks on this collaboration, five of are originals and the rest covers, kinda. Vile covers Barnett's 'Out Of The Woodwork'. Barnett covers Vile's 'Peepin Tomboy'. They both do a number on (Barnett's partner) Jen Cloher's 'Fear Is Like A Forest'. Each does justice to the next, but what the covers – and originals – reveal is that despite the superficial similarities, there is a marked contrast in Vile and Barnett's writing styles. Hearing 'Outta The Woodwork' through Vile's filter and her subsequent reinterpretation of his track, though, you can see what draws them to one another – that sardonic yet sincere worldview, tripped up in melody.
Where usually the intricacies of Vile's songs lie in the layering and entanglement of his guitar lines, and Barnett's in the lyrical complexities of her wry vignettes, both seem tempered on this outing. It's as if each is holding something back, be it from modesty, or mutual respect, or simply keeping the A-game for the primary records – could just be that their pairing may have simply exacerbated the languorous lilt that both tend towards. That's not to say that Lotta Sea Lice isn't a pleasant journey; quite the opposite. It exudes that warmth and camaraderie that the two clearly share, that sense of fun, and fans of either and both will find much to love.
Vile takes the album's opening vocal line on 'Over Everything', but only because someone has to – what begins here and what follows after is an egalitarian, egoless trip. He sets out their stall – "I wanna dig into my guitar, bend a blues riff that hangs/ Over everything." It doesn't just hang in Vile and Barnett's phrasing, it ha-a-a-a-angs. It's the record's first little endorphin burst, barely thirty seconds in. Lotta Sea Lice is full of these small victories.
There's another lovely moment late on, right before their starry-eyed take on Belly's 'Untogether' – a rollercoaster ride "woo-hoo!" right in the middle of 'Blue Cheese', whose country vibes and vocal playfulness can't help but call up The Moldy Peaches. Small moments, smiles, a friendship musically notated between and among friends – it's an unsentimental heart that won't make time for this one. Justin McDaid