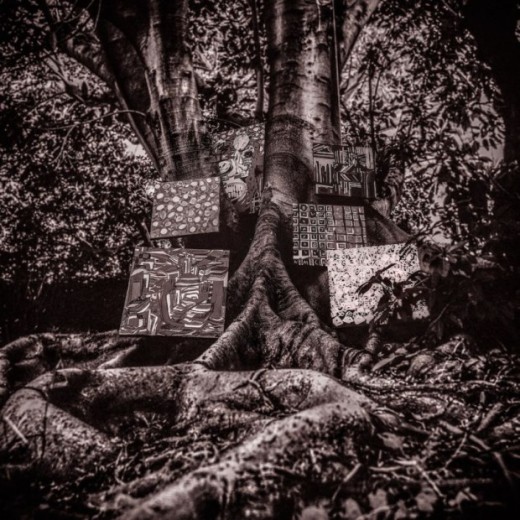 Hip hop was born from jazz. Powerful drum beats from 70s jazz and jazz funk gave early pioneers Afrika Bambaataa and Grandmaster Flash an abundance of ingredients to create an entirely new style of music composed of their predecessors' songs. It's an influence that stuck through the 80s and 90s, and whether it's J Dilla 's sophisticated sampling or Notorious B.I.G's Cannonball Adderly influenced flow, the fingerprints of jazz are all over hip hop.
So what happens when jazz is relegated to "music for goatee scratching elitists", and hip hop takes up the mantle as the art form for black expression? The relationship goes full circle and jazz musicians start borrowing from hip hop.
This isn't an entirely new phenomenon. Robert Glasper and Thundercat's output has certainly been on the hip hop influenced jazz side of things in recent years. However, there is one artist who has become particularly adept at mixing these two genres into his own music. On his new six track EP, Harmony of Difference, American saxophonist and bandleader Kamasi Washington flaunts this skill effortlessly, showcasing once again the reasons why he is one of the most important musicians operating in the contemporary jazz sphere now, and what it is that makes his appeal so universal. 
If you haven't heard of Kamasi Washington, he is mostly known for two things: Being a key collaborator on Kendrick Lamar's To Pimp a Butterfly and for his 173 minute long cosmic jazz odyssey The Epic. Despite the much shorter track lengths and overall duration of this EP, Harmony of Difference maintains the cosmic feel of its bigger brother with melodies that echo and change throughout the entire EP. It's this idea of change and restating melodies that drives the concept behind Harmony of Difference. It is split into two parts, 'Difference' and 'Harmony of Difference'. 'Difference' comprises the first five tracks, with each track being a tribute to different areas of Washington's native LA. 'Harmony of Difference' then, brings together musical elements of the previous tracks to create a glorious 13 minute long exploration of the EP's themes.
Fans of The Epic may be disappointed that Harmony of Difference lacks the meandering quality of the previous release, but the succinct nature of this EP really is its strength. The songs are accessible and hooky while retaining the virtuosity you would expect from musicians of this calibre.
Attention must be brought to Ronald Bruner Jr. and Tony Austin's simultaneous drumming on this EP, pulling and pushing tempos while playing off one another, giving the impression of a glitchy J Dilla sample but with all the intensity of Elvin Jones' performance on A Love Supreme. The real star of the show though is of course Washington's own playing. His solos are lyrical and are played with a fierce focus that lifts them above the rest of the composition. Musically, the only missteps are the slightly unwarranted cello solo in 'Integrity', while 'Perspective' could also be accused of being a bit too Kenny G-esque.
Kamasi Washington has achieved something great on Harmony of Difference. By boiling down his sound to its core elements he has created a concise jazz EP with a hip hop backbone and galaxy sized scope. Will Calvert