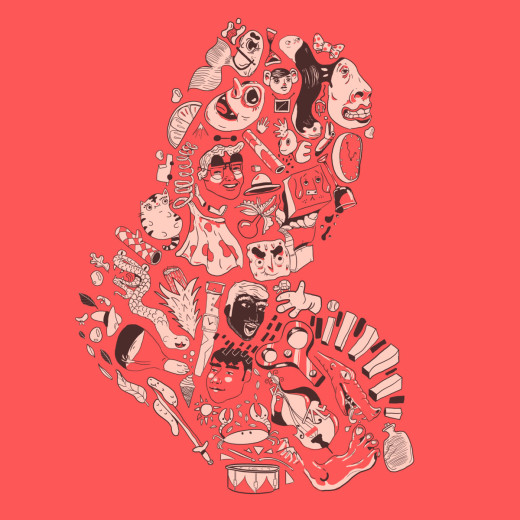 Crudely speaking, size can be determined by a multitude of factors including environment, competition and space to grow into. Handily, for the sake of this review, the same biological principles can be transferred to culture, and as a subsection, music. Let's put the Dublin jazz scene under the microscope here for a minute. In terms of environment, JJ Smyth's has consistently flown the flag for Dublin's jazz and blues scene for years, but is limited by its size and accessibility, whilst Sugar Club is arguably the best suited venue but is a challenge to book for jazz promoters amongst events that are more commercially viable. In short, Dublin is Europe's only capital city without a fully dedicated jazz venue. Guitar legend Louis Stewart will always be remembered as an Irish jazz hero, whilst Proteus, Aoife Doyle Band and Stella Bass are a handful of the names keeping the scene alive today. Acts like Alarmist, Spudgun and Tongue Bundle  have done their bit too, by bringing a jazz sensibility to their contemporary – and often wonderfully strange –  music.  If we are to be honest though, Dublin's jazz circuit could probably do with a bit of shaking up. 
Enter Five to Two, a three piece hailing from Dublin. Consisting of Matthew Breen on piano, Jonah Byrne on double bass and Finn Mac Anna on drums, the trio offer contemporary jazz with one eye on classical roots. Coincidentally, they too have been contemplating limiting factors of size, although have diverged from my original introductory thesis and offered their conclusions in the form of an LP, How Tall Do You Think You Could Grow (If You Wanted To Be So Tall), released on Soft Boy Records. The hip-hop leanings of their fellow labelmates Kojaque, Peter Brien and Henry Earnest amongst others partly isolate Five to Two, whilst also provide an indication to the contemporary influences that underscore How Tall…. Kean Kavanagh of Soft Boy Records, says that they became besotted with Five to Two and their brand of jazz which "has found a second life in the modern era being relentlessly sought after and sampled by hip-hop producers".
How Tall… certainly is, in many ways, an open invite to hip hop producers. 'Cargo' offers a sparse piano riff with Byrne and Breen filling gaps with distorted fills and nuanced flourishes, declaring itself a sitting duck for future sampling. 'Very Softly' saunters along at mid tempo and puts itself in the same category, offering big wide spaces that will provide producers with a field day. Yet How Tall… is brimming with much more creativity and copious amounts of enjoyment from other outlooks and influences. 'Latinvader', as the title suggests, draws on flamenco influences and slowly bubbles from Byrne's energetic bassline. The title track offers Breen a free pass to improvise over Mac Anna's frenzied drums in one of the album's longer and standout pieces, whilst 'Mb' looks towards the lounge and provides schmooze-a-plenty from brushed snares and sparing atmospheres created from minimal bass and piano. Sean O'Grady joins Five to Two for closer 'Beautiful Love', their take on a cover by Bill Evans Trio. It's a fitting end to a stellar debut.
On the evidence of both How Tall… and the whistle-stop rambling tour of Dublin's current jazz scene, Five to Two really do have the ability grow as tall as they want to. It's a hard task and a rarer talent to harmonise both a deep sense of nostalgia with the engagement of a young, 21st century audience who have access to a seemingly infinite music library, but one that'll hopefully be harnessed in records to come. How Tall… is a dynamic introduction to an up and coming band that could provide a turning point for a gently simmering scene. Dominic Edge