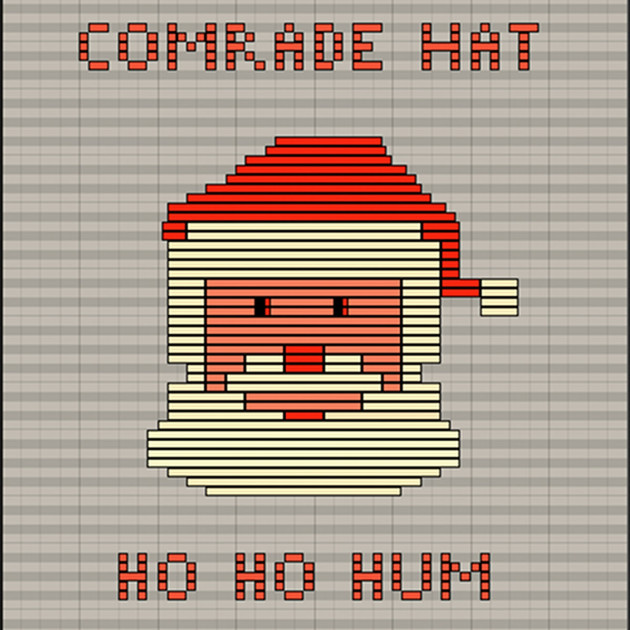 After the year we've had, it's quite honestly surprising we've not reached another Gary Jules moment of collective despair, but fear not: Comrade Hat has it covered in a typically loungey, subversive fashion.
Following up on his five previous Winter 'festering season' releases between 2009 & 2015, this latest EP, Ho Ho Hum, manages to smirk through winter's grimace. It proffers five sunnily low-key ditties that dabble in jazz muzak, apocalyptic calypso [see 'Driving Home for the Apocalypse-oh'] and and some swooning Stevie Wonderesque turns that bely its sinister undertones, offering another glimpse at the singular, surrealistic, oneiric sonic tapestry woven by Derry-based experimental pop songwriter and avant-crooner Neil Burns.
To help set the scene, here's the concept:
"Santa is AWOL after dark murmurings about 'being better off dead', amidst rumors of blackmail letters and corruption. The elves are overworked, slaves to market forces which even Lapland cannot fight. The talk is grim, many fear this Christmas could be the last."
An apt prelude to the EP, which is being treated as a sort of advent calendar, each day this week opening up another treat with the following order:
1. Search History
2. Driving Home for the Apocalypse-oh
3. Seeing Red (Diary of an Overworked Elf)
4. Holidays in Hades
5. Santa's Descent (into the Underworld)
Ho Ho Hum will be released in full on Friday, December 15, with all songs composed, performed by Neil Burns, with some assistance by fellow Derry experimentalist Daryl Coyle, aka the excellent Porphyry, and a guest vocal from Siobhan Shiels. He's gradually building up a respected cult following, with the aforementioned seasonal releases being followed by his phenomenal EP Old Amsterdam from January 2017. Having played across Ireland & Canada, he's working toward an album release in 2018.
Stream it below: