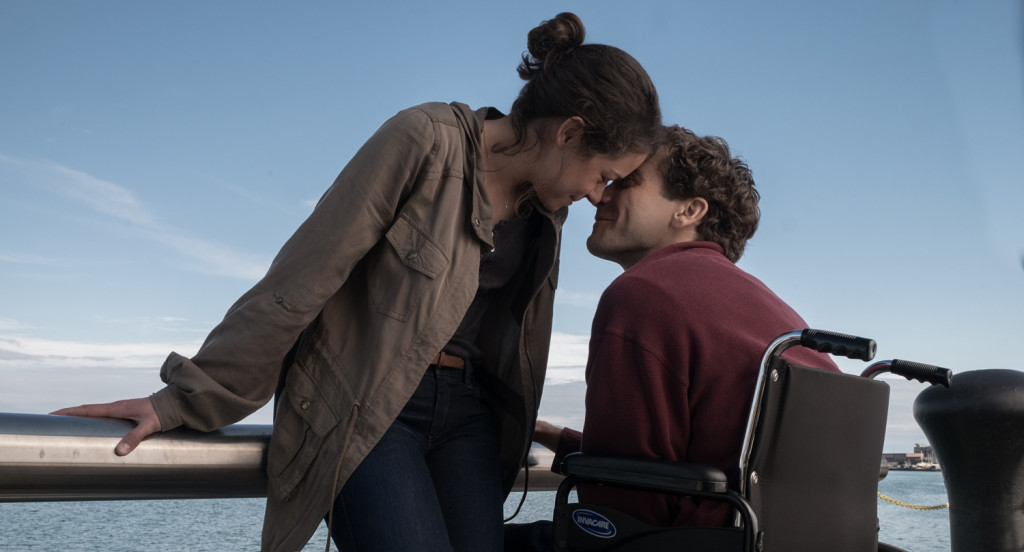 For most of its running, Stronger is a watchable if unremarkable disaster biopic, admirably uncomfortable with terrorist attack cliche. It traces the story of Jeff Bauman, played by Jake Gyllenhaal, had both legs amputated above the knee after being caught in the 2013 bombing of the Boston Marathon, where he was cheering for his on again, off again girlfriend Erin.
This is the second film based on the Boston attack released this year, but whereas Peter Berg's typically muscular Patriot's Day tracked the manhunt for the bombers, Stronger keeps its focus on personal consequences, John Pollono's script working off Bauman's memoir of the same name. Jeff's hospital bed description of one of the Tsarnaev brothers provides a short procedural jolt, but otherwise David Gordon Green's direction keeps the film casual and and domestic, following the devastation of Jeff's injuries, the difficulty of his recovery and his conflicted attitude towards being turned into an icon of 'Boston Strong' heroism.
Stronger's most interesting subtext is how something life-changing can happen to you, but you stay the same, slightly crappy, person. Jeff is a well-meaning, nice guy, but he's flaky and immature, qualities that prompted Erin (Tatiana Maslany, whose hydra-like performance powers TV's Orphan Black) to dump him in the first place. It's his child-like enthusiasm for grand gestures that places him at the finish line in the first place, waving a homemade sign to get back into Erin's good books.
After the attack, she takes him back and shifts into caregiver mode, their intimacy providing some breathing room amidst the circus of visitors, fan mail and television reporters eager for a disposable story about hope and survival. But there's no new lease of life for Jeff, who slides back into his old ways, getting wasted with his buddies, being pushed around by his headstrung mother Patty (Miranda Richardson), letting Erin down and missing physio appointments. (The epiphany, inevitably, comes later.)
In the aftermath of the attack, Jeff feels alienated from the omnipresent sloganeering of 'Boston Strong'. The din of the media buzz surrounding him is mirrored in his loud family life, a fevered, chatty desperation to drown out uncomfortable realities. The aimless Jeff goes along with the ra-ra routine, but Erin soon acts as a shield, another example of him deferring responsibility, a role which marks her as an outsider to the family-first Patty.
This separation is expressed a little too obviously — struggling to take a shit Jeff falls off the toilet while family and friends, drinking bear and watching baseball, shout to him in the background — but it mostly works. Jeff reacts with shyness and catty impatience to the grabby entitlement of strangers, the empty talk of 'not letting the terrorists win', the roaring, mindless jingoism. At one point, when Jeff opens a hockey game, they literally make him wave a flag. These scenes are captured in claustrophobic close ups of Gyllenhaal's appeasing weak smile, struggling with flashbacks of the bloody bombing scene.
Jeff's alienation only goes so far, though. Eventually, there's acceptance, and a speech about 'wanting to live'. Jeff's change of heart is engineered by the person who came to his aid after the explosion, a soft-spoken Latino man (played by Carlos Sanz) whose deus ex mechana dose of inspiration triggers a 'getting it together' montage. Jeff embraces his talismanic status, a receptacle for strangers' pain over loved ones lost in Middle East wars or the Twin Towers attack, the amorphous American grief bowing to national tragedy convention.
Stronger is essentially Bauman's story, and the redemptive arc makes sense as a way of finding meaning in horror, and Gyllenhaal, always a pro, sells it as much as he can. Still, it's hard not to think the laidback, unfussy style of the first two acts were, well, stronger. Conor Smyth
Stronger is showing in Movie House City Side.