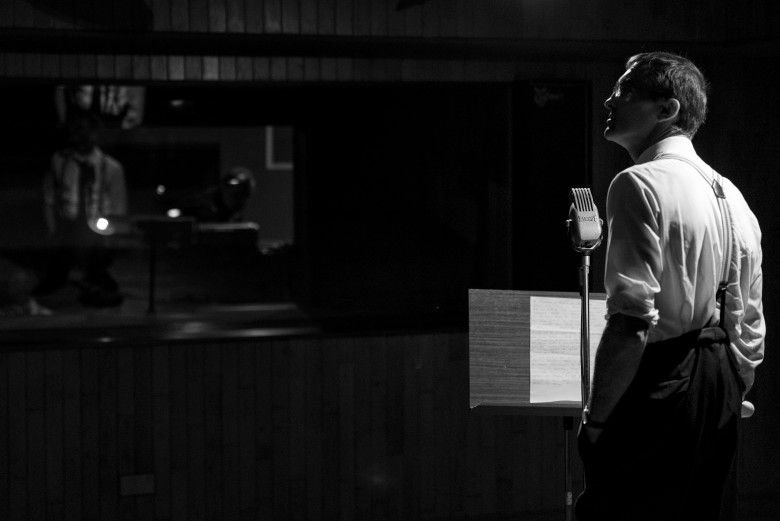 A non-traditional perspective on a traditional Irish sean-nós singer, Song of Granite tells the story of Galway-born Joe Heaney through fragments and figments, snatches of song and poetry and time-jumping visions of Ireland and beyond. Pat Collins' film is a carefully composed blend of dramatisation and documentary, light on biographical specifics but heavy on the sad, gentle rhythms of time and song.
Cinematographer Richard Kendrick frames Joe's childhood in the village of Carna, Connemara in glorious, pristine black and white, dramatisations of early 20th century rural Ireland rarely seen in cinema without the moral baggage of politics or poverty. There is an aimless potency to these scenes, the young Joe (Colm Seoighe) playing in the fields, messing with rocks, or reciting Christian dogma in the classroom. Modernity comes in flashes, a travelling man with a magic recording machine eager to capture Joe and his father's renditions, or a car speeding through the countryside like a blistering steel bullet, reducing the monocolour foliage to a blurry magic eye painting.
Around sooty fireplaces, neighbours gather and sing in turns, part of what would become Joe's extensive repertoire and Granite provides no English subtitles to the Gaelic lyrics. Subtitles would have been useful for contextualising the songs, but skipping the textual distraction helps maintain an entrancing, immersive quality to the performances, and to similar scenes of an adult Joe (Mícheál Ó Confhaola) participating in Irish pub sessions while in England for work.
Alongside writers Eoghan Mac Giolla Bhride and Sharon Whooley  (who worked with Collins on 2012's Silence, another meditation on sound and the countryside), the director sketches out Joe's arc in temporal jump-cuts with little in the way of exposition or textual detail; occasionally voiceover comments from those who knew him help fill in the blanks. We go from a young boy in barren Galway to an older Joe walking the streets of London, flanked by monolithic urbanity like a noir gumshoe; then he's in New York, following an invitation to perform at the 1965 Newport folk festival, working as a hotel doorman, peeling boiled eggs in the boiler room on his break, making awkward chat with a peppy colleague. Later in life, Joe (Macdara Ó Fátharta), who enjoyed residency at the University of Seattle, reflects on his own legacy and that of traditional Irish music, up against market pressures for uncomplicated songwriting. The prospect of an impending death far from the homeland weighs on him heavily.
Song of Granite, in its own hands-off way, catches feelings of exile, heritage and the fragility of aural memory. Mostly what it communicates is the loneliness of the songbird, how the singing functions as a yearned-for escape. When it's your turn on the verse, Joe tells a friend in a pub, there's nothing else. Given the limited opportunities in Ireland, pursuing singing in a serious way involved a self-imposed loneliness, as Joe leaves his family first in London, and then America. Or maybe the shyness comes first, and singing is a means of reconciliation.
Ireland's Foreign Language entry for next year's Academy Awards is unusual and a bit taxing, but has a tolerance for mystery rare for the music biopic, a genre which, with the studios anyway, often over-reaches in its mania for coverage. The film is longer than its experimental style demands, but, with patience, opens out into something aesthetically gripping, even as its subject's personality remains distant. Song of Granite is an audacious and decluttered approach to biography, a stab at getting to the essence, to something both authentic and insubstantial, like a feeling passed down in song. Conor Smyth
Song of Granite is showing at Queen's Film Theatre, Belfast and the Light House Cinema and Irish Film Institute, Dublin until 14th December.