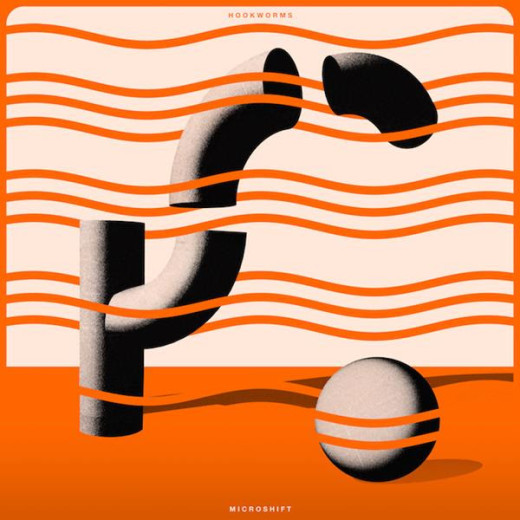 Earlier in the decade, it felt like Hookworms were among the leading lights of the modern psych scene, but the gap since the one-two-punch of their first two LPs Pearl Mystic and The Hum in 2013 and 2014 respectively has been uncharacteristic. Having remained on the live circuit – including a storming pair of Irish gigs in 2016 – their studio output has been held up by both the flooding of frontman MJ's studio in late 2015 and a more general desire to slow down and take their sound somewhere new, rather than continue repeating the formulas of their earlier work. As the title of new album Microshift modestly suggests, ploughing new furrows is something they've followed through with. And very successfully at that. 
It's immediately clear from the stuttering synths that open first track and lead single 'Negative Space' that changes are afoot, and while certain Hookworms trademarks are still firmly in place – MJ's organ, a propensity for building towards huge climaxes – it sounds less primal, more polished. Most notably, MJ's vocals, usually shrieking largely incomprehensible lyrics through a ton of effects among a din of feedback and noise, are here front and centre, the music's focal point rather than being utilised as something closer to another instrument as they have in the past.
What's more, his newly intelligible lyrics are deeply personal. Written about a friend who passed away, the end refrain of "I still see you every time I'm down" is arresting as the song's climax hits full throttle. Despite these changes, 'Negative Space' is immediately one of the finest things the band has committed to tape so far in their career. While the rest of the record can't hope to live up to that same opening peak, there are plenty of other highlights, not least the krautrock loop of 'Ullswater', complete with JN's wonderfully motorik percussion.
For existing fans though, the album can be jarring on first listen, a fairly complete transformation from fuzzy psych to pop, as if the band have thrown out their Spacemen 3 and Oh Sees records and have been listening to The Postal Service on a loop. The latter are an inescapable comparison throughout the record – there's always been a bit of a 90s emo tinge to MJ's vocals but now that they're front and centre it's more pronounced than ever, often sounding autotuned by design to fit in with the programmed electronics. On slower tracks like 'The Soft Season' though their transformation sounds less vital – the lyrics once again sound deeply heartfelt but the music is a touch too saccharine, and it's no coincidence that the album is at its most powerful when it reaches the same energy levels as earlier work.
The personal continues throughout the album, addressing toxic masculinity on 'Static Resistance' ("There's nothing wrong with being fragile in life") as well as dealing with Alzheimer's and body image elsewhere, all of which makes it it feel like this is an album MJ had to make, to put his lyrics upfront an unobscured for the first time. It may be their most cohesive album yet, and their only full-length to date that doesn't utilise those numbered interludes and effectively extended noise outros that always felt designed to pad out the tracklistings. The sax-filled 'Reunion' keeps the instrumental-drone-track tradition alive, but this time more in the vein of David Bowie's Low.
Slightly frustrating though is that the tension and urgency of 'Boxing Day', named for the day MJ's studio flooded, goes to waste when the song simply cuts out. While bringing a song to sudden and unexpected end can be a neat and jarring trick when executed well, here it feels more like you've downloaded a dodgy mp3 from Limewire when it simply runs out of time mid-sentence. Presumably intended to be symbolic of unexpected real life endings, be it that studio destruction or something much darker, it sounds less like a bold artistic choice and more like a genuine pressing mistake, leaving it feeling like a missed opportunity.
Microshift is a convincing reinvention though, and even if you continue to pine for a return to the often face-melting noise of old, it's undeniable that taken on its own terms, this is a gem of a psych-pop record. The visceral thrill of previous albums may be missed, but it's likely that Microshift will win Hookworms many more fans than it sheds. Cathal McBride