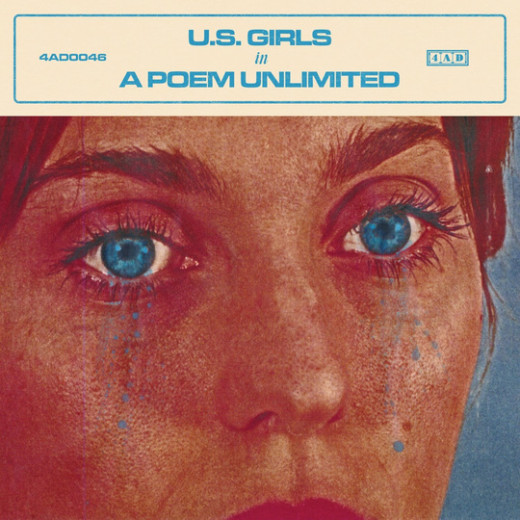 Six albums in, Meghan Remy's U.S. Girls project shows few resting on its laurels. Having originally dealt in lo-fi loops and drones on earlier records like Go Grey, subsequent releases saw her pop sensibility rise increasingly to the fore, culminating in her 4AD debut and one of 2015's finest albums, Half Free. Eagerly anticipated follow up In a Poem Unlimited has carried that trend on with aplomb.
Not only is the new LP Remy's most widescreen, pop-heavy outing yet, it's also her most political. Her lyrical ethos here can be summed up with the title of 'M.A.H.', short for 'Mad as Hell', and the artful image of Remy giving the fingers on the cover of its single release. It's a track that turns a critical eye not on Donald Trump, but back on the presidency of Barack Obama, now almost deified due to the stark contrast with his successor. Remy isn't willing to let him off so easily, contrasting the initial hope that characterised his first election with the disappointment of the reality ("I always wanted to believe/Now this is what I'm questioning.") She particularly takes him to task for his use of drones in the Middle East – "the coward's weapon of choice" – and that these barbs are delivered over a Motown-esque pop track makes for a commanding contrast, particularly that defiant chorus of "I won't forget, so why should I forgive?"
Elsewhere 'Pearly Gates' tackles the insidiousness of rape culture over a hip-hop beat, through the striking and provocative image of an incident with St. Peter ("Never, never be safe even if you're in the Gates/Give it up, you're just some man's daughter"), and 'Velvet 4 Sale' imagines a world where women and girls take up arms against the men that have oppressed them (an idea Remy stresses she doesn't support but was keen to explore lyrically).
Most striking of all though is 'Incidental Boogie', told from the point of view of a domestic abuse victim, who states that "to be brutalised means you don't have to think". Over an addictively warped synth loop and propulsive beat, the track feels like a dancefloor-ready anthem until the lyrics stop you dead in your tracks with their analysis of abuse and the emotional turmoil and conflict it creates – "Life made no sense without a beating, you see/And life was too quiet without no one screaming at me"
Musically, among influences ranging from funk, Motown, hip hop and electronic music, there are hints of David Bowie across In a Poem Unlimited –Remy manages to capture both the invention of Station to Station and the richness The Next Day here, and she almost feels like something of a successor to him, such is the ease with which she turns her hand to various styles. Though, while the production and instrumentation here is rich and exuberant, something is missed in Remy's move away from the loops and samples that characterised previous albums, and which on Half Free melded perfectly with her pop sensibilities to create what is still her finest work to date. It's no coincidence that this record's immediate stand out track 'Incidental Boogie' has been around for a while, previously released on 2013's Free Advice Column EP.
Nonetheless, with an album this accomplished and lyrically powerful, Remy deserves to cross over into the mainstream at last, taking her anger with her. Cathal McBride