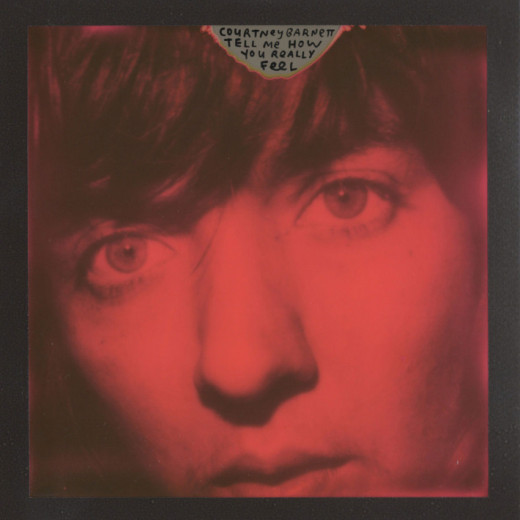 The Melbourne-based singer-songwriter Courtney Barnett came to international attention in 2014 with the release of A Sea Of Split Peas, a combination of her two previous EPs. Barnett's lyrics, which detailed the most mundane aspects of her life in a manner that was confessional, witty and biting in equal measure, were the real standouts in that opening gambit, lending a song like 'Avant Gardener' (inspired by an ill-fated spot of gardening that resulted in her being rushed into an ambulance) the feeling of a miniature epic. Her debut studio album Sometimes I Sit and Think, Sometimes I Just Sit subsequently arrived in 2015, fusing her existing lyrical flair with more up-tempo, grungey sound. It was runaway hit, establishing her as the figurehead of the Australian DIY scene (all her releases were on Milk! Records, the label she runs with her partner Jen Cloher), achieving Grammy and Brit nominations and appearing in any number of year-end best of lists. She's kept fairly high profile since, teaming up with Kurt Vile for a breezy album and tour with their Lotta Sea Lice release, and adding guitar to Cloher's 2017 self-titled record, as well as joining her touring band. 
Pretty exhaustive for a woman who's frequently been labelled a "slacker", then. Barnett's rise from obscurity to being one of the indie rock's leading lights has had it challenges too though, and it's key to the altogether more serious tone of Tell Me How You Really Feel. Where Barnett's previous songs delighted in talking around more serious issues in a meandering and often hilarious stream of conscious, here Barnett's writing is altogether more authoritative and precise, with barely a word wasted. Lead single ''Nameless, Faceless' sees Barnett answer the Internet troll of the title ("He said "I could eat a bowl of alphabet soup and spit out better words than you" / But you didn't, man, you're kidding yourself if you think the world revolves around you"), before addressing misogyny's darker, deadlier implications in the song's typically poppy chorus: "I wanna walk through the park in the dark/ Men are scared that women will laugh at them/ I wanna walk through the park in the dark/ Women are scared that men will kill them". Although she's campaigned for marriage equality and other issues, Barnett has never been a "political artist" per se. But it seems the toxic state of gender relations in 2018 have forced her into a response. She doesn't hold back either, especially in the pounding 'I'm Not Your Mother, I'm Not Your Bitch': "I'm not your mother, I'm not your bitch/ D-did I stutter a little bit? Sit down or shut up," Barnett thunders over a furious Patti Smith-style stomp. It's angry, empowering and absolutely glorious.
Musically, the album is still rooted in the early '90s powerpop and riot grrrl sounds of The Lemonheads and The Breeders (Breeder-leaders Kim and Kelley Deal add even vocals to two tracks). 'City Looks Pretty', apparently one of Barnett's oldest songs, is a blast rare celebration, detailing an uplifting walk around town after weeks of self-imposed exile, while 'Charity's "note-to-self" lyrics are ushered in by a fuzzed-out, Dinosaur Jr-esque riff. Much of the album focuses on the negative impact her increased success  had on her relationship, with lengthy world tours driving a greater distance both physically and emotionally. Cloher explored this at length on her last album, with Tell Me How You Really Feel feeling like a companion piece of sorts. Their difficulties of communicating over different continents and time-zones are detailed in the likes of 'Walkin' On Eggshells', and inspire the album's standout moment, 'Need A Little Time'. Like 'Avant Gardener' or 'Depreston' on previous records, it's the sort of slow-burning instant classic that pushes Barnett's introspective lyrics to front and centre. Its music video, which depicts Barnett floating solo through space, is in equal parts goofy and poignant, and captures the unique juxtaposition that characterises her music.
It's not all gloom, though, and the album ends on an uplifting note. 'Sunday Roast' builds from a hushed torch song into a genuinely lovely, uplifting intro, with Barnett taking on the role of agony aunt on lines like "Ignore that voice/ It puts you down/ You make your choice/ I'm here for you/It's all the same to me". Barnett's clipped, emotionally direct and assured lyrics are miles away from the frenzied tragi-comedy of previous songs like 'Pedestrian At Best'. Although the songs here may lack some of the wit that made her debut so enjoyable, Tell Me How You Really Feel delves deeper, finding Barnett is a more honest form that is equally, if not more, rewarding. Caolán Coleman