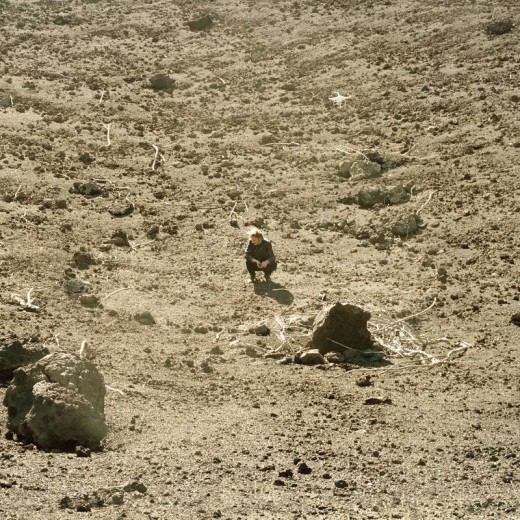 Unusual though it may seem, Ben Howard has never been a predictable artist. The Devon born singer-songwriter first emerged onto the scene in 2011 with the timely folk-pop LP Every Kingdom, followed up three years later with I Forgot Where We Were which sounded more like James Blake than Ed Sheeran. Subsequently, after cursing some of his gig attendees out of it in Norwich and declaring "I couldn't give a fuck" in response to a journalist who claimed Howard might fall into "the New Boring" music scene, Howard seemed to disappear off into the shadows and it was unclear when or if we'd hear from him again.
Fast forward to Spring 2017 and a mysterious band under the name A Blaze of Feather start popping up on festival line-ups. Later we would find out that Howard's bass player Mickey Smith was fronting the new group and Howard was among the musicians involved. Curled over a guitar, cast out of the spotlight, it seemed as though this new set-up might be where the once shy surfer may stay. Strangely, this was not the explanation for his absence. In an interview with The Times last month, he explained that it was actually his desire to become a poet. Though multiple journeys to Nicaragua did not ultimately result in a career switch ("the problem is that melody spoils poetry, and I'm naturally melodic"), its influence on his third album is evident.
Opening number 'Nica Libres At Dusk' eases us into this new era, where lush instrumentation weaves a soundscape that seems vast and infinite, while barely there vocals and lyrics that mirror the Nicaraguan poems that Howard devoured are distant in their availability and their meaning. With Noonday Dream, Howard is world-building, crafting an atmospheric and ambient sound that is far more reminiscent of A Blaze of Feather than any of his previous solo work. There is prosody too, when he sings "watch eagles soar in circles / perpetually" the electric guitar itself soars, seeming to mimic the eagle's flight overhead. He sings of Colada's, Nica Libres', the Caribbean, the sea, "forever, forever, such a beautiful thing"…. Howard is very much in a different place on this album; geographically, mentally and sonically.
On I Forgot Where We Were, Howard dipped his toes into electronics and soundscapes and on Noonday Dream he throws himself right in. The few upbeat moments, 'There's Your Man' and 'The Defeat' are reminiscent of numbers like 'Rivers In Your Mouth' and 'Time Is Dancing' from his sophomore LP, but Mickey Smith's influence over his new work is tangible. While in the past Howard's finger-picked melodies and rousing choruses defined his work, there is little to none of that to be found here. 'Towing The Line' is one of the few where acoustics and lyrics are at the forefront; "Love is in the early mornings / In the shadows under the trees / Not in the cuckolded ashes / Floating down from the rookery.."
But collectively, the focus on Noonday Dream seems to be on sprawling soundscapes, creations of an almost cinematic nature. The mammoth 'A Boat To An Island On The Wall' is a slow-burn, dreamy and whimsical. Strings and synths meet droning and reverb to create a texturally rich psychedelic experience. It feels dark, ominous, "shooting season's open" he croons. It is often that Howard refers to animals and nature on the LP; it is "shooting season" on 'A Boat To An Island', he is "clawing at the bedrock" in 'Towing The Line', "digging till it's hollowed out inside" on 'All Down The Mines.' He seems more connected to the earth than before. His ability to effectively inspire the sights and sounds of the world and its creatures in the listeners mind reveals his true artistry. The sense of darkness closing in on you in 'Someone In The Doorway' is near claustrophobic in it's palpability. This is a more serious, mature Howard, but the brief interlude 'All Down The Mines' is a welcome deviation that feels fresh and breezy. The transition from it into the deep bass of 'The Defeat' is a perfect example of Howard's skill and flow.
Howard's debut album Every Kingdom was inclusive in the most visceral sense, with big sing along choruses and the kind of mass appeal that earned him two Brit awards and headline spots on festival circuits. I Forget Where We Were was a clear diversion. Vulnerable and intimate, it was dark and personal, but it was also sharp and focused. It felt as though Howard was stretching out his hand, guiding you into the depths of his darkest headspaces. On Noonday Dream, it feels as though you are listening from a distance. He is inaccessible, his words buried under the sprawling instrumentation, often times near impossible to decipher. It's not that he is keeping you out necessarily, it's more as though he doesn't have the desire to explain. "Make of it what you will" he seems to be saying. The vast variance in reviews so far shows that what you might find may be a self-indulgent, overly excessive deviation into experimentalism, or, his most honest and pleasing work to date.
In the past Howard hasn't balked at slating "lazy journos and people who don't get it," so regardless of how this album is received, it's likely Howard won't pay it much attention, especially with the headspace he seems to be in. Melodically, the album feels melancholic and brooding, but lyrically, it's the most positive we've heard him. There are moments where he sounds genuinely at ease, happy, and hopeful, something that was almost entirely missing from his last album, save for 'She Treats Me Well' perhaps. "Most things now make me smile" he chirps on the lovely 'What The Moon Does'. "We may be the broken wings on a butterfly / but didn't we dream big once or twice?" he asks, "and that's just fine." Closing number 'Murmurations' is the perfect summation of this changed headspace; "I am loved through sickness / Today I am courage at the track / It's so peaceful here / No one to fuck it up". These statements are made all the more powerful by the fact that he sings them softly and unperturbed against a swelling tide of crashing drums.
One can't help but be affected by the transition from "I know she's home / waiting on somebody loathing life…  Is it all so very bad? I can't see" on I Forget Where We Were to "married to the sunshine in my mind…" on Noonday Dream. When he sings that final line "I could see through miles, miles..", it's barely a murmur, the music seems to swirl up and around it, enfolding him in its grip and drifting away..  It harps back to a line in 'The Defeat' where he noteed, "The world is always at ease." It seems that, at last, Ben Howard is at ease too. Nicole Glennon