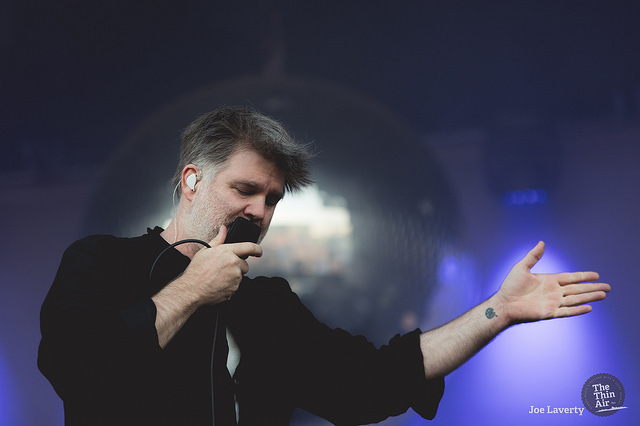 In spite of the nation's frequent protestations about our weather, you couldn't really ask for a better day for an outdoor gig. It's the Tuesday after bank holiday Monday. The crowds are spent from the long weekend. Surveying the grounds of Malahide Castle, punters are littered around soaking in as much of this wonderful Midsummer glow as they can before they lose their minds and soul. Tonight LCD Soundsystem are making a return to Dublin for what will be, in frontman James Murphy's words, "the second longest show [they've] ever played". When Murphy and Co. walk out, the sun is still high in the sky with barely a trace of dusk. The frontman reminds his legions of fans, with tongue firmly in cheek, that "I can see everything and I'm going to tell [their] mothers". These jovial twenty and thirty-somethings enjoying pints and the occasional spliffs aren't ready for the onslaught of passion, energy, and joy that awaits them.
Proceedings start strong with rousing renditions of "You Wanted A Hit", "Tribulations" and "I Can Change". Performances are tight and immaculate. What comes across in these early points is how crisp the sound is. In spite of the fact that we're standing in a field in North Dublin, the mixing is spot on and lends the music a near-studio level fidelity. The bass and drums are given preferential treatment, as they should be. Those thumping powerful hits crash into the crowd and sweep them up in their wave. Murphy's vocals are clear and decipherable, yet they never overpower any other element. This is even more impressive considering the sheer volume of equipment the band has brought with them. Multiple percussionists, old-school analog synthesizers and a menagerie of keyboards and guitars. There are more than half a dozen musicians up there, shoved on top of each other, surrounded by walls of amplifiers and a large clock counting down the seconds until their set must finish. The density here gives the stage, and by extension the performance, this claustrophobic, club-like sensibility. This is no mean feat, considering they're broadcasting their message to a site that can hold 20000.
It helps of course that many of these songs defined club nights for large swathes of the audience. While tracks like "Get Innocuous! " and "Daft Punk Is Playing At My House" light up like a house on fire, it's telling that during "Call The Police" and  "American Dream", two slices from their most recent record, fail to captivate spectators like their aged counterparts. This is not a slight on either, mind you. Both are well performed and the latter demonstrates the quiet confidence Murphy holds in power of his voice. To rekindle some interest, the band pull numbers from their earliest outing to sublime effect. The twitchy, manic energy of "Movement" sees a steady wave of bodies beginning to let loose. It's after this that the evening get's its ace in the hole. Due to unforeseen circumstances, the set is to be extended from 90 minutes to 135. With this extra space to fill, the band is able to fully launch into the second half of the night. The sun is finally setting, meaning the intricate light show can be utilized to it's fullest effect. Things are about incredibly real with a single repeated word: "Yeah".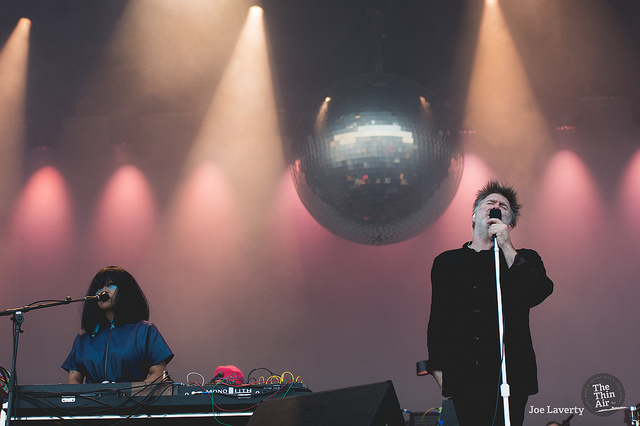 At nine minutes and with a monosyllabic hook at its core, everyone is won over. Bodies are flying, bouncing and screaming that single word endlessly. It gives the group the momentum they need to finally kick things up a gear, which they do with incredible gusto. In quick succession, they transition from the delicate beauty of "Someone Great", to the impossibly catchy "Tonite", to the sweet melancholy of "Home", topping it off with a spot on cover of Chic's "I Want Your Love". Put simply, concertgoers are fantastically bowled over. Between the lights, the sound and the blood, sweat, and tears onstage, it'd be hard not to be.
There's such a massively positive atmosphere that as the moody and intense "How Do You Sleep?" rears its head, it almost seems as though the act will be derailed. With it's ominous, lumbering instrumentation, it feels as though LCD have vastly misjudged the vibe. But once the mid-section drops and the grounds are bathed in a deep red, those concerns are entirely mitigated. No one is denying that they've had a great time, but it's in these final moments that something very special occurs. Firstly, there is the one-two punch of "Dance Yrself Clean" and "All My Friends". Both songs, which could comfortably claim to be the band's best, are deeply emotional and danceable. Putting them side by side throws the crowd into an absolute frenzy. The movement is unselfconscious as the spectators let go of their inhibitions in that glorious instant when the beat drops and again as Murphy howls "Where are your friends tonight?". In this amorphous blob of humanity, we know exactly where they are.
With an unexpected eight minutes left on the clock, an unexpected gift is delivered. While onlookers are reeling from the force of the previous cuts, a gentle piano lilts through the air. It's "New York, I Love You", a song which no one expected and yet which they all quietly hoped for. Needless to say, what unfolds is nothing short of transcendent. It's rare to see a piece of music so perfectly executed and connect with so many people so completely. This is a unique moment that will live on in minds and cultural lore for quite some time; a second of sheer purity and bliss.
There is no encore and there isn't a need. Everything that could be said has been said so confidently and magically that anything would do it a disservice.  Something magic has happened in this field. Will Murphy
Photos by Joe Laverty