When Brand New Friend take to the stage of Vicar Street, the four fresh-faced Northerners unleash a wall of noise on the reasonably-sized audience that has congregated to cheer them on. The Castlerock four-piece have been causing a stir in the Irish music scene over the past year, playing a hugely successful set at BBC Radio 1's Big Weekend and releasing their debut album, Seatbelts For Aeroplanes.
Onstage, they have a definite sense of self-assurance, and it's well deserved. Kicking off with their song 'Cold', the groups influences are immediately evident. Think Weezer featuring Hayley Williams and some questionable (but forgivable) synth lines. They're most certainly an unusual choice for the support slot, but, undoubtedly an enjoyable choice. All four members exude a delightfully, childlike glee and the audience sends this energy right back at them.
While the band's songwriting may be a tad formulaic, following a 90s-inspired 'loud-quiet-loud' structure most of the time, their musicianship is undeniably fantastic, with drummer Luke Harris proving to be particularly virtuosic on 'Mediocre At Best'. The set is an absolute delight, with some very genuine (and very funny) World Cup based banter between songs. It's not often that you find a band so young yet so comfortable on stage.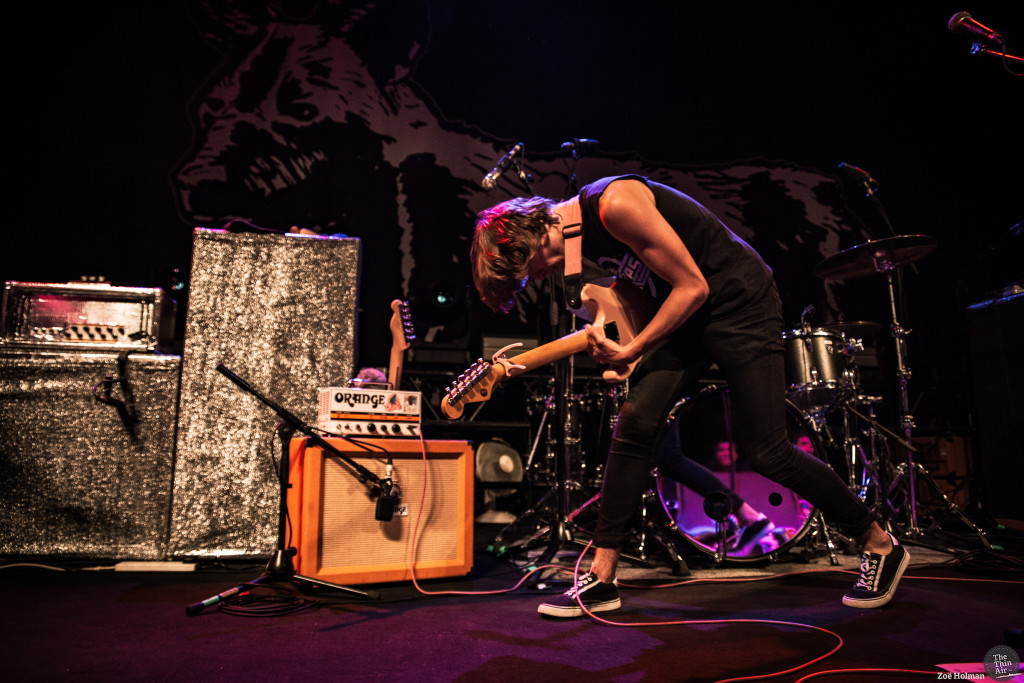 The clock strikes 8:45pm and almost immediately the clientele and atmosphere changes. In walk a horde of tattoos, shaved heads, thick rimmed glasses and piles upon piles of the same faded t-shirts being worn by 30-something year olds. From the off, there's a growing tension in the room – a sort of anxiety – but beneath that there is what feels like a form of comradeship. Everyone here is in the same boat.
8:55pm and the photographers at the show are given a disclaimer by the bands guitar tech: "If the cable ends up around your camera, or YOUR NECK, unwrap it as fast as you can. He's not gonna stop. He doesn't hold back."
The lights go down and there is a loud bang followed by the most harrowing, anxiety-inducing sound heard in Dublin since the construction of the new Luas line. Rumbling, screeching and amongst it, five dark figures take to the stage. There is chaos, there is a moment of silence and then… maracas. At The Drive-In have arrived.
There isn't a silent set of lips in Vicar Street as the band roll through their first three tracks at breakneck speed. 'Arcarsenal' into 'Governed by Contagions' into 'Pattern Against User' is a triple threat that can't be taken lightly. Microphones and their stands are flung from one end of the stage to the other, safety is disregarded and the aforementioned photographers run for cover.
There is no doubt that frontman Cedric Bixler-Zavalas is still a force to be reckoned with – or at least for short portions of time. It becomes clear that the band can't recreate what once was 24 years ago, but this is more than forgiven by the crowd. After all, flailing on stage like a mad man for two and a half decades probably does some bad things to the human body.
The set is of course an absolute riot, as is expected of At The Drive-In, but before playing 'Invalid Litter Dept.', there is a poignant turn as Zavala's comments on the current state of U.S immigration laws. "This is for every kid under the age of 10 that can't be at home with mom and dad tonight," he says. It's a simple message, but it is as sincere as it is upsetting, serving as a reminder that to this day, the group are still incredibly politically conscious.
Despite this dip of poignancy, the band still storm on chaotically and the crowd continues its animalistic onslaught. Then, the encore everyone had been anticipating: 'One Armed Scissor'. An iconic punk anthem, a call to arms of sorts. It's one last spasmodic self exorcism from Zavalas. Jack Rudden
Photos by Zoe Holman