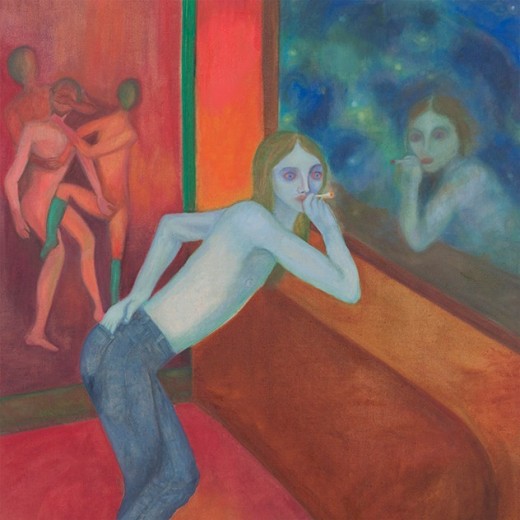 Somewhere in Apple Music headquarters, an employee, perhaps under the instruction of watchful label publicists, or not, input "techno" as the genre tag for Laurel Halo's latest project, Raw Silk Uncut Wood. The Berlin-based experimental producer has spent the past eight years pivoting from frenetic, full-bodied techno and unconventional club electronics to dense, sentient ambient-pop, and back. Admittedly then, it is difficult to keep track.
Her breakout album, Quarantine, released in 2012, was disembodied pop simmering beneath an off-kilter electronic surface—spearheaded by her drifting voice. It was, above all else, her ability to synthesise anxiety into quivering, twitching soundscapes that gave her songs poise, her voice an instrument wielded to intensify vulnerability. Halo followed that up by circling back to dancefloor-infused abstraction on 2013's Chance of Rain, a gorgeously spacey, textured, polyrhythmic rumination on modern dub techno. Where before you understood every kick-drum, wallowing bass, alien synth, and vocal effect to be subtextual and affecting, Chance of Rain stabbed you in your senses at every opportunity. Dust, her fabulously colourful and fine-grained 2017 album, retrofit the post-pop sound of Quarantine and dragged her vocals into further distortion, electronics whirring and spinning with all of the feather-light finesse of a true classically trained musician.
Raw Silk Uncut Wood is being defined as a mini-album of sorts and it's another left-turn; her voice, again, taking the backseat to her erudite production. Its title arose from a sentence taken from the English translation of Tao Te Ching—the ancient Chinese text, originally scripted by Lao-Tzu. And you can hear the dramatisation of millennia-old wisdom and religious healing, passed through generations, in the musical margins. Bookended by two 10-minute long tranquil compositions, Raw Silk Uncut Wood is Halo's most structured ambient sculpture yet; filmic in its scope and defining acts, swaying and transfixing in its shimmering layers of synths, undulating cello passages (courtesy of collaborator Oliver Coates), and celestial organ keys. Its equally unsettling, immersive and meditative.
As the album plays out, it becomes abundantly clear how artful Halo is in the diffusion of tension. The tension, or lack thereof, mirrors the prevailing timbre at any given time; never brittle but always shifting. The first release from the project, the title track and opening piece, is rich and serene and enveloping. It pulsates with hues of blue, warm and unintrusive, and shows her extraordinary ability to mould texture, all with a panoramic, directorial eye for minute detail.
The middle-act of this 30-minute project, 'Quietude' and 'The Sick Mind', is almost unrecognisable and skulks in from a murky, shadowy realm: Feverish keys truncate any sense of calm that once lived. Cold, gridless chimes draw parallels to the ear-curdling dislocation of Colin Stetson's soundtrack for 'Hereditary'. It's an overtly tense and face-gurning listen.
Halo then seamlessly smoothens the serrated edges as the midsection's sense of placeless anxiety dissolves— with what sounds like A.I. charging to life from code to consciousness on 'Supine'— into something more immediate and swallowing on the climactic closing piece, 'Nahbarkeit'. In spite of its length, it grabs at you with both arms throughout, blooming mournfully with light percussive flourishes, rising cello strings and oceanic synths. Each granule of sound, of instrumentation, organic or digital, amounts to a bloodletting of the mood destruction that came before.
As avant-garde artists continue on paths unexplored — in an age of what feels like connectivity overload—attempting to best capture the anonymised paranoia and flickering neurosis of internet spaces, Halo's compositions lie at the intersection of the physical and the digital. Yet they never strike you as impersonal. Even within her creative circles, she is a mould-breaker, the sounds pulling from all sides of our humanity.
A pale, androgynous figure smokes in the mirror on the oil painting cover art, each brush-stroke—bright, dark, or in between—laced with a soft, unnerving power. Limiting our imaginations to what our eyes and ears perceive is something nobody can really afford to do, especially in 2018. Dreamscapes are important, and a widescreen effect as convincing as Raw Silk Uncut Wood can only heighten and inebriate your senses. Colin Gannon