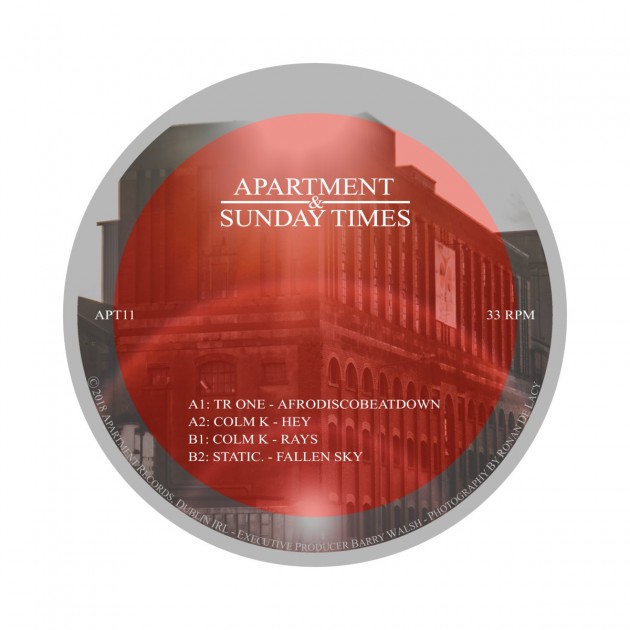 Dublin electronic label Apartment Records is set to put out its eleventh release on August 13th. A compilation EP, its four tracks are contributions from the ranks of revered Cork-based party-planners, Sunday Times.
The tracklisting is as follows:
A1: TR One – Afrodiscobeatdown
A2: Colm K – Hey
B1: Colm K – Rays
B2: Static. – Fallen Sky
Sunday Times is a monthly all-day party on the cusp of celebrating its ninth birthday. Comprised of DJs Dean Feeney (sometime member of TR One alongside Eddie Reynolds), Colm K (All City / R2 / Bastard Jazz / NTS), John Hennessy (Static.) and Barry Walsh, their parties have become not only a local institute but one recognised across Ireland and further abroad. APT11 will be the first time their production work has been compiled on one release.
It's a collection of firsts; for one – the dubbed-out techno of 'Fallen Sky' features as the recorded debut from Hennessy's new Static. project. Opener TR One's 'Afrodiscobeatdown' gets its full release after being a longstanding favourite of their live sets for nearly a decade. The soul comes from Colm K, whose contributions are the short, stilted, Dilla-inspired 'Hey' and the deeper eep, deep down with 'Rays'. "Soul music from the south for the summer time", they say. We can't disagree.
This record will be strictly limited to 150 copies, and you can pre-order on vinyl & digitally through Bandcamp.
Apartment holds its monthly label party at the Bernard Shaw, Dublin on Friday August 10, at which advance copies of the record will be available.
The record release party takes place at the next Sunday Times, at Cork's Bowery on Sunday, August 12, featuring APT's Kenny Hanlon, TR One & Sunday Times Residents. More details here.