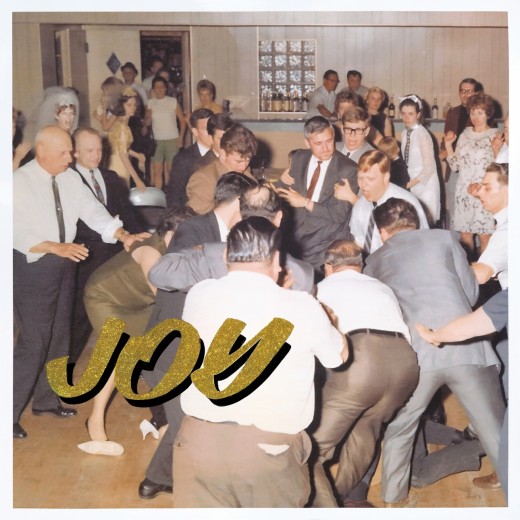 Urgent. Vital. Important. Essential. Interchangeable words that are denoted to music or artists that are deemed to be definite of the mood of the times. Albums and previously unseen and untold stories that break boundaries down, songs that transcend their form, artists whose messages become immortalised. Punk music and its offshoots have their fair share of such acts, but these words' meanings have become denatured over time. Now, anything even vaguely resembling depth or that is tangentially outspoken is commonly misconstrued as politically charged or timely (sorry, not sorry, Macklemore, Justin Timberlake). Idles, a five-piece Bristol band who navigate the furious simplicity of punk, the motorik rhythms of post-punk and the inwardness of post-hardcore — and who blend together political and social commentary with the personal — are not some crystallisation of Brexit. Nor are they appointed punk archetypes of a resistance; Idles are merely a band setting out to reimagine, with callous intensity and pop sensibility, what happens when you turn the root causes of such phenomena on their heads.  
After breaking out from Bristolian punk circles last year with Brutalism — An incendiary, scathingly sardonic debut LP that sneered at Tories and widening inequality while interrogating family trauma, mental health and white privilege — the band have returned and have upped the stakes considerably on follow up Joy as an Act of Resistance . At its heart, this album asks that you consider communities — where shared values and subtle, individual differences are held aloft in equal measure — as the antidote to the rot of capitalism and to rising tides of fascism.  Despite what his chesty, guttural howls intimate, lead-singer Joe Talbot is no fatalist. The 33-year-old former bartender's lyrics are frequently diaristic, occasionally autobiographical, unsparingly cutting, but always radiating with a fervent sense of hope for a better future.
Music that levitates towards punk tends, of course, to be angry and anxious and JAAAOR is unvanquishably so. For Talbot, however, violence is a medium of expression, an agency for deconstruction as opposed to destruction. Rather than pander to anger itself, giving it credence, Idles explore how it came to be: "Fear leads to panic, panic leads to pain/Pain leads to anger, anger leads to hate," is bellowed out on the chorus of the rollicking, immigration-celebrating anthem 'Danny Nedelko'. As the album plays out, his writerly prowess and gallows humour collide in unexpected and gleeful ways: "Islam didn't eat your hamster," he grumbles at Brexiteers on 'Great' pining for the return of their blue passports, a daub of sincerity glistens on his rising voice.
Talbot is completely at peace with the idea of exhibiting his vulnerabilities on JAAAOR, pulling you around, bringing you inside so that we can all one day, maybe reach a plateau of common sense humaneness. Bolstered by a rushing, jagged riff, the totemic 'Never Fight a Man with a Perm' sounds as if it could have been plucked from the Brutalism recording sessions. Here, Talbot lampoons the alcohol and cocaine-fuelled war cries of hyper-aggressive Brylcreem-wearing, protein-supplement ingesting men, positioning their noxious ways alongside a drunken brawl instigated by a "heathen from Eton". His self-professed violent past gives the song not only a sense of realism, but a therapeutic facing down of guilt, an absolving of past, bloody sins.
The muscular might of the heady, two-part opener 'Colossus' immediately gestures toward Talbot's intent in treating masculinity as an ugly, burly obstacle to human connection. Smouldering guitars grind unemotionally in the song's first half with drums convulsing in their shadows as if a storm was brewing ahead, before the song explodes outwards into anarchic rage. Talbot, in typically dyspeptic form, refuses to bow to the stereotypes of modern-day masculinity, even referring to himself as the fleet-footed Fred Astaire. An irreverently loud malediction arrives just past the album's midway point in 'Samaritans', aimed, again, at toxic masculinity and its very many implied connotations ("Man up", "Drink up", "Grow some balls"). Talbot leaves the topic open-endedly after a teeth-gnashing, ear-curdling breakdown, quizzically staring down machismo as a potential singular source of much of our modern malaise.
Throughout the album, the band, too, rises to meet the weighty subject matter at hand. Delivered within the tropes of righteous punk, the roiling guitars of Mark Bowen and Lee Kiernan, Adam Devonshire's ominous, rumbling bass and the eardrum-pulverising (borderline manic) rhythm section courtesy of Joe Beavis create an aptly intense, white-hot bed of swirling chaos for Talbot to expound his ideals. Unnerving and broody atmospherics like that of Protomartyr are abound on 'June', where Beavis' slow, thudding drums crash into a blunt guitar line. There's the shrieking razor-wire riff that slices through 'Rottweiler'—a dead-eyed riposte about the almost unsalvageable erosion of British trust (and of the fanning of nationalist flames) by the right-wing press—like a machete, terrifically instrumentalising the sheer disgust in Talbot's vocals as Idles draw the album to a close Dead Kennedys' style. It is in equal parts a steely pop record as it is a scatter of gnarly punk songs; no breakdown is overbearing, each chorus is polished and, most importantly for the band, the lyrics dance on the line between pontificating and creating beguiling and affecting music very carefully.
Joy as an Act of Resistance is an album that wants you to raise your inner-voice as high as your fist, and nowhere is this more apparent than on 'Love Song', a plainly aggressive punk song doubling as an endearing overture to his partner that captures, in a flash, the essence of Idles: Unabashed vulnerability driven by furious feelings of insignificance. This emotionally-attuned abrasiveness segues into the most voyeuristic of listens in 'June', the album's emotional centrepiece which see the singer revisit the all-encompassing grief of the death of his stillborn daughter. He, against all seeming odds and entrenched norms, defines himself as a proud father. His wrenching, weepingly touching incantation on 'June' – "Baby shoes for sale/Never worn" – act as the psychological pillars on which the album stands.
Every iteration of Talbot—snarling, compassionate, happy or sad—is born from the idea that change is not some unreachable, nebulous concept, but something truly within our collective grasp. Peeling back the layers of our humanity to understand ourselves is, he seems to say, the first step to establishing genuine bonds with one another. Uncreased, uncompromising and lacerating, Joy as an Act of Resistance is a blisteringly energised, dazzlingly pristine punk record whose breadth is unforgettably urgent, vital, important and essential. Popular punk rock has found a new beating heart in Idles, and they're promising to never deceive it of its most natural state of spilling and flowing. Colin Gannon