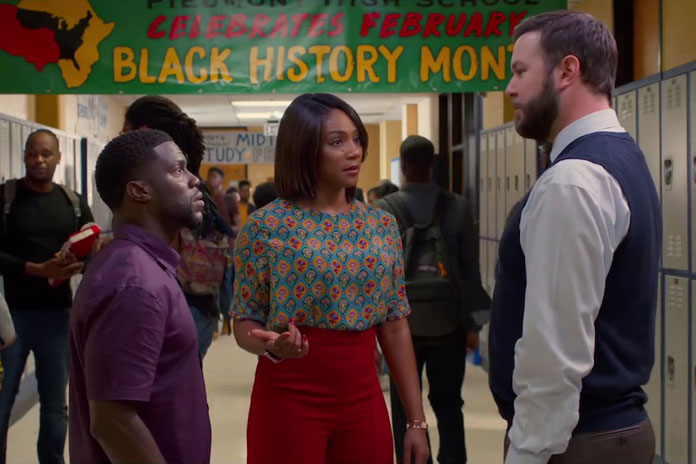 From: The Administrative Office, Movie House Academy
Subject: Group Assessment Feedback
Dear parents,
As you are aware, your children's class was asked to submit a group project for end of term assessment. The marks for this piece of work, entitled Night School, will help determine end of year grades. Please find feedback on this project below.
Mr. and Mrs. Hart: your son, Kevin, was shown he can be an amiable, if comicly scattershot presence, especially as part of a solid double-act. But if he is to improve his work he needs firmer direction: his role here, as Teddy Walker, a high school dropout going to night school to get his GED, fails to innovate on his basic tics. We have seen him as the flailing, gesturing motormouth many times before, and cannot but feel that, at present, he is coasting.
Mr. and Mrs. Haddish: your daughter, Tiffany, has produced excellent work before, and with the same director, Malcolm D. Lee, in Girls Trip. While that particular project shared some of this recent one's problems — saggy length and a wild sentimental flourish at the end — we recall that the dense, filthy jokes and firecracker energy of Ms. Haddish helped earn a solid grade. It is a pity, then, that your daughter has her kinetic comic talents clipped here for the role of Carrie, the brash but sympathetic night school teacher whose unconventional teaching methods help Hart's character overcome learning difficulties.
To the parents of the rest of the performers — Taran Killam, Rob Riggle, Romany Malco, Jacob Batalon and Anne Winters — we encourage to push your children to speak up and taking on more responsibility in future group projects, as their presence barely registered here.
The narrative of the group project preaches a theme of hard work and settling for the easy way, but the piece itself is rife with shortcuts. The teaching staff here have noticed a trend in recently studio comedy assessments: the use of "playful" background music — bass, jazzy keyboards — to fool the audience into thinking there is energy or activity in the scene. The staff also have tried to impress upon students the importance of maintaining tight control on a scene's rhythm to help jokes land, and so we are disappointed with the project's awkward, baggy back-and-forths.
When we tell our students to "hide your work" we don't mean make it impossible to see.
The staff were surprised to see six names credited with the script. We can only assume five of them spent class time on their phone. Much of our lesson plan has been spent discussing the dangers of sentimentality in comedy: curriculum-mandated KPIs have emphasized the importance of carefully balancing heart and laughs. In particular, staff have highlighted the cheapness of big, emotional speeches as a crutch to have the audience leave the film with a warm feeling in their stomach. These lessons have evidently fallen on deaf ears.
Night School and its trope of a band of losers stuck together and out of place in a classroom reminded the staff of work produced by Mr. Harmon and some of his classmates in recent years, and while we encourage our pupils to draw influence from more established, accomplished work, we feel this project is related in only the most superficial way.
The staff of Movie House Academy acknowledge that negative critiques can be counter-productive to pupils' self-esteem, and aim for balanced feedback. After detailed conversation, and consultation of our notes, our positive feedback is as follows: Ms. Haddish gets a solid laugh with her pronunciation of the phrase "escapades of bi-atches".
That is all we have. Without significant improvement in the group's work over the coming months, final grades are in serious jeopardy.
We encourage all parents to have a conversation at home with their children and relate our concerns in the most constructive manner. The finished work was so obviously shoddy, we assume the pupils have been distracted by other issues, possibly those at home. Please note our counselling service also offers family sessions. Appointments may be arranged through reception.
We are, as always, grateful for your support and donations. Conor Smyth
Night School is out on wide release for further public assessment.