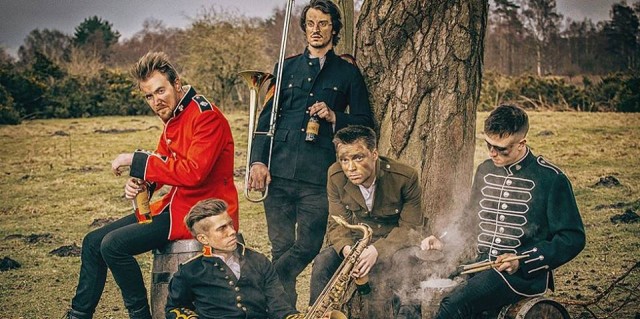 This Friday, the second of our run of shows co-presented by esteemed Belfast tastemakers Moving on Music takes place at the Black Box, when British punk-jazz quintet WorldService Project make their first Belfast performance.
Blending the third-eye-opening freneticism of Return To Forever or late 60s Zappa with an acerbic surrealist Britishness that's one of few ties to any place of origin – look for a cameo from nightmare fuel himself, Mr Giggles. A fine example of nominal determinism, their rootlessness & contempt for genre classification has led to a confluence of math-rock, prog, punk, and the kind of contemporary, groove-laden fusion carried out by the likes of Snarky Puppy, rooted in the playfulness of Mingus & Coltrane to counteract their clearly schooled discipline.
WorldService Project comprises members Dave Morecroft on keys & vocals, Ben Powling on saxophone, Raphael Clarkson on trombone, bassist Arthur O'Hara & Harry Pope on drums. One the most exported live acts in their field – a unique space inhabited by the independently-minded likes of our own Robocobra Quartet – their thrilling live show has taken them to 18 countries, with Serve, their fourth out of four acclaimed studio albums, just out in April. The Irish Times have described them as being "Mingus and late-Coltrane mixed with hardcore punk, math metal and Zappa-esque mayhem", and the Guardian described them as "jazz-infused nu-funk".
In short, one can expect rulebook-tearing, confrontational rabble rousing, and a sense of creativity & humour in terms of presentation that's predominately absent in the world of contemporary jazz.
WorldService Project play the Black Box this Friday, October 5. Tickets are available here, priced £12, or £8 concession. Doors open at 7.45pm. Stream 'Serve':