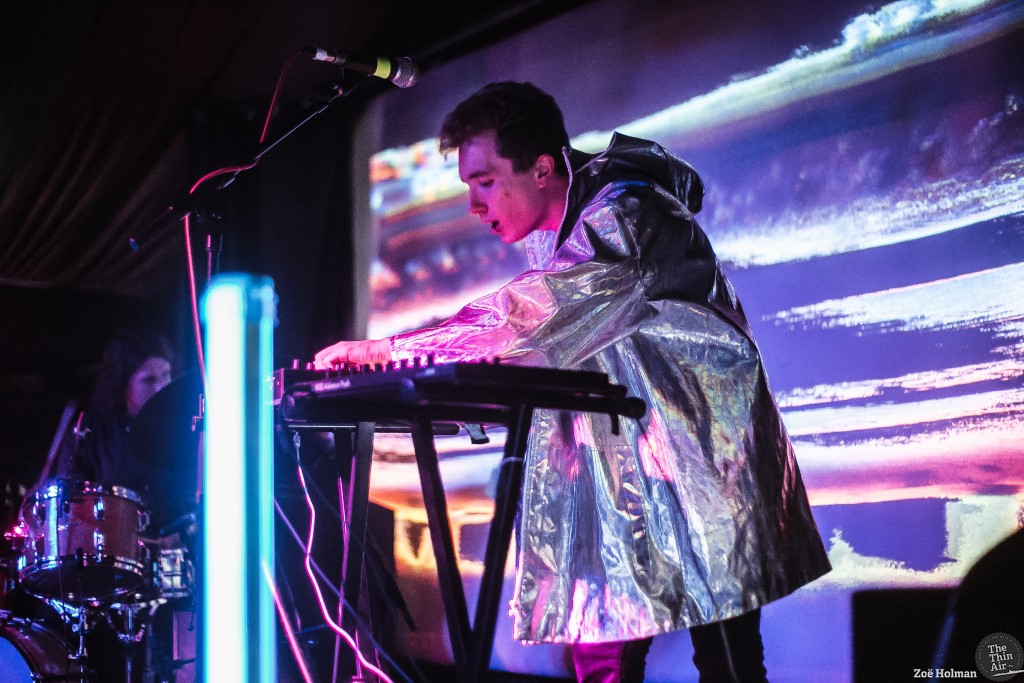 Wastefellow is an up-and-coming coming electronic producer hailing from the streets of Dublin. With a brand new EP, Post Human Potential, under his belt and recent performances at Hard Working Class Heroes and some of Ireland's biggest festivals this summer, his current position as an artist is on the verge of a major breakthrough. It's clear from the packed out Grand Social midweek audience that he takes to the stage for that this is a musician surrounded by a hell of a lot of hype and promise.
His show makes good on that hype with ease. Donning his signature silver metallic raincoat and bathed in the lights of his glitchy, futuristic AV show he cuts a charismatic yet intriguing character. Combining gently bubbling club vibes with a more mellow downtempo electronic sound, his music has clear potential for breaking through to a much wider audience base. It's clear from his gently crooned vocals that this is an artist whose confidence is growing exponentially with time. Even in the brief period since his festival displays over the summer, his stage presence has become more captivating and engaging. The marriage of carefully restrained, slickly produced beats and his vulnerable and impressive vocals make it easy to just get caught up in a daze – trapped in Wastefellow's futuristic, experimental world.
Fresh cuts from Post Human Potential are even better live than on record. EP highlight, 'A Curse', sounds absolutely massive live and the careful, detailed production of Wastefellow's output comes into its own bouncing around a venue. This is music that's meant to be heard live and one of the only real complaints is that this show isn't in a larger venue with a bigger soundsystem behind it.
It's hard to see Wastefellow not absolutely blowing up in the next few years. Everything about his music and presence makes for a cohesive project filled with personality. At such an early stage of his career, he's already managed to craft an instantly recognisable sound and appeal without forsaking experimentation. It won't be long before he is gracing venues much larger than this, so make sure to catch him on the way up. Kelly Doherty
Photos by Zoe Holman