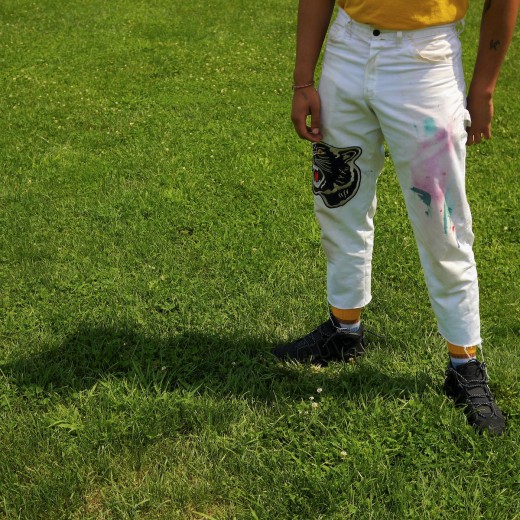 Milo's raps are that of internal monologues, paradoxical truths and caustic wit. His flow ricochets around the rap cosmos — choppy to smooth, elliptical to gratifyingly loquacious — before fate slots it away in pockets of dream-like production that is heavily indebted to jazz's freest, most nakedly emotive, compulsions.
Scallops Hotel, his side project and producer alias, is low stakes in the best possible understanding of the phrase. A sublime January release earlier this year, sovereign nose of (y​)​our arrogant face, marked newfound terrain for Ferreira through sheer uniformity in pace and a flow that is becoming increasingly screwed into its furniture. Like artificial intelligence, Ferreira is self-learning, and the spoils are generous.
Aesthetically, then, Milo's latest album budding ornithologists are weary of tired analogies, his 12th project, is easily his most endearingly uncluttered work yet: an evocative collision of rhythm and poetry. A jazz-club vibe — plumes of cigarette smoke and all — is perfumed with a light modern redux so as to not be entirely nostalgic of J Dilla or Stones Throw wholesomeness; free-wheeling instrumental loops are accompanied by the odd modular synth patch. Opener 'mythbuilding exercise no.9' possesses kinetic hi-hats that promise to burst like a dam overplaying its own structural soundness, while an ebullient, disco-adjacent groove defines the intoxicating 'nominy' — a self-produced highlight.
Milo's well-fashioned flow is a testament, perhaps, to the growing ease with which he traverses his own handcrafted beats (he's produced five tracks here), accompanied by a reference pool that is anything but discriminatory; with pop culture references given the same weight as French new wave cinema and obscure art literature. Don't be fooled by the high-brow references and intellectual gabber, though, milo is not in hip-hop to merely take stock of his surroundings. ("My style is like if Langston [Hughes] didn't edit").
Intellectually whimsical as always — song titles, like their author, freely wind, and seem dug out from thought-storms ('mid answer trying to remember what the question is') — the Maine-based rapper worms nimbly between quasi-spoken word sections and knotty, reference-heavy stream-of-consciousness verse; after all, this is his id. Both words and meaning are pliant for milo and much of his stanzas read as though hoisted from weed-instructed notes scribbled late-night on the margins of one of his old philosophy books. "The sweeter the berry, the blacker my Folgers/The darker my gray clouds, and yet how?/It seems to thicken my PayPal so steadily," he raps on 'stet'.
Self-released on a label and community, Ruby Yacht, that he has constructed from the ground up, Budding Ornithologists, like much of his discography, presents Ferreira as a figure disillusioned with the transactional value of his art. Yet, during a live show in Dublin earlier this year, where he was the supporting act for his equally thoughtful contemporary and friend, Open Mike Eagle, he spoke sanguinely of his undying appreciation for his ability to commercialise mind-boggling lyrical improv into financial freedom.
On this latest project — reportedly his last under the Milo moniker — he even talks of how his money flows through black economies. Evidently, he gives as much back as he does take. Rap is, in equal measures, life, art, love, prose and ethicism to Ferriera, an intensely open-eyed student of the culture, both the traditional and contemporary forms. Over time, though, he has amassed a catalogue that carry him more as a misunderstood professor; one whose devotion is in seeking solace, desperately trying to come to terms with this equally wretched and joyful world. "If life were a dream of euphoria, we would not have schizophrenia or paranoia," goes the purposefully anodyne hook on Galahad in Goosedown.
When 2018's best-of-year lists arrive in flock, don't expect any of his aliases to be in their highest arches. Still just 26-years-old, Ferreira will be somewhere, eyes glazed over from the THC, gleefully considering his position as perhaps not hip-hop's brightest star, but its densest.