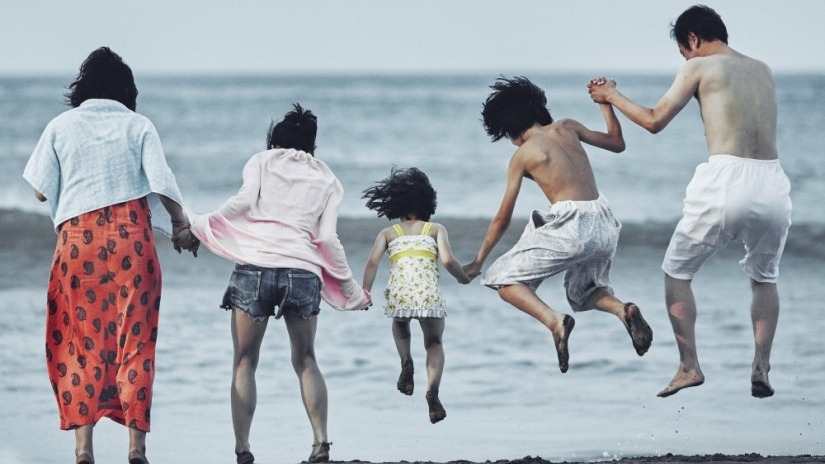 When talking about great film-making legacies, there are few people alive that can rival Japanese writer-director Hirokazu Koreeda (The Third Murder, After The Storm) for consistency, quality and diversity. With his latest, Koreeda might just have intricately pieced together his finest movie to date, which is a feat in itself, given the stunning body of work that he has already got under his belt. As with all his films, Shoplifters is a gradual, deeply emotive, wonderfully humorous and highly intelligent tale that shows a side of Japan that is rarely seen with an empathetic eye.
Shoplifters tells the story of the dysfunctional but tight-knit Shibata family in Japan, who're living, near enough, hand-to-mouth, getting by on part-time jobs and, as the title suggests, shoplifting and petty crime. When the father and son of the family happen across a young girl, seemingly in distress, the two decide to take her under their wing, putting the family and their secretive nature in danger of coming under the type of scrutiny that does not bode well for their future.
There is so much to admire in Shoplifters and yet it is a very difficult film to talk about without spoiling the amazingly intricate and deftly crafted storyline. Leading the cast is longtime Koreeda collaborator Lily Franky (Yakuza Apocalypse) with his fantastic, subtly comedic performance as the down-on-his-luck husband, alongside an outright hilarious role for Kirin Kiki (After The Storm) as the sharp-witted and no-nonsense grandmother. But the whole cast is amazing in completely unique ways, contributing to the complex array of emotions that the viewer will feel as the movie reaches its powerful finale. First and foremost, Shoplifters is an undoubted social critique of modern Japanese society, as it has a sting in the tail with the premise.
Black and white sensibilities, in regards to how people behave and why they do things, are non-existent in Koreeda's films, and none more so than in Shoplifters. There are no simple answers to the questions and dilemmas that he brings to the fore, regarding the habits and decisions of the Shibata family. They reject the social norms of Japan and live recklessly, and yet he never judges these characters and represents them in an empathetic manner that the viewer can only warm to, even as their turbulent world unfolds around them.
And it is these traits that are always prevalent in his films, along with a masterful hand for creating curveball twists that come out of nowhere and yet, land with a subtlety that is unlike anything else that you'll witness in the world of cinema. With Shoplifters, Koreeda manages to catch you off-guard with his pace and shock you in the gentlest of manners.
Koreeda is simply masterful at creating moments of emotive poignancy and reflection, conveying a universal, yet undeniably Japanese, message. If you take into account the body of work that he has created over the years and Shoplifters' status as possibly his finest work to date, then one must conclude that Koreeda is one of the most unique and gifted filmmakers that's living today. Without a doubt, Shoplifters is one of the finest films of 2018. Kev Lovski
Shoplifters is showing at QFT, Belfast until Thurs 29th Nov and Light House Cinema, Dublin until Tues 4th Dec.