Visual Arts
Published on November 27th, 2019 | by Aidan Kelly Murphy
0
the arts column: November 27th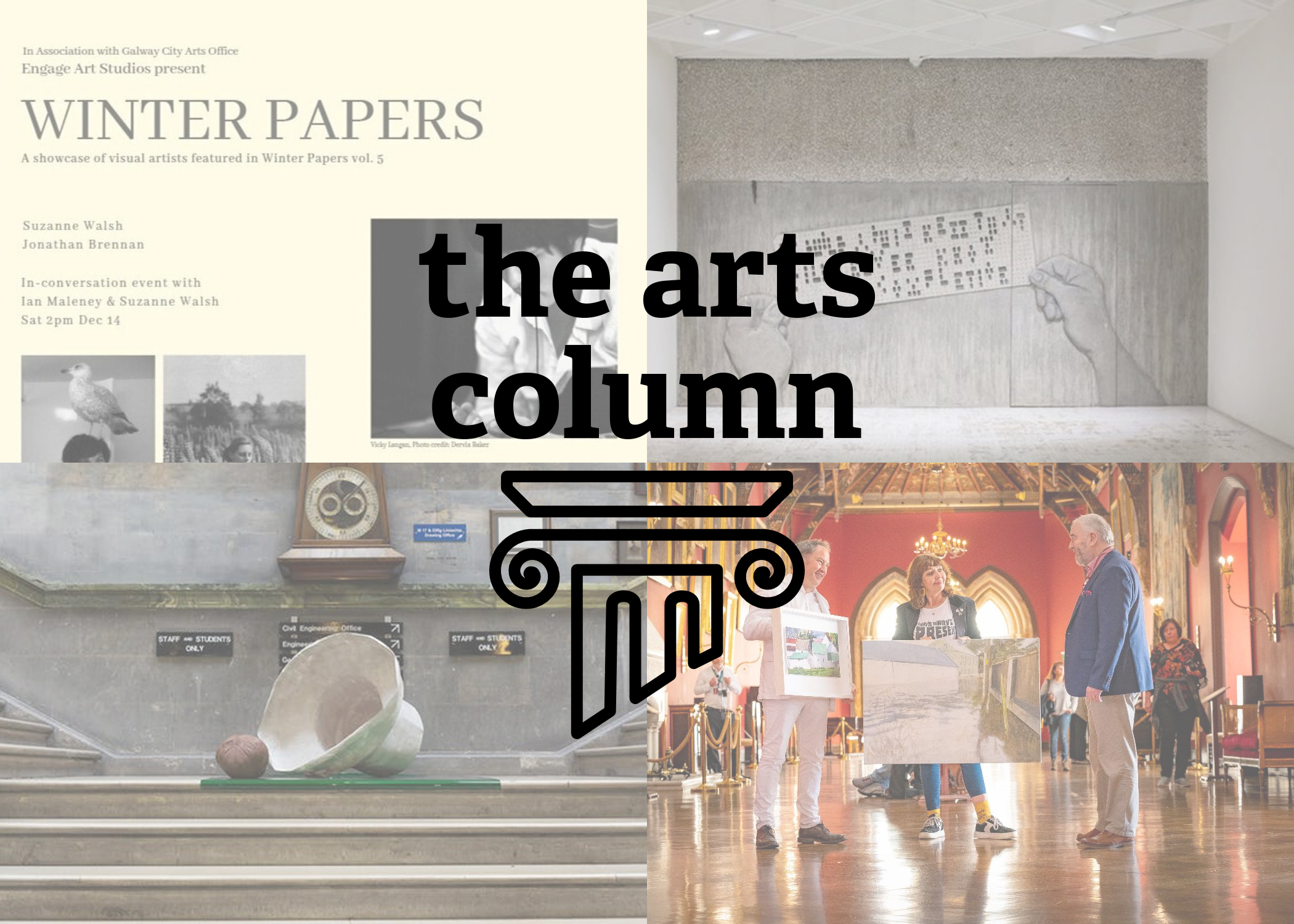 This week we've details on some new exhibitions opening around the country, some special one-off events including an auction as well as information on funding for 2020 and a kids' workshops running this weekend.
As always, if you have an event, talk, exhibition, or would like to recommend one please get in touch via aidan[at]thethinair.net

Opening | Winter Papers @ Engage Art Studios, Galway
This coming Friday, November 29th, sees the opening on a new exhibition in Galway's Engage Art Studios. The show takes its cue from the recently published anthology on Irish art: Winter Papers Vol. 5 – with the artists associated with the exhibition having featured in this latest edition. Those artists are Suzanne Walsh, who for this exhibition is taking inspiration from her personal experiences with bird rescue, and Jonathan Brennan, who has created cyanotypes and screenprints using found-film from the 1950s and paleontological drawings. The opening night, from 6 pm until 8 pm, sees a guest speaker in the form of Winter Papers editor Kevin Barry, with additional events planned in the New Year including sound performances and workshops.
You can find full details on the artists, the exhibition and its associated events online here.

Funding | Capital Investment Framework 2016-2021: Capital Funding
Details have been announced by the Department of Culture, Heritage and the Gaeltacht of a new capital investment scheme for arts and culture centres to the tune of €4.7m. The scheme will run until 2022 and will focus on "enhancing the existing stock of arts and culture centres throughout the country" – it has also been advised that the scheme will prioritise carbon footprint reduction.
There are three streams to the scheme:
Stream 1 (up to €50,000) – grant for small enhancement/expansion/ refurbishment projects which may involve construction works to arts and culture facilities and/or upgrading of equipment.
Stream 2 ( €50,000 to €300,000) – grants for larger enhancement /expansion/ refurbishment projects involving construction works to arts and culture facilities.
Stream 3 (up to €15,000) – grant for upgrading of visual artists' workspaces [this stream will be administered by Visual Artists Ireland]
This third stream is now open for applications, with a deadline of Tuesday, 28th January 2020 at 5:00 pm. There are a number of criteria for applicants, which can be viewed online here.

Exhibition| 10 Year Anniversary @ Ormond Studios, Dublin
Opening this coming Thursday in the Dublin Civic Trust Building on Ormond Quay is an exhibition celebrating the 10-year anniversary of Ormond Studios. While the work on display will be from current studio members, it will reflect the journey the studio space has taken over the last decade, looking out beyond the horizon to the future of the space.
The show will be open daily until December 1st, and you can read more details online here.

Auction | Butler Gallery's 1st Annual Christmas Party & Auction @ Kilkenny Castle
This coming Friday, from 6:30 pm until 10:00 pm, sees Butler Gallery host their 1st Annual Christmas Party & Auction at Kilkenny Castle. The event has been organised as both a last hurrah for the gallery in Kilkenny Castle as they prepare to move next Spring to their new location and to help with said relocation. The night will see live music performances, an art auction as well as a special one-off gifts that can be bid on – with all proceeds going to the relocation.
Tickets for the event begin at €50 (plus fee), which includes access to Castle, a wine reception with canapé's, cocktails as well as entertainment; and are available via Eventbrite here.
Image by: Dylan Vaughan.

Exhibition| Maria Loboda @ The Model, Sligo
This coming Saturday sees the opening of Maria Loboda's new exhibition in Sligo's The Model. Titled Hearing Otherworldly Music, the exhibition is the artist's first solo show in Ireland, having previously exhibited as part of a group show back in 2015. Loboda is a multi-medium artist, making use of a broad range of outputs including illustration, installation and audio recordings, to investigate shared cultural histories. She is due to give a tour of the show at 5 pm on Saturday, after which a drinks reception will take place.
You can read more details on Loboda and the exhibition online here.

Kids' Workshop | 'Tuning in to what's around you' with Sophie Behal @ RHA Gallery, Dublin
On Saturday a new kids' workshop will be hosted in Dublin RHA Gallery by artist Sophie Behal. The event, for ages 8-12, encourages it's participants to engage and tune into the world use our different senses – such as searching for patterns and listening to rhythms. These will all feed into making drawings and sculptures on the day. The event takes place from 2:00 pm until 4:30 pm and whilst it is free but booking is required – this can be done via Eventbrite here.
Image: Sophie Behal, False Bell, 2018, paper, clay, lighting gel, Image courtesy of the artist, photo credit Kasia Kaminska
***
If you have an event, talk, exhibition, or would like to recommend one please get in touch via aidan[at]thethinair.net