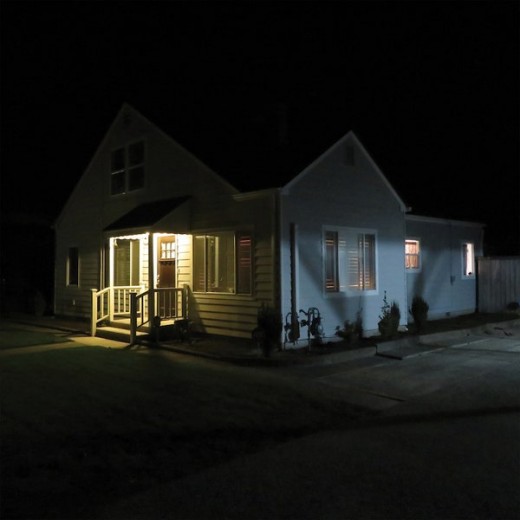 Damien Jurado describes his songs as being like cats. That is, when he wants one to come to him, they ignore him but if he goes about his day not paying attention, they come in swarms. So, making an album for Jurado is a bit like herding cats. On his 15th record, the Seattle songwriter has managed to stay out of his own way long enough in order to allow 10 sweet, well-crafted songs into his orbit, reminding us once again of his status as one of the most vital musicians to have come out of the Pacific Northwest's folk sphere since the '90s.
The upbeat vim of opener 'Birds Tricked Into Trees' harks back to early '00s songs that might have been written by Pernice Brothers, and straight away lets you know that although the content of the record might be deep, it won't intimidate or down you in its current.
One of Jurado's skills is creating characters within his songs that feel displaced in the world, people who are trying to make sense of it all.  Two of these characters are 'Alice Hyatt' and 'Arthur Aware'. Two songs side by side that showcase these small-town Americana stories so extremely well. 'Alice Hyatt' could refer to the character in Martin Scorsese's film Alice Doesn't Live Here Anymore, a film about a down-on-her-luck lounge singer. 'Arthur Aware' makes use of eerie backing vocals that blend in behind equally ominous lyrics:  "When I get bored of looking at myself, I trade the grey for the shade of someone else".
On 'Fool Maria' there is a hopeful and bittersweet guitar reminiscent of Sun Kil Moon. With lyrics like "My mind is a tired earthquake" and "Quiet as an aeroplane before it hits the mountain" sang with such sweetness you wouldn't even bat an eyelid at the actual meaning, you just go with it.
In July of 2018 Jurado lost his long-time collaborator and producer Richard Swift to a liver disease relating to alcohol addiction. As a result, Jurado has had to alter the way he works in the studio, with one noticeable difference being his approach to vocals. Jurado stated that Swift would use a lot of reverb against the vocals to create a certain soundscape, but on What's New, Tomboy? he departs from this technique and places his voice on centre stage, upfront and intimate. It's really felt in the song 'Ochoa', which is about Swift. 
Songs like 'When You Were Few' and 'The End of the Road' inject further life into What's New, Tomboy? With a faster pace, electric guitars and swaying rhythms that keep the record flowing. The record does end on an underwhelming note in the song 'Frankie' which offers little in the way of conclusion. 
This is not an album that will set the world on fire, but it doesn't want or need to. What it does do is prove once again that, even on his 15th album, Damien Jurado still has plenty of interesting, beautiful and macabre things to say. Patrick Hughes