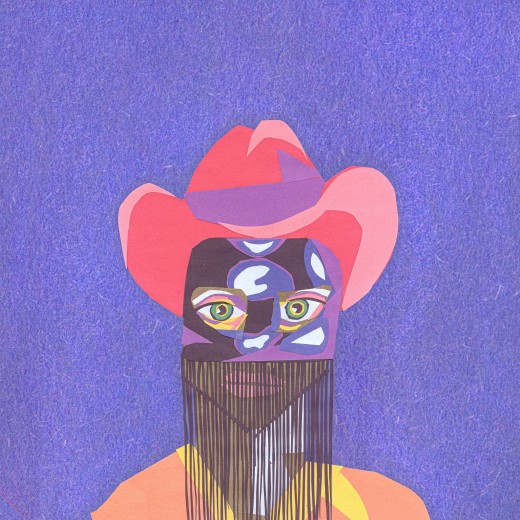 Bedecked in a Stetson hat, a Roy Rogers Nudie Suit and enough rhinestones and country verve to power the Dollywood Ferris wheel, enigmatic troubadour Orville Peck's star has been on a steady rise since first ten-stepping his way onto the world stage back in 2019.
His acclaimed debut album Pony marked Peck out as an important new songwriter in country music, showcasing not only his unique style and towering vocal chops but also a seemingly endless array of face obscuring leather fringed masks, a stylish nod to anonymity that has since become his calling card.  Melding the macho "outlaw country" of artists such as Merle Haggard and Waylon Jennings with the keening, misty-eyed melodies of 1980s acts like Morrissey and The The, Peck synthesised a fresh and alluring sound all of his own.  
Archly subverting country tropes, Pony felt simultaneously earnest and faintly ridiculous, blurring the lines between pastiche and homage, and made the latent homoeroticism of the cowboy aesthetic gleefully blatant. His follow up EP, Show Pony is, as the name suggests, an altogether glitzier affair. The release boasts big ballads and shiny production values but is sadly bereft of the evocative detail and sweeping melody that characterised his debut.
Breezy lead single 'Summertime' seems purpose-built to soundtrack road-trip movies and sun-kissed advertisements for fairtrade smoothies, but the track's flimsy arrangement and insipid melody never fully convince. Creaky acoustic number 'No Glory in the West' fairs better, as does the swooning truck stop romance of 'Drive Me Crazy', in which a sensitive vocal performance and transportative imagery mark it out as a clear highlight. Elsewhere, a thunderously overblown cover of Bobbie Gentry's 'Fancy' replaces the whip crack shuffle of the original's quick spoken metre with a torpid dirge of distorted guitars and one of Peck's hammiest vocal performances yet.
By the time Country-pop megastar Shania Twain turns up for the rousing down-home duet, 'Legends Never Die' it is clear to see that Show Pony is Peck's grab for the big time. The release certainly offers up a likeable slice of contemporary Nashville pop, but in tempering his artistry to appeal to a more mainstream audience, Peck loses much of his unique creative momentum, diluting the very otherness that made him so compelling in the first place. James Cox