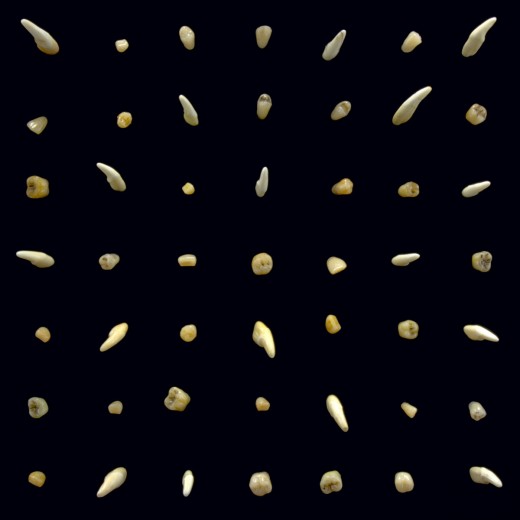 If your only knowledge of Daveed Diggs is his roles in Hamilton, Black-ish and Unbreakable Kimmy Schmidt, then you're in for a shock. A bit like finding that Neil Buchanan from Art Attack was the lead guitarist in a NWOBHM band, Diggs' work with clipping. is a firehose of cold water. The trio, composed of Diggs, William Hutson, and Jonathan Snipes, have been putting out their brand of experimental hip-hop for the better part of a decade now. Since their debut mixtape in 2013, they've existed in that same space as Death Grips and JPEGMAFIA, embracing harsher industrial sounds, wrapped up in a suffocating atmosphere that allows no reprieve. Also, they're just weird. The atonal wails, the bass that feels like it's constricting your chest, and those hyper trebly hi-hats, those are all manageable. But lyrically, the group has pushed things a little further out than their contemporaries. Their second LP, a concept album about an AI falling in love with, and torturing. an astronaut, for example, can hardly be described as fitting a mould. With their latest album, Visions of Bodies Being Burned, the central thesis is less demented, but no less engaging, and certainly no less disquieting.
Visions is bleak, and horror imbues its tapestry. The atmosphere is one of unbridled claustrophobia and unease. Death, decay, and the spectre of inevitable violence and destruction are the threads that join its tracks together.  From the street-level paranoia of 'Check the Lock' and the slasher tropes of 'Looking Like Meat', to the cosmic horror of 'Enlacing', it seamlessly moves between many different horror facets, and these same ideas are run clearly through the beats themselves. Take 'Say The Name', which marries an attack heavy bass synth with an ominous vocoded rendition of the album's title: "Candlesticks in the dark / visions of bodies of being burned". There's no light here. The closest thing to what might constitute relief is when the beat inevitably drops, but it's paired with a droning bass undertone that shakes the bones. 
'Something Underneath' is built around Digg's hermetically sealed flow. The man spits out two and a half high intensity minutes of thematically dense, technically rich lyrics with almost no break. As he nears the end of every bar, the tension ratchets up as you feel the air in his lungs diminish, yet he always has so much more to unleash. By the time we near the conclusion, the music has degraded into a viscously tuneless, squealing noise, which further adds to that sense of a body choking out; the death knell of a mind with more to say. 
While they are few and far between, there are tiny moments of delicacy and humanity, and they shine so bright in this album brimming with darkness. The strings at the end of 'Pain Everyday', paired with its pulsing breakbeat, have so much longing and raw emotion to them that when you  climb back into the abyss on 'Check The Lock' the depth is so much more cavernous. 
Despite the chaos, there is no point in Visions when the trio feel unsure of where they're going or how they'll get there. You're definitely in safe hands, they're just not the most welcoming. By its very design, the experience doesn't reward a cursory glance or a passive listener. There is a vibe that is carefully cultivated here, and it's entirely lost if you're miserly with your time. Visions of Bodies Being Burned wants to make you uncomfortable. It revels in the darkness and dripping Argento crimson, and if you're not going to meet these songs on their level, they're not going to give anything to you. Embrace this atmosphere, and live within the creeping cosmic chaos they've created this Halloween. Will Murphy