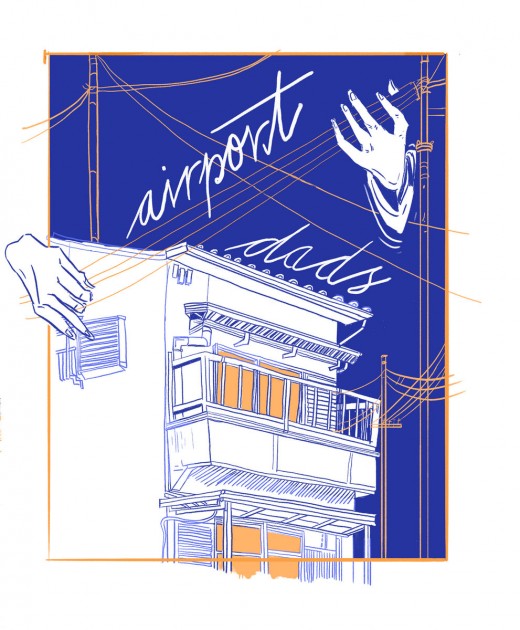 With a refreshing youthful energy, and a clear sense of care and purpose, Dublin band Banríon's debut EP, Airport Dads, slots them firmly into the Irish music scene as ones to watch. 
Singer-songwriter Róisín Ní Haicéid fronts this indie-rock outfit, completed by drummer Michael Nagle , bassist John Harding and guitarist Ivan Rakhmanin. The three track EP was entirely mixed and produced in Nagel's home in Connemara, and you can hear a dedication to craft in its charmingly lo-fi sound, calling to mind the likes of Snail Mail, Soccer Mommy and Julia Jacklin.
Opening track, 'Yesterday's Paper' is a strong introduction to the band. It delicately touches on themes of insecurity, uncertainty and feelings of self-doubt as Ní Haicéid sings: "So I'll know what to say when I'm forgetting myself, not for my sake, for everyone else". In the track, we find Ní Haicéid seeking comfort in the familiar and the unchangeable. We're reminded that here are no surprises in yesterday's paper as she pleads: "Read it to me". Banríon wrap these complex youthful emotions into an effortlessly punchy and uplifting indie-rock package, making for an instant highlight. 
'Bunkbeds' exits as softly as it enters, with themes of love and heartbreak being complemented by shoegazey guitars and gentle vocals. It simulates a dream-like sequence, as Ní Haicéid reflects on fond but now bittersweet memories: "It's alright, I'll just keep missing you every week. Where there's love there's grief".
'Ouchie' closes the EP in a pit of passion, effortlessly delivered by Róisín Ní Haicéid. The gentle guitars and subtle bass fills are a perfect accompaniment for the candid lyrics, illustrating the mature and skilled approach Ní Haicéid has to addressing themes of heartbreak and pain. "I know I fucked it up, by being so sick", she sings, the frustration and inner-conflict as clear as day. It is a beautiful and powerful track that covers many stages of grief and loss: regret, anger, sadness, but also, recovery. The song ends with a glimpse of positivity, determination and acceptance "I'll do it better, I'm feeling better".
Airport Dads confidently asserts Banríon as a band who know their sound. The songs are individually powerful, but together they create a listening experience that is both familiar and evocative. The EP's elegant exploration of its themes highlights Ní Haicéid's skills as a songwriter we're excited to hear a lot more from. Julie McKevvit