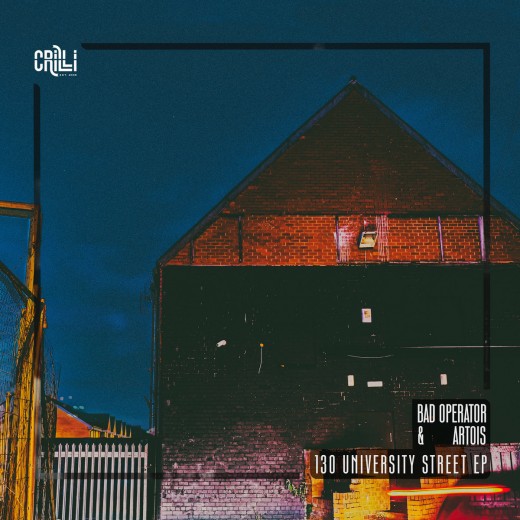 130 University Street acts as a wonderful tribute to Menagerie Bar, once the host of Belfast's drum & bass night, Crilli. Artists Bad Operator & Artois collaborate to celebrate not just the venue, but the many nights that Crilli have hosted to showcase the best in d&b. With two tracks a piece, the EP is driven by jungle beats with a clubby flavour, capturing both the party highs and meditative lows of a night out. 
Bad Operator's 'Smiley Faces' welcomes you in, hitting you with a voice saying: "Hello everybody". With the title being a subtle nod to the well-known acid symbol, this track will leave you missing the feeling of entering a club and feeling a smile grow on your face as you anticipate the night to come. The excitement is palpable as '90s pianos, sexy saxophone and playful synths are sprinkled in too.
From here, 130 University Street takes a more mysterious and darker turn. 'Life Goes on' has an eerie air to it as you float alongside the echoey synths warped by acid tones. Hints of techno can be found, but the track never strays too far from its d&b core. Artois's contributions to the EP have a more sentimental tone, reflective of the past 15 years of Crilli. 
'Deus' fast-paced beats contrast with the ghostly bass that borders on the melancholic. It pairs well with 'Life Goes On', swapping out the eeriness for the emotive and acidity for the industrial. 'Rust' is very well produced. as bouncing sounds elegantly work around steady beats. The only issue here is the EP's lack of variety. As you get passed from Bad Operator to Artois, there isn't a massive distinction in sound, and the sense of celebration doesn't return much after 'Smiley Faces'. Although a fantastic partnership, Artois doesn't revive the party energy of the opening track, which could have bookended the EP well to show the full scope of these artists. Top-heavy though it may be, each of these tracks are fantastically layered, and offer a modern twist on the classic d&b sound. For those missing the dancefloor, this EP is a trip that's worth taking. Sophia McDonald