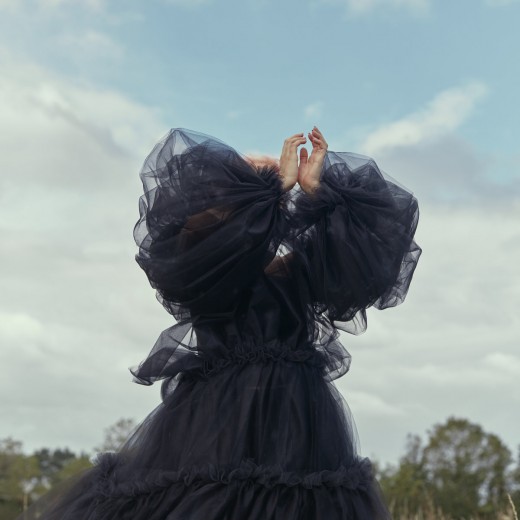 In late 2020, Constance Keane, aka Irish producer and songwriter Fears, and Emily Kendrick set up TULLE, a record label run for and by women, gender non-conforming and non-binary people, with the aim of creating a platform for underrepresented artists in the music industry. After self-releasing music as Fears for a few years, Keane wanted to create a permanent home for her art, while also challenging the cis white male dominance of the scene at large.
The first release on TULLE is Fears' own debut album, Oíche, a collection of ethereal electronic songs that delve deep into the themes of grief, trauma and the search for clarity in oneself. The album acts as a coming of age story of sorts, through which Fears comes to find peace through darker themes through reflection and resilience. Oíche encourages the listener to sink into their own emotions, and to reflect on personal experiences while empathising with the artists' own. Opening track 'h_always' is underpinned by a slow and melodic guitar sound which allows Fears' vocals to take centre stage as  she establishes the sound of the album: one that is simultaneously haunting and comforting, and through which Fears delves into these intimate themes.
'tonnta', one of the album's singles, reflects on Fears' relationship with her grandmother, and the experience of caring for her during her battle with dementia: 'Your eyes they still listen, your heart I still live in", she sings. Fears utilises the Irish language, singing "bím buartha faoina dtonnta", translating to 'I worry about the waves', symbolising her grief. 'tonnta' is preceded by a clip of a candid conversation between her grandmother and her sister recorded in hospital. Here they discuss her grandmother's childhood, reflecting on her family life and her father's job as a tailor before cheersing their lemonade. This candid conversation memorialises Keane's relationship with her grandmother, and the consolidation of these deeply personal experiences through her art gives Oíche something truly special.
'Fabric' is an exploration of trauma and self-doubt, told through Fears' palpably anxious lyrics: "I turn and you're there, talking to people that you think care about you. It's a fabrication of what you want to be true". The track explores the feeling of being trapped, be that in a situation or in one's own head, and mirrors the incessant and loud voice of anxiety with repeated lyrics and an electronic pulse that builds as the track progresses. 
Oíche's second to last track 'Blood' opens with a sparse piano melody and electronic beat, which create a large atmosphere with minimal arrangement. The closing track, 'two_', continues with the sense of minimalism that is woven throughout the album. The sparing use of instrumentation in this track allows Keane's vocals to take the lead, while her lyrics reflect on a time of loneliness, self-harm and loss of hope. The lyrics resolve with a promising note however, about the power of family in the process of healing.
Created and released with a DIY approach, Fears has produced a debut album that is truly and authentically her own. Each track tells its own story, while coming together into a cohesive, powerful piece. It reflects on an intense emotional journey, leaving you fully immersed in Keane's journey of pain, self-discovery and, ultimately, healing. Ciara Byrne